BIRMINGHAM HIPPODROME, BIRMINGHAM – UNTIL SATURDAY 15TH OCTOBER
REVIEWED BY NADIA DODD
5*****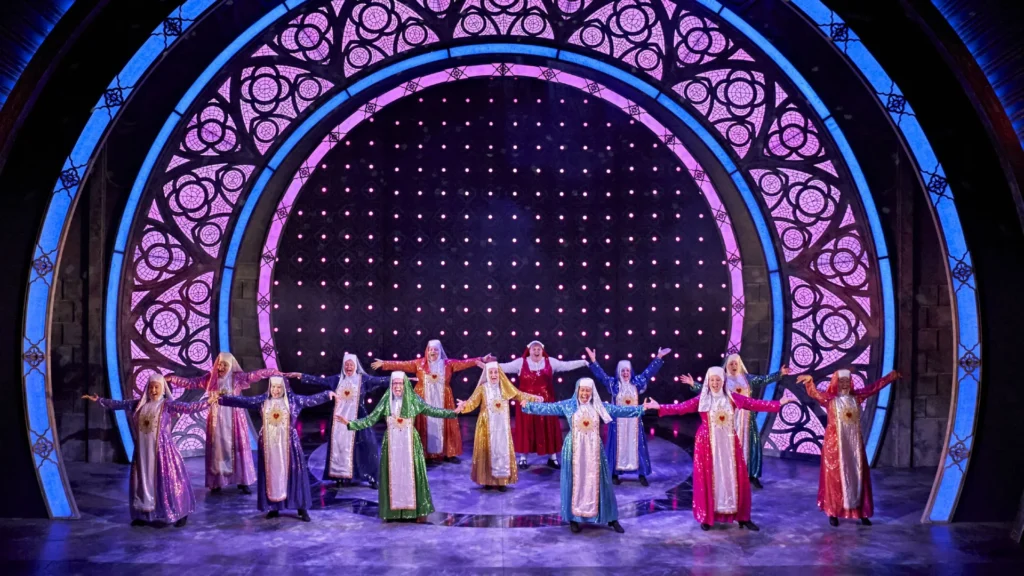 First time for me watching this musical but I've certainly watched the film plenty of times and if you are expecting the same as the film you may be slightly (only slightly) disappointed. New songs such as Take Me To Heaven, The Life I Never Led and Raise Your Voice certainly do create earworms for the audience to clap their hands and tap their feet along to.
What a way to show the importance of unity, sisterhood and then friendship between the wanna be hit singer and a group of nuns.
The musical is set in the late 1970's in Philadelphia where the audience is introduced to Deloris Van Cartier, played by Sandra Marvin. Wanting to be a regular entertainer at her married, gangster boyfriends club. Deloris gets turned down, then accidently witnesses him committing a murder and has to end up in police protection.
Where can such a vibrant and outspoken character be placed where no one would think of looking for her – a convent of course! Convent life was always going to be difficult for Deloris to adjust to but when they discover common ground in music and singing, Deloris helps the choir attract more people from the local community to join the congregation in turn raising more money for the church to secure its future which was looking extremely bleak.
If Sandra Marvin was nervous about filling those boots of the talented Whoopie Goldberg, she certainly did not let this show. Her voice was powerful and strong. She bought the comedy to her character with some fabulous facial expressions too even when wearing her habit!
What a stellar cast Sister Act has to offer, in addition to Sandra, there's Lesley Joseph playing the Mother Superior, Clive Rowe playing the police officer Eddie Souther and Lizzie Bea ….. what a voice ….. playing the timid and shy Sister Mary Robert who Deloris, known to her as Sister Mary Clarence helps to evolve out of her shell, unveiling this powerful voice that just mesmerises the audience.
Bright colourful costumes including sequins and glitter. Fabulous bright lighting and staging plus so many joyous, heavenly and talented voices this musical just has it all. Throw in the comedy and it's no surprise why the crowd were on their feet clapping and cheering tonight.