PALACE THEATRE, MANCHESTER – UNTIL SATURDAY 9TH JULY 2022
REVIEWED BY MIA BOWEN
4.5****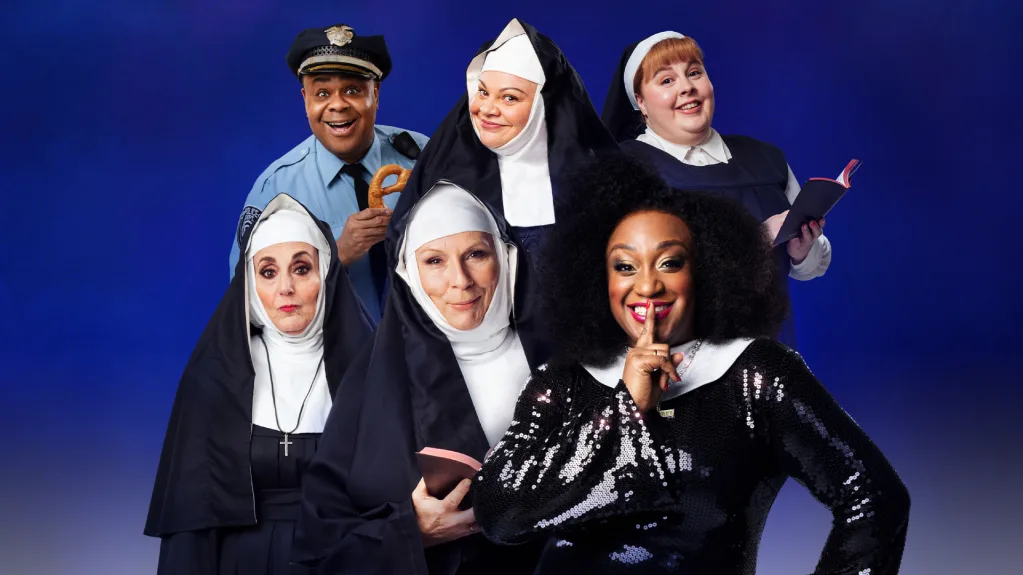 'Fabulous Baby!' That is the feeling I got when I left the Palace Theatre last night. Sister Act, a divine musical comedy, was absolutely spectacular. Produced by one of the world's most talented actresses, Whoopi Goldberg, this musical brings to life the award winning 1992 film, of the same name.
This brilliant tribute of the universal power of sisterhood tells the comical story of lounge singer Deloris Van Cartier performed by Sandra Marvin (Waitress) who witnesses her gangster boyfriend Curtis Jackson peformed by Jeremy Secomb (Sweeney Todd) murder a police informant. To protect her from being killed by Jackson and his gang of thugs; Pablo (Damian Buhagiar), Joey (Tom Hopcroft) and TJ (Bradley Judge), desk chief police officer Eddie Souther performed by Clive Rowe (Guys and Dolls) hides Deloris in the one place she won't be found – a convent! Disguised as a nun she has to adjust to life as Sister Mary Clarence. Under the suspicious watch of Mother Superior performed by the legendary Jennifer Saunders (Absolutely Fabulous), Deloris helps her fellow sisters find their voices as she unexpectedly rediscovers her own.
Several other performers make a mark; veteran Lesley Joseph (Birds of a Feather) as Sister Mary Lazarus has a wicked sense of humour, Keala Settle (The Greatest Showman) as Sister Mary Patrick has boundless energy and Lizzie Bea (Kinky Boots) as Sister Mary Robert, the young postulant nun reveals a powerful voice. The marvellous Graham Macduff (Phantom of the Opera) as Monsignor O'Hara, is more then ready to raise his voice and the collection plate for the crowd pleasing numbers. I particularly enjoyed how the soul music of the choir changed his mood and vestment.
The music from multi award winning Alan Menken (Little Shop of Horrors) and lyrics by Tony nominee Glenn Slater (School Of Rock) mixes Motown, funk, soul and disco and even a jokey Barry White. They take you back to the 70's with some terrific songs, especially the rousing 'Raise Your Voice', the touching 'The Life I Never Led' and the hilarious 'How I Got The Calling'. One of my favourite musical numbers of the evening was the uproarious and provocative 'Lady In The Long Dress' performed by TJ, Joey and Pablo.
The book by Cheri and Bill Steinkellner follows the rough outline of the film but also adds to the feel good factor by ramping up the fun with a great deal of comedy moments.
The set design is absolutely stunning and is constantly changing. One minute you are in a glitzy lounge bar, the next you are in an old gothic church and then you are in a police station. All the scene changes are done flawlessly and as part of the performance.
Brace yourselves sisters, this musical is energetic, hilarious and thoroughly enjoyable.