The Lyceum, Sheffield – until 23 July 2022
Reviewed by Sal E Marino
5*****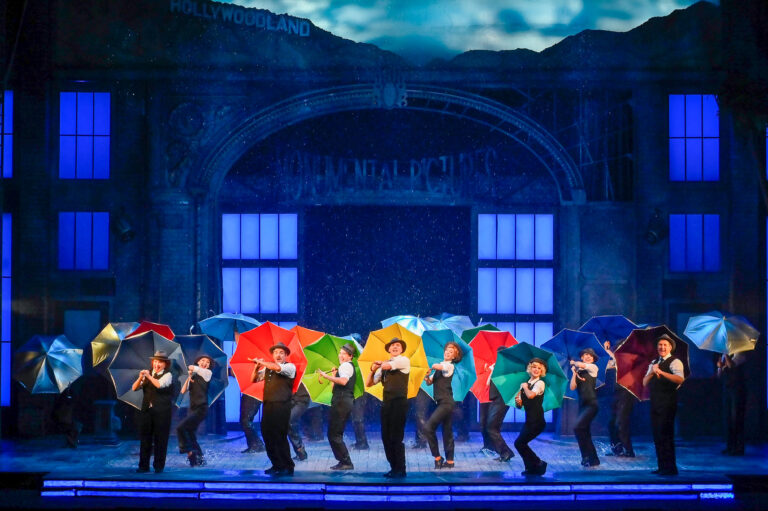 After the last two days of heatwave weather, the song lyrics – 'I'm singing in the rain … what a glorious feelin' … I'm happy again!' could not have been more apt as to what the whole nation was praying for on Wednesday (20 July) and the audience were enthusiastically hoping for – to get a 'splash' or two – at the beautiful, historic Lyceum theatre last night, where the spectacular Singin' in the Rain was being performed.   Jubilantly uplifting, this effervescent musical elevated and enlivened the entire room as an aura of pure joy and delight embraced the whole room, giving rapturous applause throughout! Every dance sequence was flawless as this stunning performance that was delivered to us by a multi-talented cast was first-class and of a very high calibre.  
Singin' in the Rain transports one back to the 1920s when the dazzling world of Hollywood was transitioning from silent movies to 'talkies'.  This exciting period of time, that inspired many in the world of film, was faultlessly captured in the show due to being loaded with many moments of slapstick comedy, confusion and calamity that was once encapsulated by Gene Kelly and Debbie Reynolds in the classic 1952, 'Singin' in the Rain' movie.  Jonathan Church and the creative team definitely delivered in adapting and producing the magic of this old-time classic that clearly has stood the test of time because it really was quality. 
Sam Lips (Don Lockwood) and Charlotte Gooch (Kathy Selden) were simply magnificent at making what must have been extremely challenging roles, due to the complex high-energy numbers, seem effortless as they floated and tapped across the stage . Both note-perfect and foot-perfect – these two really did trip the light fantastic and it was a sight to behold and bliss to hear! Supporting Sam and Charlotte were a phenomenal cast and crew who gave us jaw-dropping dance routines, iconic big-band tunes and slick, smooth choreography with excellent comic timing and witty quips.
Credit must be given to Ross McLaren who played Don's sidekick,Cosmos Brown, who in the number 'Make em Laugh' really showed us his genius skills in precision and timing when he had one of the trickiest scenes to perform that I've ever seen and I still don't know how he did it!  Kudos must also be shared with Jenny Gayner playing Lina Lamont as her portrayal of a talentless 'star' provided many laughs and struck me that in a world of celebrity where the likes of the Kardashians are celebrated and fawned over  – has anything changed in Hollywood today, in 2022?  No, sadly not.  
If the main purpose and intention of going to the theatre is to lift one's spirits and evoke a feeling of happiness then this production of Singin' in the Rain has nailed it!  Whether your guests are five or one hundred and five, they will love this little interlude of fun!