London International Arts Theatre Presents
Sh!t-faced Shakespeare® presents:
Macbeth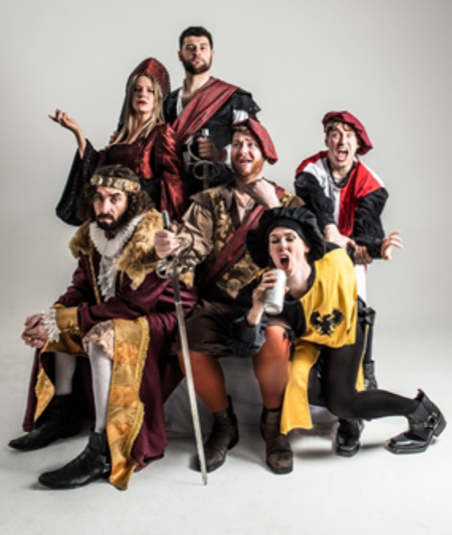 National UK tour 23rd September – 26th November
"A great night out to get properly pucked up. It's what Willy would have wanted." ★★★★ – Time Out
"There is no doubt this is a hoot to watch" – Evening Standard
"Theatre for people who hate theatre" – The Sunday Times
"Creating theatre that is unique and jolly good fun"  – Younger Theatre
Macbeth is one of Shakespeare's most famous works and arguably, the greatest play ever written. It's a dramatic epic about greed, ambition and the heights and depths of the human condition. Now, imagine it being performed by a rotating cast, one of who is completely inebriated? That is the very essence of Sh!t-faced Shakespeare® as they prepare to the take their unique interpretation of Macbeth on a national tour this autumn.
Sh!t-faced Shakespeare® presents: Macbeth is aside-splitting combination of a faithful adaptation of this Shakespearean classic, complete with one worse-for-wear cast member.Every night before the show, an actor is given four hours to "wet the whistle" by consuming as much alcohol as they can get their hands on. This is classical theatre as it was always meant to be seen; with a gin in one hand, a cup of wine in the other and a flagon of ale lined up next.
Featuring wasted witches, boozy best friends, hammered hell-hounds, unhinged wives and enough crapulous kings to give Game of Thrones a run for its money, this is Shakespearean theatre as you've never experienced it before… What could possibly go wrong?
The production will feature a rolling cast with the actors performing different parts each night. The cast will consist of:
For Tickets visit www.shitfacedshakespeare.com
Listings Information:
Tour dates: 23rd September – 26th November 2022
23rd September – Chesham Elgiva Theatre – buy tickets here
29th September – Yeovil Octagon Theatre – buy tickets here
1st October – Liverpool Epstein Theatre – buy tickets here
6th October – Nottingham Playhouse – buy tickets here
7th October – Isle of Wight Shanklin Theatre – buy tickets here
8th October – Twickenham The Exchange – buy tickets here
12th October – Dunstable The Grove – buy tickets here
13th October – Southend Cliffs Pavilion – buy tickets here
14th October – Stratford-upon-Avon Playhouse – buy tickets here
15th October – Redhill Harlequin Theatre – buy tickets here
20th October – Portsmouth New Theatre Royal – buy tickets here
21st October – Twickenham The Exchange – buy tickets here
22nd October – Swindon Wyvern Theatre – buy tickets here
26th October – Peterborough The Cresset – buy tickets here
27th October – Horsham The Capitol – buy tickets here
28th October – Basingstoke The Haymarket – buy tickets here
29th October – Northampton Royal & Derngate – buy tickets here
4th November – Bath Komedia – buy tickets here
8th November – St. Albans Arena – buy tickets here
10th November – Middlesbrough Town Hall – buy tickets here
12th November – Newcastle Tyne Theatre – buy tickets here
16th November – Wimborne Tivoli Theatre – buy tickets here
18th November – Dorking Halls – buy tickets here
19th November – Taunton Brewhouse – buy tickets here
20th November – Exeter Corn Exchange – buy tickets here
24th November – Ipswich Corn Exchange – buy tickets here
25th November – Farnham The Maltings – buy tickets here