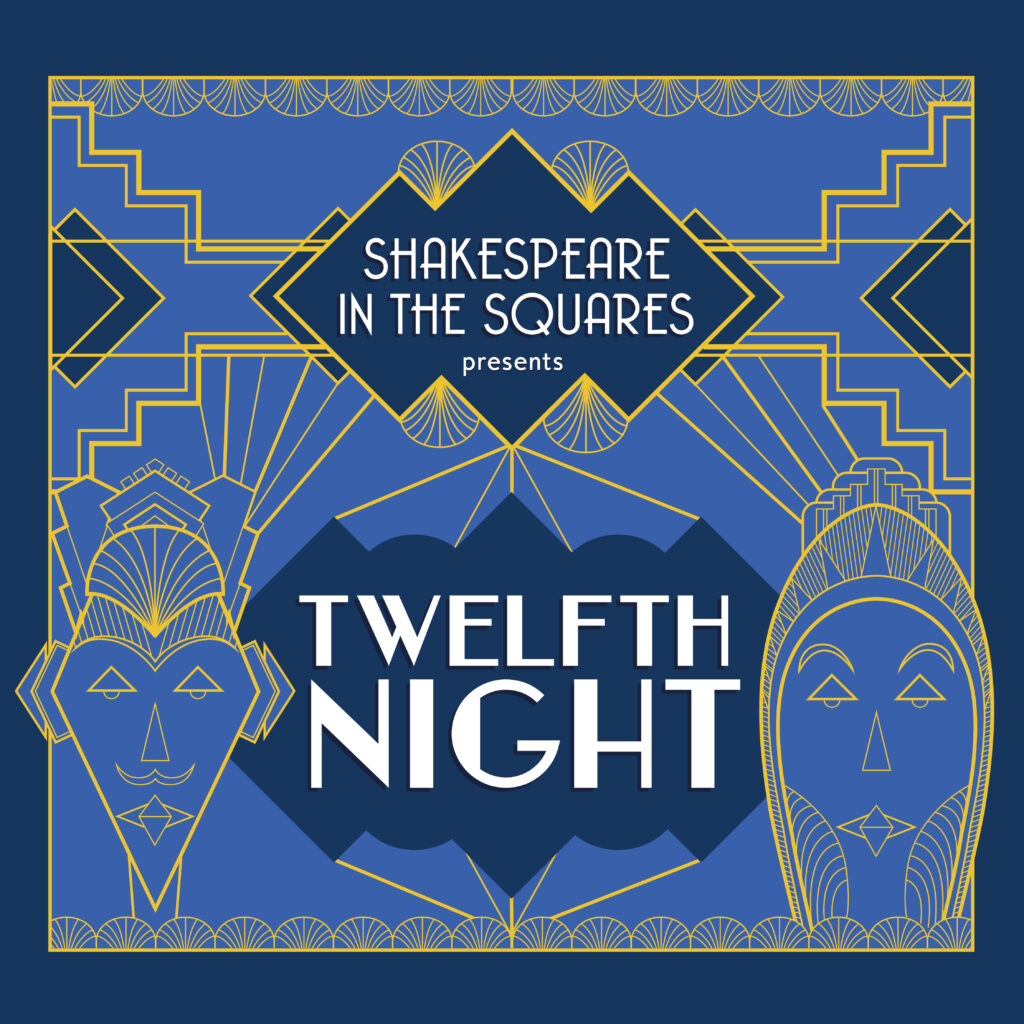 SHAKESPEARE IN THE SQUARES ANNOUNCES RETURN TO LONDON'S GARDEN SQUARES AND OPEN SPACES WITH TWELFTH NIGHT
Shakespeare in the Squares today announces their return to London's garden spaces this summer with Shakespeare's Twelfth Night. This unique venture sees the company take a new Shakespearean production annually to the glorious garden squares and open spaces which make the London landscape. This year, they have added an additional week into the schedule with new venues now including Clitterhouse Playing Fields NW2, Kensington Square Gardens W2, Belgrave Square SW1, The Actors' Church Gardens WC2, and Charlton House and Gardens SE7. The tour will cover 22 outdoor London venues, and 27 performances making 2023 its most ambitious season yet. The tour opens on 13 June at Arundel and Ladbroke Gardens, with previews from 7 June, and runs until 7 July.
Shakespeare in the Squares is a highlight of London summertime. Each performance is tailor made to its venue, offering a unique audience experience where no two shows are the same. The company works with the garden committees and other local organisations to create an intimate experience for each London community.
Founders of Shakespeare in the Squares, Sue Fletcher and Martin Neild,said today, "We are delighted to be embarking on our sixth annual summer tour and we are proud that Shakespeare in the Squares has become a well-established and much-loved part of London's Summer theatre scene. We continue to spread our reach right across the capital and are excited to be performing in new venues from Belgrave Square, SW1 to The Actors' Church Gardens, in Covent Garden, and Clitterhouse Playing Fields in NW2. We look forward to welcoming new audiences to a magical evening of theatre, music and dance in one of London's beautiful gardens settings"
Patron of Shakespeare in the Squares, Dame Judi Dench commented,"I made my Broadway debut as Viola, so Twelfth Night has always been a very special play for me. I can't imagine a more perfect choice for Shakespeare in the Squares: music, mischief, missing twins, and romance – all played out on balmy summer evenings in the heart of London's enchanted gardens and squares. I much look forward to seeing their production and know they 'will strive to please you every day."
Shakespeare in the Squares presents
Twelfth Night
By William Shakespeare
Directed by Sioned Jones
Wednesday 7 June – Friday 7 July
Shakespeare in the Squares celebrates its sixth anniversary with a new production of Twelfth Night set in the 1920s, this glorious romantic comedy of mistaken identity follows the wonderfully complex and entangled lives of siblings Viola and Sebastian.
Sioned Jones directs. She is an actress and theatre-maker and has previously performed in A Midsummer Night's Dream for the company. As a director, her credits include Ljubljana Junction (Roborough Studios), Cocktail Conversation, Madame Life, Christmas Presence (Union Theatre), Basket (Edinburgh Fringe Festival) and Expectations (Oval House Theatre). As an actress, her credits include Small Change (Omnibus Theatre), Martha, Josie and The Chinese Elvis (Park Theatre), Bury The Dead (Brickdust Theatre/Finborough Theatre), Lettice and Lovage (Menier Chocolate Factory), Thirteen, Women Beware Women and All's Well That Ends Well (National Theatre).
TWELFTH NIGHT
LISTINGS
Wednesday 7 June – Friday 7 July
https://shakespeareinthesquares.co.uk/tickets/
Leinster Square W2
Wednesday 7 June 7pm
St James's Gardens W11
Thursday 8 June 7pm
Norland Square W11
Friday 9 June 7pm
Camden Square NW1
Saturday 10 June 5pm
Arundel and Ladbroke W11
Press Night: Tuesday 13 June 7pm
Paultons Square SW3
Wednesday 14 June 7pm
Albert Square SW8
Thursday 15 June 7pm
Clitterhouse Playing Fields NW2
Friday 16 June 7pm
Queen's Park NW6
Saturday 17 June 2pm and 7pm
Kensington Gardens Square W2
Sunday 18 June 5pm
Cornwall Gardens SW7
Tuesday 20 June 7pm
Charterhouse Square EC1
Wednesday 21 June 7pm
Elgin and Arundel W11
Friday 23 June 7pm
St Peter's Square W6
Saturday 24 June 7pm
Belgrave Square SW1
Sunday 25 June 5pm
St Anne's Church Garden SW18
Monday 26 – Tuesday 27 June 7pm
Charlton House and Gardens, SE7
Thursday 29 June 7pm
The Actors' Church Garden's WC2
Friday 30 June 7pm – Saturday 1 July 2pm, 7pm
Ladbroke Square W11
Monday 3 July 7pm
Crescent Garden W9
Tuesday 4 July 7pm
St James's Square SW1
Wednesday 5 July 7pm
Cleveland Square W2
Thursday 6 July – Friday 7 July 7pm
ABOUT SHAKESPEARE IN THE SQUARES
Shakespeare in the Squares is a not-for-profit touring theatre company that stages a Shakespeare play in London garden squares and open spaces for one night in each venue every summer. The productions are tailored to the individual garden spaces, and the company works with the garden committees and other local organisations to create a unique community celebration around the play.
Their aim is to provide a showcase for talented young theatre practitioners and to introduce audiences to the stars of the future. The actors are paid Equity recommended rates and the productions are innovative, exciting and of the highest professional standard. Productions are funded through a combination of ticket sales, grants and sponsorship from local businesses and organisations.
www.shakespeareinthesquares.co.uk
Twitter: @shakessquares
Instagram: @shakespeareinthesquares
Facebook: @shakespeareinthesquaresofficial