Forum Theatre, Malvern – 3rd May 2022
Reviewed by Courie Amado Juneau
5*****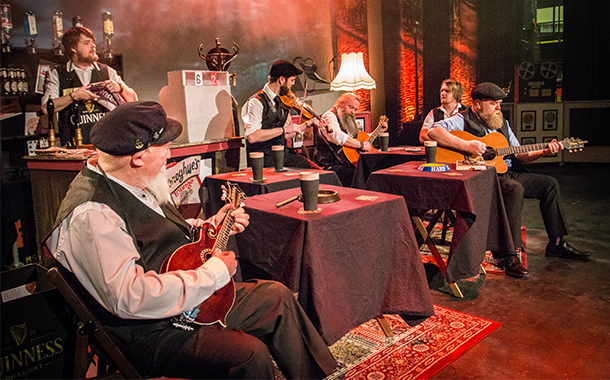 Seven Drunken Nights is quite simply a joyous celebration of that great Irish folk band, The Dubliners.
The set evokes the bar room at O'Donoghues where the band first got together to enjoy music and drinking. A wonderfully authentic way to tell the story as it is just like it must have been at those early get togethers. It is also very familiar to anyone who has visited Dublin (or even spent time around an Irish family).
The show opens with a recreation of The Dubliners appearance on the Late Late Show to celebrate their 25th anniversary and then the musicians settle down (in the intimate pub setting) to regale us with tales of the band. The stories were fascinating (I always love hearing how and why bands form) and it was all punctuated by plenty of tunes that showcased where the band were at at each point in their history. This allowed us to hear the development of the band's material during their long, illustrious career. There were many surprises along the way too; like hearing they were no 8 in the pop charts in 1967 with the title tune from the show! Timely reminders of just how popular this great group was! As with any Irish gathering, humour plays a massive part and this show is enormous fun from start to finish. This is no evening for sitting on your hands as there is constant audience participation and clapping throughout. My arms and hands were quickly aching but I didn't care, the music was too infectious to worry about such small considerations.
As you would expect from a celebration of a band with this level of passionate following and longevity, it was an emotional evening especially when recounting the difficult times such as health problems and deaths. Various songs heightened the emotion at these points with "The Fields of Athenry", "The Town I loved So Well" and especially "Raglan Road" being especially poignant.
The celebration continued unabated until the culmination, on three massive hits known and loved by everyone – "Whiskey In The Jar", "Dirty Old Town" and "Molly Malone". I was amazed how many knew all the words – and I mean all the words to every song throughout the show! This is no mere tribute act running through the hits. It is genuinely friends of the band continuing the rich legacy through their music and stories. And there can't be anything more authentic (or fitting) than that as a true and proper tribute to a folk band.
This was the kind of evening to make one long for some Irish ancestry. A fantastic show, full of love, affection and genuine admiration, with stunning music that warms the heart and sets the soul alight. A pleasure that I won't feel in the least bit guilty reveling in and one I cannot recommend highly enough. Do yourself a favour and get down to O'Donoghues to join in the fun