Liverpool Empire – until 9 July 2022
Reviewed by Jen Hughes 
5*****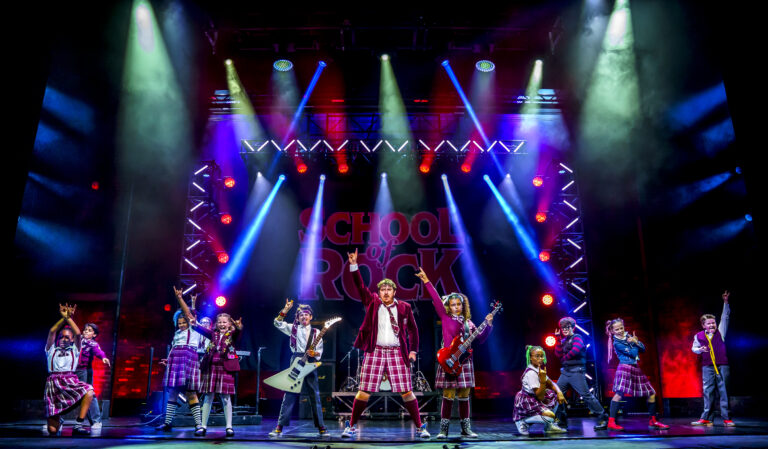 Wow,  just wow!  Laurence Connor's  School of Rock at the Liverpool Empire  was a lesson in fun, music and comedy genius!  Not only was I up dancing, but so were my two teenage boys, and quite frankly,  that's unheard of! 
Within moments of the curtain rising, it seemed that Jack Black himself had arrived in Liverpool and was taking the stage by storm. But actually,  this was a phenomenal  performance from Jake Sharp, who played unqualified imposter supply teacher,  Dewy Finn hilariously, bringing his own interpretation to the much loved comedic icon.   Sharp's comedy timing, facial expressions and  playful leaping around the stage had the audience in fits of laughter, helped along by more than one appearance of a hairy belly!  Belly laughs all round!  
Superb musical performances from some wonderfully talented children,  who deserve much praise for their confidence and talent, left the audience amazed at their individual and collective talents. At  times It felt like the audience were rocking out at a concert and other times at a Britain's Got Talent final. The atmosphere truly was electric.
The pace of the performance was punchy and slick. Set change  and clever  use of the stage were effective in creating a very authentic Horace Green Prep school, led by Principal Mullins (Rebecca  Lock). Lock added not only a love interest for Dewi, but moments of operatic emotion which added another dimension to this musical feast 
If I could give this 6 stars I would.