Alhambra, Bradford – until 12th November 2022
Reviewed by Katie Brewerton
4****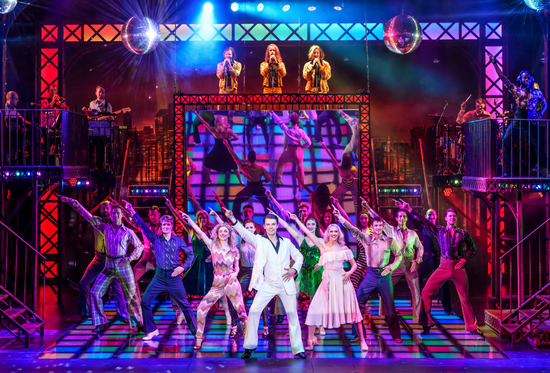 Saturday Night Fever first hit the stage in 1998, based on the 1977 film of the same name. This jukebox musical features some of the Bee Gees best and most well-known songs including Stayin' Alive, Disco Inferno, How Deep is Your Love and many more. 
Beginning with Tony Manero (Jack Wilcox), working in a paint shop, having family troubles and only feeling happy when he dances, living for the weekends where he spends his time at the disco with his friends. When the chance to enter a dance competition arises with a £1000 prize Tony has to enter and find the best partner. He convinces Stephanie Mangano (Rekekah Bryant) to begin training and they enter the competition together. Wilcox, is a clear fan favourite as the audience whooped and cheered as he changed into the iconic Saturday Night Fever white suit and it's clear why he got the role as the best dancer in town as both him and Bryant are sensational dancers as are the rest of the company. The chemistry between Bryant and Wilcox is clear and their dance performances together were beautiful.
Having not seen the original film I had only a basic knowledge of Saturday Night Fever and I was not disappointed after seeing this amazing show, in fact I may now have to go and watch the film to see how it holds up against the theatre production. 
Directed and produced by Bill Kenwright this is a unique musical in that, the majority of the songs are performed by the onstage Bee Gees (Aj Jenks, Drew Ferry and Oliver Thomson) singing above the stage and not by the characters, however this doesn't take away from their performance with the 3 capturing the essence of the Bee Gees wonderfully. Some of the best moments in the show were when the characters themselves sang with the band, particularly during Tragedy sung by Bobbie C (Harry Goodson-Bevan). Goodson-Bevan makes his debut in Saturday Night Fever and was fantastic.
Dark themes are also explored in what is generally an upbeat show with suicide, violence and rape featured. The staging is fantastic with the use of glitterballs transforming the theatre into a disco, the show is a whole load of fun and will have everyone up and dancing for the finale.