Park Theatre – until 14 January 2023
Reviewed by Claire Roderick
4****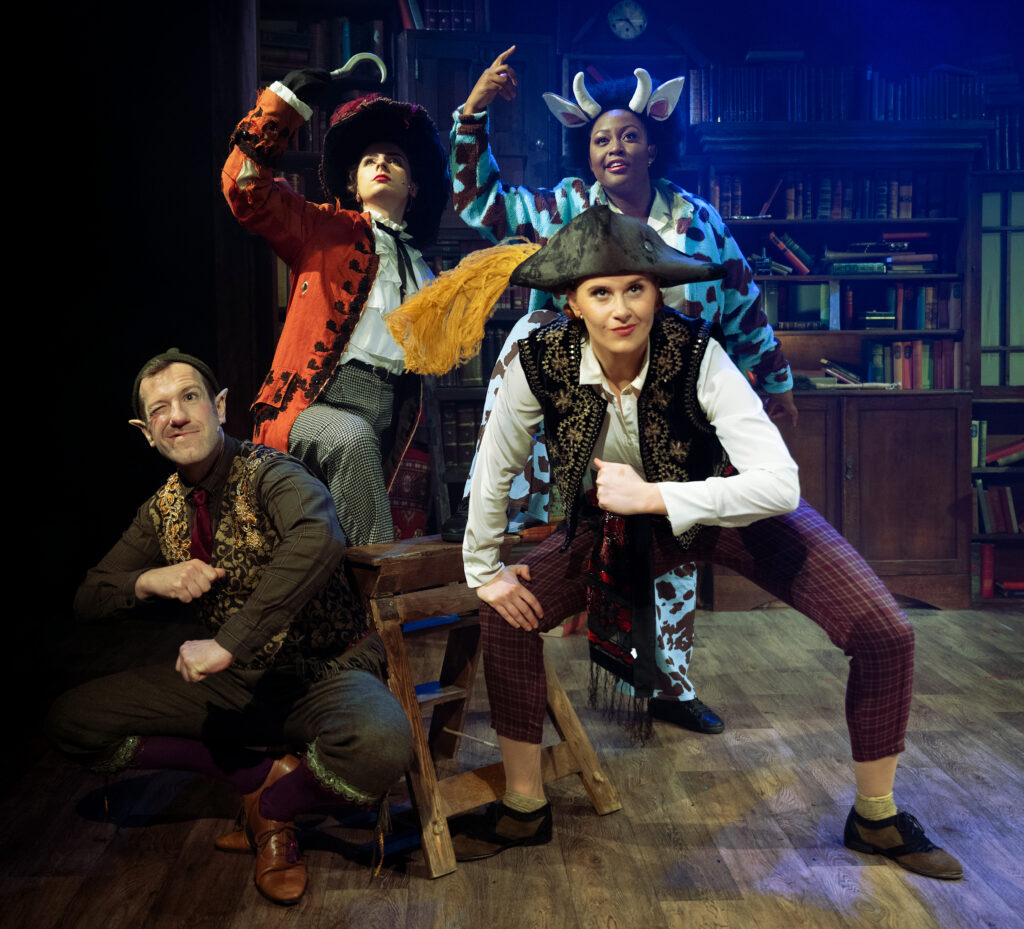 It's not just Scrooge getting his redemption story this Christmas, with grumpy goblin Rumpelstiltskin taking centre stage at Park Theatre. Charles Court Opera's pantomimes are always a boutique treat, and Rumpelstiltskin doesn't disappoint.
With a whirlwind retelling of the entire Grimm fairy tale in the opening number, John Savournin takes the audience on a trip through fairy tale land as Rumpelstiltskin's discontent at everyone now knowing his name attracts the attention of the mysterious Dreamcatcher. Determined that nobody should get their wishes granted without payment, Rumpelstiltskin wishes that everybody would forget his name. The evil Dreamcatcher gives him exactly what he wants, meaning that his name is lost, even to him. Rumpelstiltskin meets Daisy the cow and soon a quest begins as they search for the lost characters that the Dreamcatcher has imprisoned, with Rumpelstiltskin learning about friendship and generosity along the way.
Director and writer John Savournin injects the perfect mix of humour needed for a panto, with the more mature jokes accompanied by silly sound effects to keep the younger audience engaged. There is, of course, audience participation with a rat based challenge from Larry the no.10 cat and some dreadful puns. With the quest taking Rumpelstiltskin through enchanted caves, a magic carpet ride and a visit to London, the scenes are set using furniture and props from the intricate bookshop/library set, packed with drawers and secret doors for characters to pop in and out of, and the perfect backdrop for demonstrating the magic of books and storytelling. David Eaton's original songs are fantastic, with a range of influences and serving the plot brilliantly.
Philip Lee is a hoot as the goblin, full of eccentric energy and Emily Cairns is cartoonishly evil as the Dreamcatcher. Lucy Whitney excels in various roles, and Tamoy Phipps almost steals the show as Daisy the cow with her boundless energy and ability to milk every emotion. The vocals are fantastic, and the pace of the show is well-judged, with Rumpelstiltskin's realisation that with kindness he can make his own story a wonderful message for young and old.
A cracker of a show for all the family.