Grand Opera House, York – until Saturday October 1st 2022
Reviewed by Janina Cairns
5*****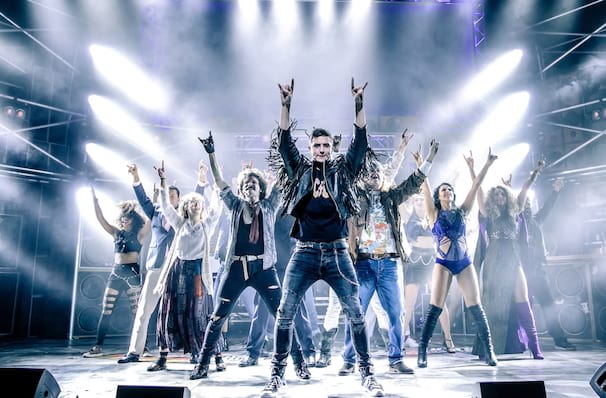 Rock of Ages is a rock anthem comedy musical set in the mid to late 80's. The era of big hair and loud rock, leather trousers and short shorts. Rock of Ages gives you the story of Drew (Sam Turrell) an aspiring rock star and of Sherrie (Gabriella Williams) an aspiring actress. Their story is the old "boy meets girl, boy and girl fall in love, it doesn't work out, they get back together, all live happily ever after". However, it is far from boring. Their on-stage chemistry is wonderful to watch, and they play their parts brilliantly. Drew (Sam Turrell) is a busboy in the Bourbon Room and he begins by persuading his boss to allow Sherrie (Gabriella Williams) – who has just arrived into town – to be a waitress there.
Intertwined with this comedic love story, is the rebellious rock club called the Bourbon Room – which is owned by Dennis Dupree (Kevin Kennedy) and its fight to keep it from being developed along with the rest of Sunset Boulevard. The Bourbon Bar is due to be demolished for development by German developers – a father, Hertz Klinemann (Vas Constanti) and his son Franz (David Breeds). To try to save the club, Dupree (Kevin Kennedy) decides to bring in rock star Stacee Jaxx (Cameron Sharp) for his farewell gig before going solo.
All of this is told via a very talented and incredibly funny narrator, Lonny Barnett (Joe Gash). Lonny (Joe Gash) is a larger than life, slightly rude narrator who sings, dances and acts alongside the rest of the cast. He interacts and talks directly to the audience throughout the show which engages the audience well and doesn't detract from the storylines in any way. Very cleverly and expertly done. The cast is brilliant in this show, but Lonny (Joe Gash), for me, was the cherry on the top.
The set was eye catching. It looked like the indoor of a rock bar for most of the show. Massive speakers display double as doors. Scaffolding doubling as balconies (so to speak) to give a lovely multi-level performance. Live music occasionally wheeled in and back. Costumes capture the era well. The whole show is punctuated with lines from fabulous rock anthems. From bands like Journey, Bon Jovi, Europe and Slade to name only a few. Anthems like "We Built This City", "Every Rose has its Thorn", "Wanted – Dead or Alive" and many, many more and the cast all sang them powerfully. Their voices were so powerful, at times that they shocked us with their long-held notes or when a male cast member reached a really high note.
When the whole audience engages with the show, you know it's a winning performance. This show had everyone (that was able) on their feet at the end. I haven't laughed out loud at a show for a very long time, and I was laughing from the first 5 minutes. So, if you fancy a really good laugh and a little bit of head banging, then this is the show for you.