Crazy Coqs, Brasserie Zédel, London – until 16th September 2023 
Reviewed by Ben Jolly 
4****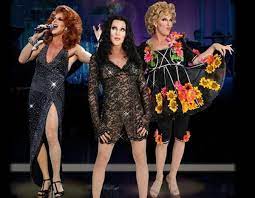 Randy Roberts has returned to London with his new show Aging Disgracefully, which plays for 3 nights at the fabulous cabaret space, Crazy Coqs – Live at Zédel in the heart of Piccadilly.
With humour, heart and a whole lotta hairspray, Roberts puts on a show that is more reminiscent of "old-school" drag but still feels fresh and relevant as ever for audiences today. Randy Roberts knows what he has to offer as a performer and his confidence, the kind that can only grow through years of experience and hard work in the industry shines through straight off the bat.
Opening the show with his own rendition of Lizzo's 2022 hit single, 'About Damn Time' before seamlessly transitioning into an upbeat Bette Midler segment, Roberts hits the "manicured" nail on the head with his comedic timings and vocal precision. 
After a joyful and exhilarating medley honouring some of Cher's biggest musical hits, Roberts moves into the role of the red-headed Randy Roberts herself. It was here when the show opened up to provide some warmth and emotional depth. We were also given a glimpse to another side of Roberts as he spoke of family holidays in France in between a rousing song-list of classic show-tunes; some more time spent like this would have been just the tonic as these human moments resonated strongly with the audience.
A performer like Randy Roberts would benefit greatly from a live band, it is evident he feeds off the energy from the people around and a small band would raise the energy level and allow room for more interpretation and dynamics that cannot be duplicated with a backing track, right now it feels that Roberts is restraint from being able to make more artistic or improvised decisions.
Randy Roberts' Aging Disgracefully is the epitome of the traditional drag show that we all know and love; it was joyous to watch this entertainer do just what they set out to do, ENTERTAIN! Aging disgracefully? I beg to differ. Like a great wine, Randy Roberts is only getting better with time.