Joseph Rowntree Theatre – until Sunday 24th July 2022
Reviewed by Michelle Richardson
3 ½***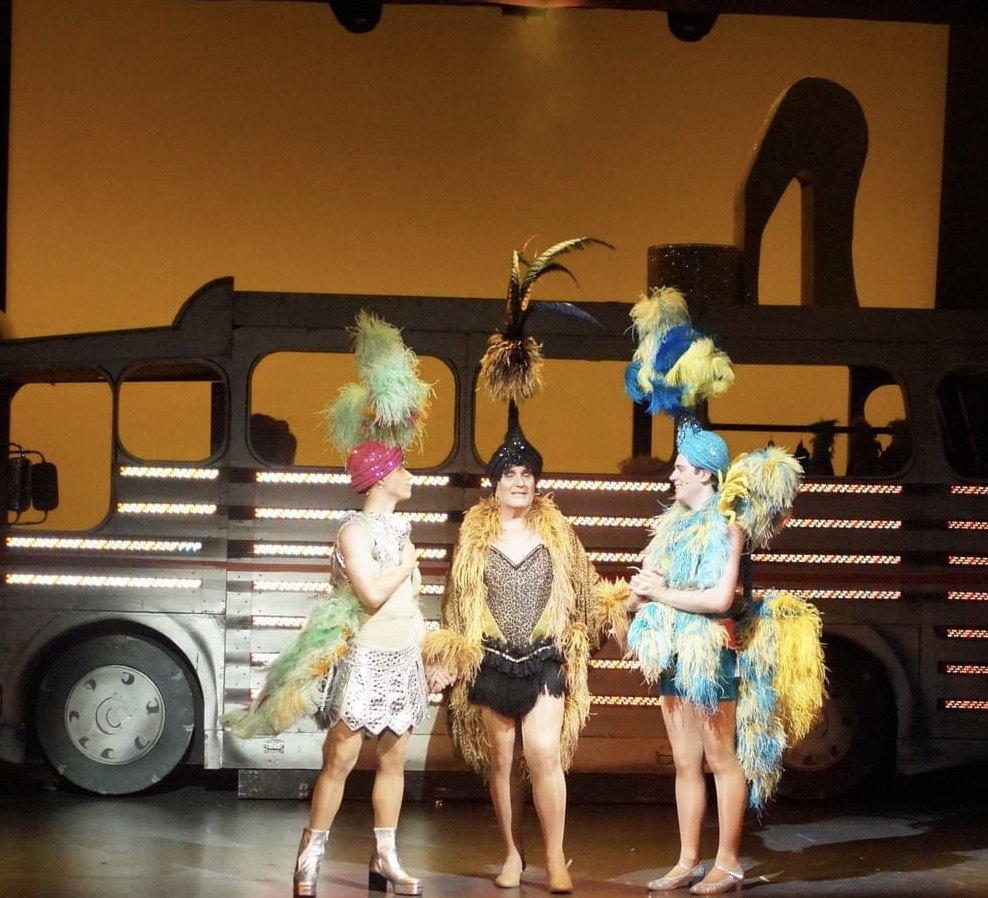 NE, a York am-dram group, is currently performing Priscilla Queen of the Desert at the cosy and welcoming Joseph Rowntree Theatre. I got to see the show on opening night, luckily on Wednesday, the day after the hottest day the UK has ever had.
It you don't already know, or hasn't seen the 1994 movie, as my companion hadn't, Priscilla is a musical that follows the adventures of two drag queens and a transsexual, across the Australian outback. Tick/Mitzi (Finley Butler) persuades Bernadette (Steve Tearle) to go on a road trip after losing her beloved Trumpet. Along for the ride is the young and cocky upstart Adam/Felicia (Tom Henshaw).
Setting off on a bus they christen Priscilla, their final destination is Alice Springs and a promise of performing their drag act at a casino. Tick does have an ulterior motive though, unbeknownst to the other two he has a wife and a son at said casino. Along the way they have engine troubles, meet unforgiving locals, and get to sing the cult gay anthems we remember from the film, with even more Kylie thrown in.
Whilst on the road poor Priscilla breaks down in the back of beyond. They manage to put out a mayday, not knowing if anyone will come to their rescue, but a mechanic appears after their call. Bob (James O'Neill) befriends the girls and forms a special bond with Bernadette and ultimately joins them on their travels.
The flamboyant Miss Understanding (Jack Hambleton) starts off the show in towering heels. I was mesmerised and astounded that anyone could stand up in those heels, let alone walk and perform in them. Though Miss Understanding is only a minor character, Hambleton was very memorable in his performance with his physical comedy, and I would die for his posture.
Butler had a good voice, and I was very impressed with his vocals during his duet with Mathew Musk, who played his son Benji, with Elvis's Always on My Mind. Also look out for the cake and subsequent number, so funny. Tearle is fabulous as the matriarch of the group. He has such a great stage presence and after forgetting his wig in one scene, was quick to react and ad-lib, a true professional. Henshaw is full of attitude and sass, and full of talent. He was truly at home as a drag artist and another one mesmerising to watch.
Priscilla uses three divas, (Perri Ann Barley, Aileen Stables and Julie Blackburn) throughout the show. They all looked fabulous in their glittering and feathery costumes, whilst belting out some of the disco greats in the show.
One hilarious scene that must get a mention is with Bob's mail-order bride Cynthia (Ali Butler-Hind) at the local bar. Beware of the flying ping pongs is all I can say, even the Musical Director had a hard hat on.
I must say the costumes were something, no shortcuts here. They were just as sparkly and outrageous as you would expect from any Priscilla. Check out the cupcakes and paintbrushes, sequins and feathers, you will not be disappointed. It was also great to see Scott Phillips, the Musical Director, getting involved in the finale.
This production had a huge cast and at times was a bit chaotic with so many on stage, but they all worked so hard to put on a wonderful show. It is lovely to see that these am-dram productions give everyone a chance to shine.
A great evening of entertainment with some hilarious scenes and some wonderful music, what more could you ask?