THE MULTI AWARD WINNING
PRIDE & PREJUDICE* (*SORT OF)
IS NOW BREAKING BOX OFFICE RECORDS ACROSS THE COUNTRY
AND HAS NOW RECOUPED ITS COSTS AND IS IN PROFIT
NEW PRODUCTION IMAGES RELEASED
PRIDE & PREJUDICE* (*SORT OF) by Isobel McArthur after Jane Austen is now breaking box office records as it tours the country after its award-winning run was curtailed at the Criterion Theatre in London's West End by the pandemic. Isobel McArthur won both the Evening Standard Emerging Talent Award and The Olivier Award for Best Comedy or Entertainment in 2022. In the first four weeks of the 2023 tour the production has played 32 performances to 32 standing ovations. And now continues on to visit Richmond, Chichester, Cheltenham, Inverness, Cardiff, Nottingham, Eastbourne, Chester, Birmingham, Leeds, Blackpool, Bristol, Truro, Malvern, Exeter and Norwich where tickets are now on sale.
David Pugh the producer said, "This success for PRIDE & PREJUDICE* (*SORT OF) is long due and its delay was down simply to the effects of the pandemic. To be able to now produce a show, recoup its production costs and to go into profit at such an early stage must give such confidence back and faith to theatre investors everywhere."
The cast for the 2023 tour includes Leah Jamieson as Anne, Mary Bennet, Lydia Bennet and Mrs Gardiner, Lucy Gray as Tillie, Charlotte Lucas, Charles Bingley and Miss Bingley, Emmy Stonelake as Effie and Elizabeth Bennet, Megan Louise Wilson as Clara, Jane Bennet, and Lady Catherine de Burgh, Dannie Harris as Flo, Mrs Bennet and Fitzwilliam Darcy, Laura Soper and Ruth Brotherton.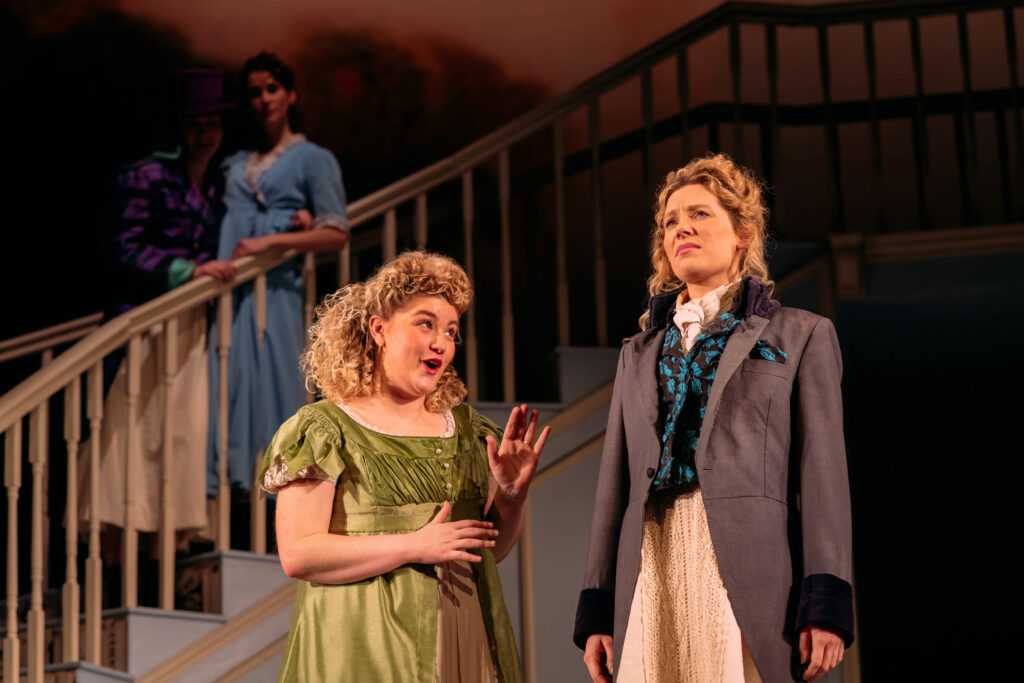 This unique and audacious retelling of Jane Austen's classic love story originally played at Glasgow's Tron Theatre. Men, money and microphones will be fought over in this irreverent but affectionate adaptation where the stakes couldn't be higher when it comes to romance. The show features a string of pop classics including Young Hearts Run Free, Will You Love Me Tomorrow and You're So Vain. It's the 1800s. It's party time. Let the ruthless matchmaking begin.
PRIDE & PREJUDICE* (*SORT OF) is directed by Olivier and Evening Standard Theatre Award Winner Isobel McArthur and Simon Harvey. Comedy staging is by Jos Houben, design by Ana Inés Jabares-Pita, lighting by Colin Grenfell, musical supervision by Michael John McCarthy, sound design by Michael John McCarthy and Luke Swaffield for Autograph and choreography by Emily Jane Boyle.
David Pugh presents Tron Theatre Company, the Royal Lyceum Theatre Edinburgh and Blood of the Young's production of PRIDE & PREJUDICE* (*SORT OF) with co-producers Birmingham Repertory Theatre, Bristol Old Vic, Leeds Playhouse, Northern Stage and Oxford Playhouse.
Website: www.prideandprejudicesortof.com
Instagram: www.instagram.com/prideandprejudicesortof/
Twitter: @PandPsortof