PAINES PLOUGH – A PROMISE TO 2021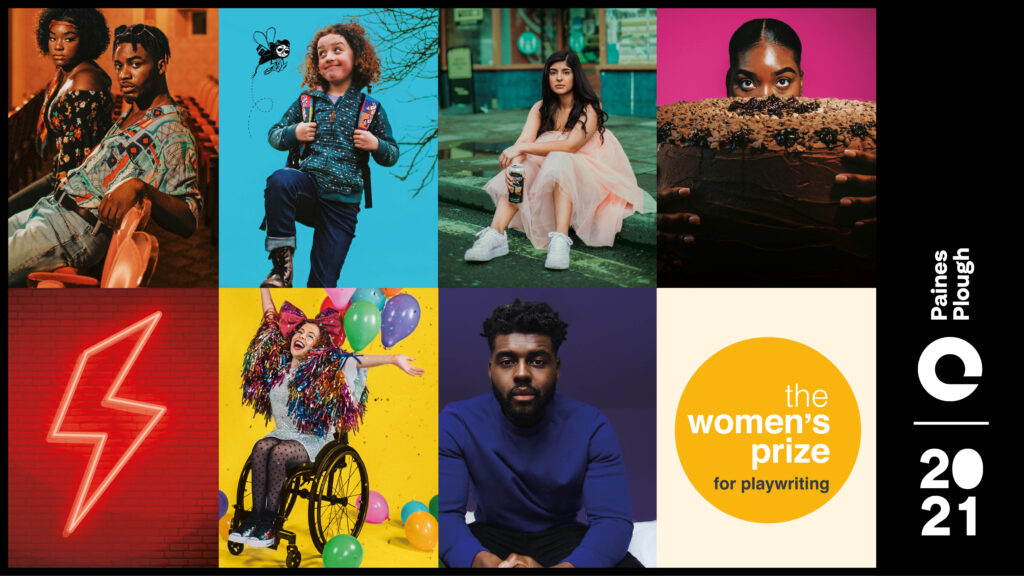 ARTISTIC DIRECTORS CHARLOTTE BENNETT AND KATIE POSNER ANNOUNCE PLANS FOR 2021
 
PAINES PLOUGH REPURPOSE THEIR SEASON TO PRESENT A PROMISE TO 2021, A PROMISE TO SUPPORT THEIR COMMUNITIES AND A HOPE TO SHARE THEIR STORIES
 
THE FIRST EVER WOMEN'S PRIZE FOR PLAYWRITING WINNER – REASONS YOU SHOULD(N'T) LOVE ME BY AMY TRIGG, A TRAGICOMEDY ABOUT SELF-LOVE, SPINA BIFIDA, AND HOW SHIT AND WONDERFUL LIFE CAN BE – TO PREMIERE AT THE KILN IN MAY
 
PART OF BELGRADE THEATRE'S COVENTRY UK CITY OF CULTURE 2021 PROGRAMME, ROUNDABOUT 2021 WILL FEATURE FOUR WORLD PREMIERES
MAY QUEEN WRITTEN BY FRANKIE MEREDITH, DIRECTED BY 2021 CO-ARTISTIC DIRECTOR OF BELGRADE THEATRE BALISHA KARRA – A COMING-OF-AGE STORY ABOUT A YOUNG WOMAN FROM COVENTRY ON A QUEST TO FIND HER PLACE IN HER CITY AND IN THE WORLD
HUNGRY WRITTEN BY CHRIS BUSH, DIRECTED BY PAINES PLOUGH'S JOINT ARTISTIC DIRECTOR KATIE POSNER – A PLAY ABOUT FOOD, GRIEF AND CLASS
BLACK LOVE WRITTEN BY CHINONYEREM ODIMBA, WHO WILL BE CO-DIRECTING WITH KATIE POSNER – A BRAND NEW MUSICAL CELEBRATING BLACK LOVE IN ASSOCIATION WITH TIATA FAHODZIREALLY BIG AND REALLY LOUD WRITTEN BY PHOEBE ECLAIR-POWELL, DIRECTED BY KATIE POSNER – A FAMILY SHOW ABOUT RESILIENCE AND FINDING YOUR VOICE
A NEW PLAY FROM IFEYINWA FREDERICK, DIRECTED BY PHILIP MORRIS, ABOUT THE COMPLEXITIES OF MENTAL HEALTH IN YOUNG MEN, SESSIONS, IN CO-PRODUCTION WITH SOHO THEATRE, WILL TOUR THE UK FROM SEPTEMBER

EACH PRODUCTION WILL INCLUDE NEW INTEGRATED INITIATIVES AND CHARITY PARTNERSHIPS IN RESPONSE TO CURRENT EVENTS

VICKIE DONOGHUE WILL DIGITALLY PRESENT A NEW PLAY THE ELECTRIC IN COLLABORATION WITH ROYAL WELSH COLLEGE OF MUSIC AND DRAMA ONLINE FROM 21 MAY

THE WOMEN'S PRIZE FOR PLAYWRITING WILL RETURN FOR 2021 IN PARTNERSHIP WITH ELLIE KEEL PRODUCTIONS AND PRINCIPAL PARTNER 45NORTH

PAINES PLOUGH ANNOUNCE NOUVEAU RICHE AND BONNIE AND THE BONNETTES AS COMPANIES ON THEIR RE:BUILD INITIATIVE, SUPPORTING UNDER-REPRESENTED COMPANIES TO BUILD RESILIENCE

THE COMPANY ALSO TRIAL A NEW 'OPEN SUBMISSIONS' INITIATIVE FOR WRITERS VIA THEIR NEW WEBSITE.
Artistic Directors Charlotte Bennett and Katie Posner today announce plans for Paines Plough 2021. The year's programme will see the company return with a team of trailblazing writers in theatre including Chris Bush, Vickie Donoghue, Phoebe Eclair-Powell, Ifeyinwa Frederick, Chinonyerem Odimba, Frankie Meredith and Amy Trigg. The work announced today is presented as an intention. The company recognises the instability of the current environment, both within the sector and beyond. In response to this, Paines Plough are integrating new initiatives and partnerships into their programme in accordance with the themes and issues that their work addresses. Throughout the year they will work with projects that focus on platforming under-represented voices in theatre, as well as collaborating with food banks and mental health charities across their programme
Paines Plough's Joint Artistic Directors Charlotte Bennett and Katie Posner:
"This year we want to make a Promise to 2021 because the world has changed and so have we.
If anything, 2020 has taught us there are no definites but that there is always hope. We are artists, we are activists and 2021 is about discovering how best we can reconnect and serve our national communities after the year we have all been through.
Our Promise to 2021 is a promise of hope. A hope to make some plays, a hope to make them with some people and a hope to share them with our national audiences.
In 2021, we promise to share the stories that should have been shared in 2020 as they are powerful, vital and need to be celebrated, along with new voices and a whole heap more.
We recognise that the world in which we will deliver these plays is now radically different. Our commitment to our communities will lay at the heart of what we deliver, with new bespoke spin-off projects that respond to the present moment.
We will always put artists and audience's safety first. We will only make and share work where it is safe to do so.
And finally, we will make some heart-stopping, feet-stomping, hair-raising, amazing shows. It's been a while. Let us at it.
Hope to see you there."This year's work will showcase ground-breaking voices reacting to the world around them. Some of 2020's programme will return after being postponed due to the pandemic. Covid-19 has exposed the magnitude of systemic inequality around the world, pushing these issues to the front of our discourse. Paines Plough's new season and new writers are returning to the stage to remind audiences why theatre is so crucial to continuing these conversations. The Women's Prize for Playwriting in collaboration with Ellie Keel Productions and principal partner 45North will return after its first year in 2020. Last year's winner Amy Trigg's new play REASONS YOU SHOULD(N'T) LOVE ME – a tragicomedy about self-love, spina bifida, and how shit and wonderful life can be, co-produced with the Women's Prize for Playwriting, 45North and the Kiln, will be the first production of the company's season playing at the Kiln from 21 May to 12 June. The Women's Prize for Playwriting submissions for 2021 will open on 7 April when the judging panel will be announced.  Roundabout will return as part of Belgrade Theatre's Coventry UK City of Culture 2021 Programme. Its unseen 2020 line-up includes a musical as one of the company's lead productions; Chinonyerem Odimba's new work, BLACK LOVE explores love and relationships with music by Ben and Max Ringham, in association with tiata fahodzi following Odimba's new role as Artistic Director of the company. This will be playing in rep with Chris Bush's new play HUNGRY investigating food and our dysfunctional relationships with our bodies and Phoebe Eclair-Powell's new family show REALLY BIG AND REALLY LOUD about a girl who loses her voice and goes on a madcap adventure to find it again. Paines Plough's 2019 Playwright Fellow Frankie Meredith joins the line-up this year with her new play directed by 2021 Co-Artistic Director of Belgrade Theatre Balisha Karra, MAY QUEEN – a coming-of-age story about a young woman from Coventry on a quest to find her place in her city and in the world. Originally planned for last season, Ifeyinwa Frederick's SESSIONS, exploring the complexities of mental health in young men, will tour the UK from September before playing at Soho Theatre. Paines Plough will be partnering with Trybe House Theatre, a newly formed company which seeks to actively build resilience and self well-being, particularly with young black men aged 16-25, using theatre as a supportive outlet. Together, they will deliver a programme of theatre workshops to national audiences alongside the SESSIONS tour.
 Vickie Donoghue is added to the line up with new play THE ELECTRIC which will be performed by the Richard Burton Company – the Royal Welsh College of Music and Drama's in-house theatre company. The play is part of NEW '21, the Richard Burton Company's new writing festival, and is recorded for digital release on 21 May. Paines Plough has added two theatre companies to its latest initiative Re: Build. Nouveau Riche and Bonnie and The Bonnettes join the programme, which has been created to support companies in building their resilience and strengthening their strategic plans during this challenging period. The company will also be trialling a new Open Submissions programme, whereby during certain windows throughout the year writers can submit their scripts via the Paines Plough website. The scripts will be read by the artistic team and all writers will then have a face to face meeting. The programme is targeted at writers without representation to ensure Paines Plough connect with more writers beyond their existing networks and to hopefully help create a more transparent process. Paines Plough's season is supported by the Garfield Weston Foundation. 
***
A Women's Prize for Playwriting, Paines Plough, 45North and Kiln Theatre production
REASONS YOU SHOULD(N'T) LOVE ME
by Amy Trigg
Kiln Theatre
Directed by Charlotte Bennett
For a long time I didn't know how it'd work.
Or what I'd be able to feel.
People would ask me if I could have sex and I'd feign shock and act wildly offended whilst secretly wanting to grab them by the shoulders and be like "I don't know, Janet!"

Juno was born with spina bifida and is now clumsily navigating her twenties amidst street healers, love, loneliness – and the feeling of being an unfinished project.
Winner of The Women's Prize for Playwriting 2020, Amy Trigg's remarkable debut play REASONS YOU SHOULD(N'T) LOVE ME is a hilarious, heart-warming tale about how shit our wonderful lives can be.
*
ROUNDABOUT 2021
The 2021 ROUNDABOUT programme will include World Premieres from Chris Bush (Steel, The Changing Room), Chinonyerem Odimba ((Princess & The Hustler, Medea), Phoebe Eclair-Powell (Fury, Epic Love and Pop Songs) performed in rep, directed by Katie Posner, and a world premiere from Frankie Meredith, also performed in rep and directed by Balisha Karra, 2021 Co-Artistic Director of Belgrade Theatre. Balisha was Paines Plough's Trainee Director in 2018. The season will be part of Belgrade Theatre's Coventry UK City of Culture 2021 Programme and BLACK LOVE will be co-directed by Katie Posner and Chinonyerem Odimba and produced in association with tiata fahodzi following Odimba's new role as Artistic Director of the company.
Roundabout is Paines Plough's award-winning portable in-the-round auditorium and 2021 will see it return for the seventh consecutive year. This year, in co-production with Belgrade Theatre in Coventry, Roundabout will also host a programme of visiting companies, comedy, music and local community events. Full listings will be announced in due course.
Paines Plough are planning to partner with food banks across the Roundabout tour to support those most affected by the pandemic, and in line with REALLY BIG AND REALLY LOUD by Phoebe Eclair-Powell they plan to work with young people across the country on using their voices after over a year kept away from their friends and peers.
Roundabout is supported using public funding by the National Lottery through Arts Council England and has been additionally supported by the Theatre's Trust.
*
A Paines Plough and Belgrade Theatre production
HUNGRY
by Chris Bush
Directed by Katie Posner
"I'd watch you eat. I'd eat you up. You're not like them, are you? You're real."
Lori is a professional chef. Bex waits tables to make ends meet. One night together in a walk-in fridge and the rest is history.
Lori has big plans, but Bex is struggling. If we are what we eat, then Bex is in real trouble. It's not her fault though – the system is rigged. No-one on minimum wage and zero hours has the headspace to make their own yoghurt.
HUNGRY is a new play about food, love, class and grief in a world where there's little left to savour.
Chris is an award-winning playwright, lyricist and theatre-maker. Her past work includes Pericles (National Theatre); The Assassination Of Katie Hopkins (Theatr Clwyd); Standing At The Sky's Edge, Steel (both Sheffield Theatres) and The Changing Room (NT Connections). Upcoming work includes Faustus: That Damned Woman (Headlong/Lyric Hammersmith/Birmingham Rep); The Last Noel (Attic Theatre) and a new musical adaptation of The Caucasian Chalk Circle (National Theatre).
*
A Paines Plough and Belgrade Theatre production in Association with tiata fahodzi
Part of Belgrade Theatre's Coventry UK City of Culture 2021 programme
BLACK LOVE
Book and Lyrics by Chinonyerem Odimba
Music by Ben and Max Ringham
Directed by Katie Posner and Chinonyerem Odimba
Introducing Roundabout's first ever musical.
Love freely. Love freedom. Love.
Meet Aurora and Orion: Sister and Brother. Constellations in time. More than blood. More than just fam. They look after each other in their small London flat, filled with the memories of their parents' Black Love.
When that love is threatened, they have to find their way back to each other and to what it means to love whilst Black. Using real-life stories, imagined worlds and new songs inspired by an R&B heritage, they begin a journey to confronting their own worst fears.
BLACK LOVE is an explosion of form busting storytelling, an ode to Black music, and those real stories we rarely hear.Chinonyerem is a Nigeria-born, Bristol based playwright, director and poet. Her work for theatre includes The Bird Woman of Lewisham at the Arcola; Rainy Season, and His Name is Ishmael for Bristol Old Vic; Joanne for Clean Break and Amongst The Reeds for Clean Break and The Yard; a modern retelling of Twist (Theatre Centre). More recent work ranges from Medea at Bristol Old Vic, We Too, Are Giants for Kiln Theatre, Unknown Rivers at Hampstead Theatre, Prince and the Pauper at Watermill Theatre, and The Seven Ages of Patience at Kiln Theatre, and Princess & The Hustler' which toured across the UK for Eclipse Theatre'/Bristol Old Vic/HullTruck. Her work has been shortlisted for several awards including the Adrienne Benham and Alfred Fagon awards. In 2015 her unproduced play Wild is De Wind was shortlisted to the final ten for the Bruntwood Playwriting Award. She is the winner for the 2018 Sonia Friedman Award (Channel 4 Playwright Bursary) for a new play 'How to Walk on the Moon'.
She is currently working on theatre commissions for Young Vic, RSC, and Paines Plough. She is also Writer-in-Residence at Royal Welsh College of Music and Drama. Chinonyerem is the Artistic Director of tiata fahodzi.
Ben and Max Ringham's credits include Cyrano De Bergerac (Playhouse Theatre);
When the Crows Visit, The Seven Ages of Patience (Kiln Theatre); The Man in the White Suit (Wyndham's Theatre); Games For Lovers (Vault Theatre); Anna, Tartuffe (National Theatre); Betrayal, Pinter at the Pinter (Harold Pinter Theatre and Bernard B. Jacobs Theatre, Broadway); Berberian Sound Studio, Belleville (Donmar Warehouse); Dick Whittington (Lyric Hammersmith); The Wolves (Theatre Royal Stratford East); King Lear (Duke of York's Theatre and Chichester Festival Theatre); Quiz (Noel Coward and Chichester Festival Theatre); Strangers on a Train, Gaslight (ATG); Parliament Square, Our Town, The Mighty Walzer (Manchester Royal Exchange); Apologia, Lunch & The Bow of Ulysses, Doctor Faustus, The Maids (Trafalgar Studios); Twilight Song (Park Theatre); Gloria (Hampstead Theatre); The Importance of Being Earnest (Theatr Clwyd); Pygmalion (Headlong/West Yorkshire Playhouse/Nuffield); The Miser (Garrick Theatre); The Pitchfork Disney (Shoreditch Town Hall); The Dresser, Jeeves and Wooster (Duke of York's); After Miss Julie (Theatre Royal Bath); Deathtrap (Salisbury Playhouse); The Government Inspector (Birmingham Rep); Raz (Assembly Theatre/Riverside Studios); Queen Anne (RSC/Theatre Royal Haymarket); Ben Hur, A Wolf in Snakeskin Shoes, Multitudes (Tricycle Theatre); La Musica, Ah, Wilderness! (Young Vic); The Mentalists (Wyndham's Theatre) and many more.
*
A Paines Plough and Belgrade Theatre production
Part of Belgrade Theatre's Coventry UK City of Culture 2021 programme
REALLY BIG AND REALLY LOUD
by Phoebe Eclair-Powell
Directed by Katie Posner
This is a story. Charli's story.
It's about losing your voice and going on a big adventure to find it again. It features a rageful rhino, a very helpful fly called Stephen and some really good songs about chips.
A show for all the family from award-winning playwright Phoebe Eclair-Powell.
Phoebe is a writer from South East London. Her recent play Shed: Exploded View won the prestigious Bruntwood Award for 2019. Her latest play Harm is due to be produced at the Bush theatre early 2021, and will be filmed by BBC Culture in Quarantine.
Phoebe has written for award winning Channel 4 Continuing Drama Hollyoaks and an episode of Sky comedy Two Weeks To Live with Maisie Williams. Phoebe is currently under commission with Reading Rep, Newcastle Live Theatre and The Bush Theatre.
*
A Paines Plough and Belgrade Theatre production
Part of Belgrade Theatre's Coventry UK City of Culture 2021 programme
MAY QUEEN
By Frankie Meredith
Directed by Balisha KarraMay Day in Coventry, 2022. Sixteen-year-old Leigh has been chosen as May Queen. She's buzzin, as is the rest of the city.The cider is flowing and St George's flag is flying – but an encounter during the day's festivities will soon change everything. As the year moves on in the City of Peace and Reconciliation, Leigh must face up to the events of that hot May Day, and dig deep within herself to ask – how did she get here? Frankie is a midlands-based playwright and theatre maker. Having gained a place on the Lyric Hammersmith Young Writers Programme she started writing short plays which were performed at various theatres around London. She wrote her first full-length play Turkey while on the Soho Writers Lab which was produced at The Hope Theatre in 2017 to rave reviews and Off West End nominations. Finding Peter, a play for young audiences, was taken up to Edinburgh and had two subsequent runs in London and her play 17 was produced at Vaults Festival by Wildcard Theatre and is currently being developed for television. Frankie is currently working on a musical-storytelling-ensemble piece about women from her area, along with Warwick Arts Centre, which will tour Coventry and Warwickshire in 2021.
Her film Clementines recently won 'Best Short' at the British International Film Festival and she has recently written and directed her own web-series Becoming Danish.
Frankie was Paines Plough's Playwright Fellow in 19-20 during which time she had some of her work translated into Catalan and performed in Barcelona.
*
A Paines Plough and Soho Theatre production
SESSIONS
by Ifeyinwa Frederick
Directed by Philip Morris
In 2019 Paines Plough co-commissioned a new play by Ifeyinwa Frederick, one of the 2019 Soho Six, in a yearlong attachment programme for artists run by Soho Theatre. As part of their 2021 season Paines Plough, together with Soho Theatre, present the result.
"30 just matters, init. Like there's no doubt you're a proper adult then. Like 25 to 29 is just training but 30, it's real."
Tunde's 30th birthday is fast approaching. So, he's just started therapy because he hasn't been able to get to the gym for weeks and a recent one night stand ended in tears – his.
Interrogating the challenge of opening up and accepting our own vulnerabilities, SESSIONS by Ifeyinwa Frederick is a raw, funny, bittersweet deep-dive into the complexities of masculinity, depression and therapy.
The production debuts in September 2021 with a national tour before playing at Soho Theatre in November 2021. This will be the third production in a multi-year partnership with the Paul Hamlyn Foundation and Esmée Fairbairn Foundation.
Ifeyinwa is a fervent believer in the power of storytelling and human connection, which fuels her work as a writer and entrepreneur. In need of a creative outlet outside of her business, she began writing and joined Soho Theatre Writers' Lab. Supported by the programme, she wrote her debut play The Hoes which received a full production at Hampstead Theatre in 2018. The play was shortlisted for the Tony Craze Award and Character 7 Award and longlisted for the Verity Bargate Award. Writing alongside her full-time job as co-founder of Chuku's – the world's first Nigerian tapas restaurant – she's a Young British Foodie award winner and has been featured in Forbes' list of 100 Female Founders in Europe.
*
A Royal Welsh College of Music and Drama production in collaboration with Paines Plough
THE ELECTRIC
by Vickie Donoghue
Directed by Anthony Simpson-Pike
Once again Paines Plough will partner with Royal Welsh College of Music and Drama to showcase the world premiere of Vickie Donaghue's new play. THE ELECTRIC will open in Cardiff on 23 March and be recorded for digital release later in the Spring.

The Electric nightclub is a sanctuary for Sasha. It is where she feels closest to her father. But its reputation is now one of faded glamour.
When everything the club has ever stood for is threatened, Sasha knows she must act. For her Dad's memory to live on, Sasha must take her revenge – in the most violent and bloody way possible.
THE ELECTRIC is a contemporary re-telling of Electra by Sophocles, set in an Essex night club. It is a story about grief, greed and growing up.