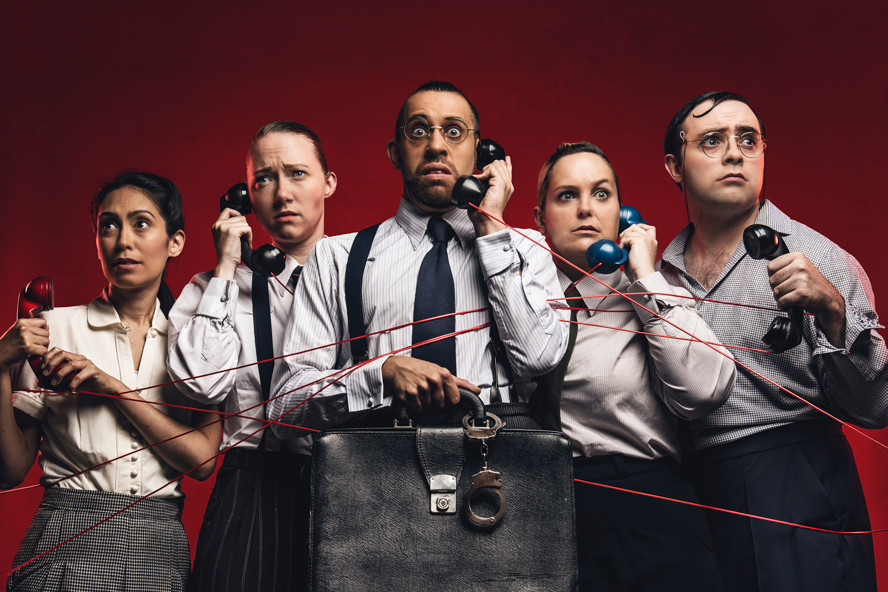 "irrepressible wartime musical is a West End triumph"
Emma John, The Guardian
"Hilarious tale makes Mincemeat out of its rivals…Before curtain I talked to a fan seeing this for the seventh time. I wondered why anyone would see the same show seven times. Now I know."★★★★★
Neil Armstrong, Mail On Sunday
"LAUGHING so hard I could barely breathe is not what I expected for a musical about a World War II top-secret plan.…the perfect invasion of the West End. Long may they occupy it." ★★★★★
Thea Jacobs, The Sun
It was announced today, 2nd June 2023, that following Operation Mincemeat: A New Musical 'the best musical in decades – a Hamilton and Book of Mormon love child' garnering fifty-eight five star reviews, the show has extended its West End run again by a further five weeks until 23rd September. Operation Mincemeat follows thirty-three hugely successful years of The Woman In Black at the Fortune Theatre.
The news coincides with Sony Masterworks Broadway releasing the Original London Cast Recording in the United States.
Tickets are on General Sale from the Official Box Office at OperationMincemeat.com. Priority access to the best seats is available via the official mailing list.
If you would like to enter the Operation Mincemeat ticket lottery sign-up at OperationMincemeat.com/Lottery. £25 tickets are available Wednesday – Saturday. The lottery is drawn every two weeks on a Monday, with the next draw on 12th June.
After five sold-out development runs at the New Diorama Theatre in 2019 and Southwark Playhouse in 2020, 2021 & 2022, plus an extended Riverside Studios run last summer, Operation Mincemeat: A New Musical is back.
The year is 1943 and we're losing the war. Luckily, we're about to gamble all our futures on a stolen corpse.
Singin' in the Rain meets Strangers on a Train, Noel Coward meets Noel Fielding, Operation Mincemeat is the fast-paced, hilarious and unbelievable true story of the twisted secret mission that won us World War II. The question is, how did a well-dressed corpse wrong-foot Hitler?
The production is directed by 2023 Olivier Award nominated Robert Hastie (Standing at the Sky's Edge, National Theatre – 2023 Best New Musical Olivier Award winner), following providing directorial support for the Riverside Studios run, while Olivier Award nominated Jenny Arnold (Jerry Springer: The Opera, National Theatre) continues as choreographer. Also from Standing at the Sky's Edge at theNational Theatre on the creative team are: 2023 Olivier Award nominated Ben Stones (Sylvia, The Old Vic) as set and costume designer, Tony Award, six-time Olivier Award and Bafta Award winning Mark Henderson (Girl From the North Country, Broadway & Noël Coward Theatre) as lighting designer and Olivier Award winning Mike Walker (Jerry Springer: The Opera, National Theatre) as sound designer. Grammy Award winning and Tony, Emmy, Olivier award nominated Steve Sidwell (Beautiful: The Musical, Broadway & Aldwych Theatre) is orchestrator and vocal arranger. Georgie Staight joins as Associate Director and Paul Isaiah Isles as Associate Choreographer.
Operation Mincemeat won The Stage Debut award for Best Composer/Lyricist and the Off-West End award for Best Musical Production and Best Company Ensemble. Following the first New Diorama Theatre run, Operation Mincemeat was listed in The Observer's Top 10 shows of the year and most recently was listed in The Independent's Top 15 shows of the year. The show is currently featured in the V&A's Re:Imagining Musicals display, exploring how musicals have continuously reimagined, reinvented and reinterpreted themselves over time.
The 2023 Off-West End Best Musical Production Award winning returning cast (Southwark Playhouse/ Riverside Studios), David Cumming, Claire-Marie Hall, Natasha Hodgson, Jak Malone and Zoë Roberts, are joined by: Seán Carey (returning Riverside Studios), Geri Allan, Christian Andrews and Holly Sumpton.
Operation Mincemeat is written and composed by David Cumming, Felix Hagan, Natasha Hodgson and Zoë Roberts, who form SpitLip.
Operation Mincemeat is presented in the West End by Avalon (in association with SpitLip), who have supported since the Southwark Playhouse runs. The show was commissioned by New Diorama Theatre, co-commissioned by The Lowry, and also supported by the Rhinebeck Writers Retreat.
What The Press Said:
Garnered fifty-eight★★★★★ reviews
"mission improbable is a runaway hit…SpitLip honour as well as spoof with their all-conquering espionage musical…It's a hoot – and a marvel. It is also one of the surprise survivors of the pandemic-stricken theatre. A show that looked like a caper with a cult following is on the brink of commercial success… Its rise, in an era of juggernaut musicals, is flabbergasting…nimbly varied, expressive music, ranging from sea shanty, to jazz to hip-hop; lyrics so patteringly exact and ingeniously rhymed that Noël Coward might have flushed with envy."
Susannah Clapp, The Observer
"a Pythonesque wartime romp that doesn't short-change the intellect… a delight…this inventive gem of a night is in with a very good fighting chance of resounding victory"
Dominic Cavendish, The Daily Telegraph
"Pure theatrical serotonin, it's a show that will leave you with a spring in your step"
Hugh Montgomery, Metro
"a daring, ridiculous and unapologetic piece of theatre that leaves us completely credulous in trying to understand just how on earth they created something so sensational and pulled it off… an incredible emotional range… The songs are unforgettable and all of them add to the insanity of this musical… The comedy is insanely clever and absurd; this musical is a fun space that challenges but doesn't look to offend in the name of being funny… such an amazing experience to watch it… an incredibly well-written musical… Unfortunately five stars is the limit, I would happily give many more."
Cindy Marcolina, Broadway World
"a real triumph… has potential to become a cult classic. Go see it now with the original cast, so you can brag about it for years."
Sarah Rappaport, Bloomberg
"a daring, ridiculous and unapologetic piece of theatre that leaves us completely credulous in trying to understand just how on earth they created something so sensational and pulled it off… an incredible emotional range… The songs are unforgettable and all of them add to the insanity of this musical… The comedy is insanely clever and absurd; this musical is a fun space that challenges but doesn't look to offend in the name of being funny… such an amazing experience to watch it… an incredibly well-written musical… Unfortunately five stars is the limit, I would happily give many more."
Katerina Partolina Schwartz, Broadway Baby
"There are some big, blowsy shows around in the West End, but this little belter is staging its own audacious invasion plan."
Suzi Feay, The Financial Times
"a miraculous musical that tells the entire story in a kind of accelerated farce that is part Mel Brooks, part SIX, part Hamilton with a side order of One Man, Two Guvnors."
Neil Norman, The Daily Mirror

"a little show with a very big future."
David Benedict, Variety
"But whoof! It blew the roof clean off. Hoots and tears welcomed this ingenious, touching musical. Taut lyrics, vintage gags, a wild tale and tunes that followed me out into the night air, in hums and whistles. Perfection… An artisanal masterpiece"
Luke Jones, The Daily Mail
"At a time when London's musical theatre landscape is flooded with film adaptations and Broadway imports, Operation Mincemeat is that rare thing: an original British musical… lyrics as smart and snappy as Hamilton and a book as silly as the greatest slapstick comedies"
Isobel Lewis, The Independent
"Sometimes the jokes hit you so quickly that you barely have time to laugh before the next one comes sweeping along….gloriously inventive musical…brilliantly evoked by a multitasking, gender-switching cast of five…The songs, given a contemporary veneer, sometimes veering into Hamilton rap territory, are crafted with infinite care…Amid the mayhem, it's touching to see the actors pay homage to the memory of the homeless man, Glyndwr Michael"
Clive Davis, The Times
"It's a cause for great celebration when such a joyously homegrown, idiosyncratically British new comedy musical lands in the West End… insanely hard-working quick-change cast… The show is witty, mocking, camp and joyous, not to mention immensely tuneful – the songs are both clever and catchy… Anyone with even the slightest interest in homegrown success stories should wish Operation Mincemeat the very best of British."
Fiona Mountford, The i
"The best show in town is back – bigger and better than ever…makes its West End debut with a bigger budget and just as much heart and hilarity. Do not miss!…The little show that roared in the face of blockbuster has executed a flawless transition to mainstream triumph with impeccable class, quicksilver shine and its trademark plucky determination to remain true to itself. It's as fabulously funny, wickedly witty and magnificently moving as before – just with added sequins…Madcap and utterly marvellous…extraordinarily talented cast…blends every musical genre and delivers a dazzling array of pastiche treats and belly laughs, backed by the excellent live band…This show was already a major triumph, now it is sheer perfection."
Stefan Kyriazis, The Sunday Mirror
"an exuberant, energetic, incurably daft show …wit, charm, a subversive attitude to gender, a surprising amount of pathos, and a Eurobeat number for a Nazi boyband (yes, really)…It's an embodiment of the eccentric British exceptionalism it both celebrates and mocks…a marvellously bluff, gruff, freewheeling parody of cocksure masculinity….undeniably funny…The script is nimble; the songs riff through period genres from Noel Coward numbers to stirring sea shanties; the rhymes are inspired…This show could be just what the West End needs."
Nick Curtis, Evening Standard
"a fringe theatre comet that's gathered mass and momentum… a delight from start to finish… chemistry really is off the chart…I think it's safe to say that the operation has been a total success."
Andrzej Lukowski, Time Out
"high-octane musical comedy hits the big time…hilarious … a glorious parade of witty stagecraft… a triumph of ingenuity… guaranteed to give your ability to grin and giggle a strenuous, much needed workout."
Helen Hawkins, The Arts Desk
"the perfect blend of everything we want from a musical – a delightfully witty sense of humour, yet with real heart… Inventive, creative, and endlessly enjoyable – we can't recommend this show enough. If you've not seen it, do yourself a favour and pick up a ticket!"
Chris Selman, Gay Times
"A corpsing comedy that deserves its cult hit status…a deft pastiche…spectacularly successful …brilliantly funny"
Tim Walker, The New European
"the macabre yet tender musical comedy we all need…Corpses, conspiracies and constant laughs, Operation Mincemeat is a brilliant new addition to the West End."
Olivia Garrett, Radio Times
"the zany toast of the West End"
Patrick Marmion, The Daily Mail

"If you only see one musical this year, make it Operation Mincemeat…the songs are very catchy, the script is hilarious, and the actors' performances are tip-top. It's innovative, moving, uplifting and entertaining and I just can't recommend it enough."
Ed Gleave, Daily Star Sunday
"wowing audiences with its hilarious and wildly entertaining musical"
Boyd Hilton, Heat Magazine

"a buzz louder than a doodlebug surrounds Operation Mincemeat…a kind of genius declares itself"
Dominic Cavendish, The Telegraph
"Right now, it's Operation Mincemeat that has people talking. With a huge number of 5* reviews the fast-paced, hilarious production centres around the most bizarre true story you've ever heard."
Daniella Scott, Cosmopolitan

"Showcases the utterly bonkers plot in the most fantastical way… cannot recommend it enough – perfectly cast… beyond doubt one of the most brilliant, funny, captivating shows with proper laugh-out-loud moments… you won't be disappointed"
Zara Janjua, The Sun

"They just go for it: huge facial expressions, beautifully weird delivery of lines for maximum comic effect, clownish movement… It is that balance of comedy and heart that is this show's great strength…A brilliant spy thriller, a brilliant comedy, and a brilliant musical all rolled into one, it is exhilarating to see it hit the West End."
Tim Bano, The Stage
"there are resonances of everything from Hamilton and Six to Gilbert and Sullivan. There are also homages to Monty Python and Mel Brooks, and even a nod to Flanders and Swann. It feels both utterly contemporary and nostalgically throw-back. And it balances genuine hilarity with enormous heart… The five-strong cast are uniformly excellent… it more than delivers, and stands a shining example of homegrown talent – among many things it's just so very, very British. It's also a reminder of why these smaller West End theatres are so vitally important, and are wasted when clogged up by longrunners. But having said that, I don't anticipate the Fortune being available again for some time to come."
Theo Bosanquet, WhatsOnStage
Praise on social media for Operation Mincemeat:
"I saw @mincemeatlive this week and was blown away by it. Laughed AND cried. Do anything you can to get a ticket"
Dolly Alderton, Sunday Times columnist
"Saw Operation Mincemeat last night in the West End. I don't normally like musicals, but this was incredible! The funniest show I've seen since Book of Mormon @mincemeatlive"
Russell Howard, Comedian
"EXCELLENT!"
Daisy Ridley, Actor


"Went to the opening night of #OperationMincemeat tonight. I saw it at Riverside Studios and loved it but the new West End staging is a real triumph. A funny, warm, original new musical, with brilliant songs and magnificent performances"
Matt Lucas, Comedian/ Actor
"Just to say, we (whole family, 10 year old up to me) really enjoyed #operationmincemeat at the Fortune Theatre. An unlikely musical, believe the hype, genuinely brilliant."
Alex Horne, Comedian

"Saw the opening night of the brilliant #operationmincemeat last night at the @fortunetheatre1. Funny, sharp and so moving I cannot recommend it enough. @DaveyCumming, @Natasha Hodgson, @ZoeBobRoberts, @JakMalonee and @ClaireMarie612 are all jaw droppingly good. @mincemeatlive"
Reece Shearsmith, Comedian/ Actor
"Watched the musical OPERATION MINCEMEAT last night in London. Wow! If you like laughing, crying and just being thoroughly entertained… go and see it! @mincemeatlive outstanding!"
Chris Ramsey
"Fellow musical theatre pals!!! You MUST go and see @mincemeatlive if you're in London/ I've not stopped grinning for two hours!"
Rosie Ramsey
"fantastically entertaining and oddly moving… and extravagantly talented cast, a gripping story, really funny and fresh."
Al Murray, Comedian
"Well Operation Mincemeat at @FortuneTheatre1 was brilliant – genuinely one of the best things I've ever seen in the West End – @DaveyCumming, @Natasha Hodgson, @ZoeBobRoberts, @JakMalonee and @ClaireMarie612 are all geniuses and Jenny Arnold's choreography was a joy"
Peter Bradshaw, Guardian Chief Film Critic
"A splendid evening at the launch of @mincemeatlive last night. Really funny, and with a huge heart. Wonderful performances all round – huge congratulations to the cast. You must be exhausted! Book now!"
Ben Willbond, Actor

"Very much enjoyed @mincmeatlive Operation Mincemeat at the Fortune Theatre last night. Funny, moving, spectacular and yet still true to its roots. Go and see it if you can!"
Richard Herring, Comedian

"Just seen the phenomenally inventive and entirely surprising OPERATION MINCEMEAT @mincemeatlive, which on its long journey from the fringe to the West End has been much enhanced but not lost its scrappy wit now that it comes with much added glitz. A palpable hit!"
Mark Shenton, Theatre Critic
"This show was witty, funny and incredibly moving (after one unexpected solo I could hear everybody sniffling around me). It was mind-blowing to see a cast of only 5 people play various roles, taking on multiple accents and personalities AND having to sing and perform at that level for over two hours. I would describe it as a Hamilton and Book of Mormon love child if it were written and directed by Richard Curtis with his infectious, British charm. It was truly such a joy and I would see this show again tomorrow and take as many friends as possible with me"
TamsinAmy, Lifestyle and Culture influencer
"Hilarious, camp, innovative and covertly queer take on history. Very fun, great songs and proof that unexpected stories make the best musicals"
Jamie Windust, Gay Times

"Standing ovations 2 nights in a row! You gotta see this show! I loved it!"
Lou Sanders, Comedian
"10/10 Highly recommend Must see Best thing I've seen in ages. Go go go"
Grace Hopper, Kiss Breakfast Producer

"Saw the Operation Mincemeat musical at @RiversideLondon tonight and it was a joy. Go."
David Baddiel, Comedian
"This is a phenomenal show and everyone should see it."
Chris Addison, Comedian

"Absolutely loved @mincemeatlive. So well written, AMAZING performances by everyone in the tiny cast and most impressively of all, a musical with excellent jokes. Go see it at @RiversideLondon before the run ends on July 23rd."
Ed Gamble, Comedian

"Just seen Operation Mincemeat at the Fortune Theatre. Might be the best thing I've ever seen – genuinely"
"Just saw @mincemeatlive at the @FortuneTheatre1 and it's genuinely one of the best things I've ever seen. Blew my head clean off, steal a ticket if you have to"
Pierre Novellie, Comedian


"Just saw @mincemeatlive on the west end after enjoying it loads last year off-west end and wowww they have absolutely aniled it. Even MORE joyful and fun and moving and silly and brilliant. Please honestly go and see e it. Go go go go (go)"
"Cannot overstate how good @mincemeatlive is. Saw it last year, and again tonight and my god have they rose to the west end challenge. It is LIQUID JOY"
Stevie Martin, Comedian
"Saw @mincemeatlive tonight, cackled and cried. @JackMalonee singing about a lost War love is worth the ticket price alone"
Elllie O'Mahoney, Fabulous Magazine

"Far and away the greatest new British musical in years. An immaculately and farcically told true story of military deception. This is truly top-tier theatre."
Max Shetland, Theatre influencer

"So good to see the five-star reviews coming in for the primped and shiny new West End version of Operation Mincemeat – such a big hearted, witty, brilliant show"
Alexandra Coghlan, Classical Music journalist
"OPERATION MINCEMEAT is the greatest new British musical in years. The writer/performers are magnificent and have created something hilarious, heart-warming, smart and original."
Matt Lucas, Comedian

"It was like the camp funness of Six, the rappiness of Hamilton, the Britishy-murdery- over the topness of Gentleman's Guide to Love and Murder"
Jack Remmington, Singer and Presenter

"Everyone MUST go and see @mincemeatlive – joyful, hilarious and incredibly moving. The best musical I've seen in years. Loved it!"
Henry Lewis, Mischief Theatre Artistic Director
"Last night I went to see Operation Mincemeat @mincemeatlive at the Fortune Theatre. To see @spitlip at this moment in time felt like watching some sort of brilliantly human machine, pummelling the audience repeatedly with their talent. It was almost brutal in how good it was"
Rob Auton, Comedian