Newcastle Theatre Royal – until Saturday 16 September 2023
5*****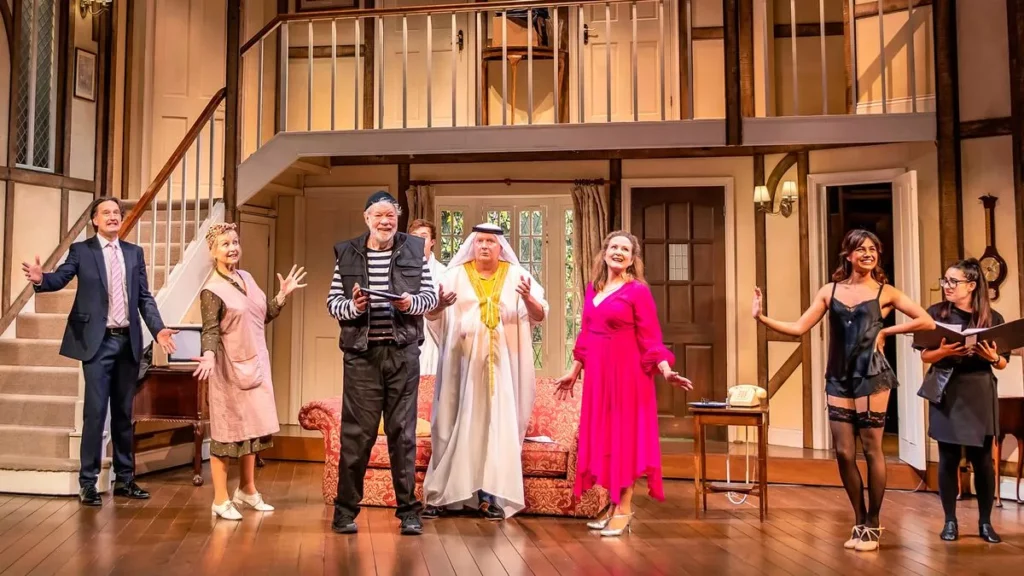 Anyone who has ever worked in a theatre will tell you there is often more drama off stage than on.  But this is what inspired Michael Frayn to write Noises Off.  And thank goodness he did, this knicker-wettingly funny romp is an absolute masterclass in comedy timing and acting.
But we have to start this review with Simon Higlett's outstanding set. In the first act its the stage view of a beautiful country house, full of different doors, a staircase, and wide windows looking out over a beautiful garden. In the second act, its reversed to see the back of the set, still full of doors but with emergency steps to get the cast up and down, the props by the various doors and the normal backstage things – a prompt desk, dressing rooms, uncomfortable chairs for the cast to wait. When the set is turned back full circle in the last act to the front of stage view again, you can marvel at just how versatile the set is. Together with Paul Pyants lighting and Gregory Clarkes sound, the set deserves a star billing all of its own
A play within a play, Noises Off follows the cast of the play "Nothing On" over its 12 weeks on the road.  Liza Goddard is Dotty Otley who plays Mrs Clackett the housekeeper.  An actress of some standing, this is her last tour and her nest egg.  At the start of the tour in Weston Super Mare, she is in a relationship with fellow actor Garry Lejeune (Dan Fredenburgh ) who plays Roger Tramplemain, an estate agent.  Roger is having an affair with Vicki, who works for the Inland Revenue.  Vicki is played by Brooke Ashton (Lisa Ambalavanar), and Brooke is having an affair with director Lloyd Dallas (Simon Shepherd).  However, Lloyd is also seeing stage manager Poppy (Nikhita Lesler). Eternally happy Belinda Blair (Lucy Robinson) plays Flavia Brent, the owner of the house who is supposed to be resident in Spain with husband Philip (Simon Coates), an author played by Frederick Fellows whose wife left him the day before the show started.  Add in Selsdon Mowbray (Matthew Kelly) who is constantly drunk and misses cues and Tim (Daniel Rainford), the stage hand who put the entire set together and also has to cover all the main roles.  Confused?  Don't worry, it all makes perfect if not hysterical sense.
The farce "Nothing On", is very much a whoops-there-go-my-trousers farce, but it's the scenes backstage in act two that bring Noises Off to life.  I love a laugh out loud comedy, especially one that brings the laughs so fast, you struggle for breath.
At over 40 years old, this classic is well worth a watch. In Newcastle until Saturday and on tour around the UK. You'll regret it if you miss it