Turbine Theatre, Battersea Power Station – until 17 July 2021
Reviewed by Elizabeth J Smith
5*****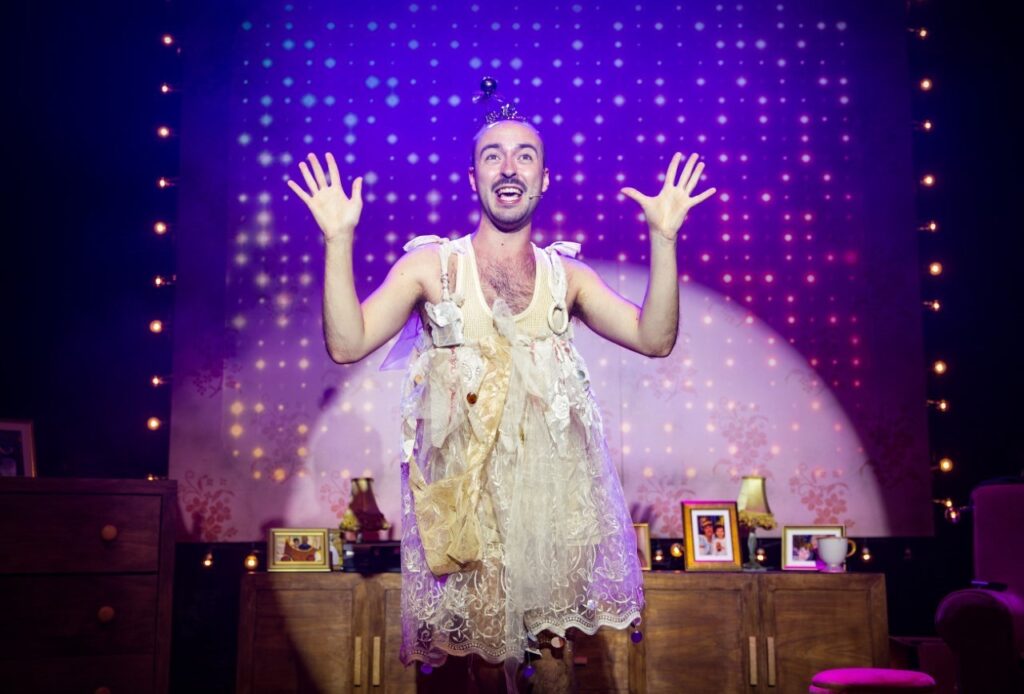 My sons a queer, but what can you do? Well, what you can do is be their biggest supporter and encourage them to believe in their dreams and help them make those dreams come true.
Rob Madge found fame in 2005 when they landed a role in the revival of Mary Poppins, they have gone on to have an outstanding West End career. But this journey started long before then and this show tells us how.
Some may say this is an indulgent, ego massaging exercise, I would say not on your nelly. This is a show about struggling for acceptance of who you are and what you want to be. How the love of a family can change how you see the world and how the world sees you.
Through family videos Rob shows us that from a very early age they loved to live in the world of imagination, even when doubters like their teachers criticised their behaviour. How with a few bits of material, wool wigs, an old curtain and the living room anyone can pull off a major production to rival Disney.
Showered by the unconditional love of their parents, grandparents, aunties and cousins allowed Rob to direct, write and star in many a living room extravaganza. Which we are privileged to see.
From the opening scene Rob's joyous face lifts your spirits and carries you along on a journey of love, hope and reflection.
The staging is compact and cosy. You are in the living room watching the show. You are part of the family. Sharing the in jokes. Feeling the love.
When I was a child I would dress up in my Mums wedding dress and pretend to be a princess, while watching the old Saturday afternoon film, this show reminded me of that and I think it's not too late to live out my dream of doing the weekly shop dressed as Giselle from Disney Enchanted.
If you want to feel uplifted after lock down and feel enveloped into a loving family this little show will do that for you.
Well done Rob can't wait for the teenage years!!