Come What May Festival at Park Theatre – until 27 May 2022
Reviewed by Claire Roderick
4****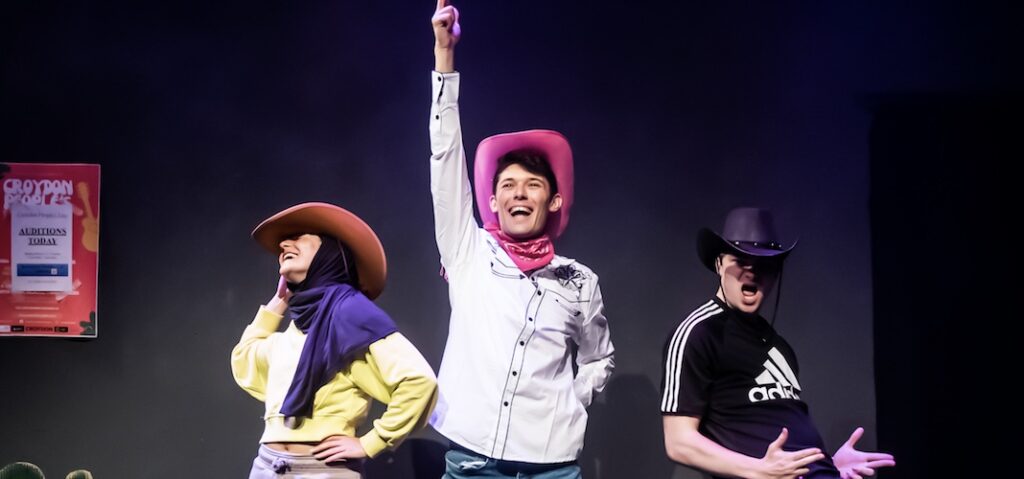 Hugo Timbrell's comic cowboy romp is a fun exploration of friendship and finding your thing.
Conor (Tom Taplin) has finally found something that makes him feel special – dancing to Country and Western music. When he finally tells his best friend Zainab (Sara Faraj) she is incredulous, and when he reveals his dream to win the talent show at Croydon People's Day and become a dancer in the USA, Zainab thinks he's lost the plot. She eventually agrees to dance with him, but a spanner is thrown in the works when Conor discovers that fellow lifeguard Michael (David Angland) is a C&M fan as well, writing his own songs.
The three characters' social awkwardness is sweet and their issues, although exaggerated for comedic effect, are all recognisable. It's obvious that friendships are few and far between for the trio, so the envy and animosity between Zainab and Michael as they compete for Conor's attention is heart wrenching behind the bitter words. Being teenagers, the decisions made and lack of awareness of consequences causes big problems for the group as the quest for an escape from Croydon becomes pivotal for the boys.
Tom Taplin is warm and funny as Conor – the childlike delight on his face as he dances contrasting with his eyerolling exasperation as he mediates between his bickering friends. David Angland is hilarious as Michael, nailing the fake swagger of the lad who is afraid to show his true self and masking with swings between anger and humour. Zainab is Conor's rock, and Sara Faraj brings a sweet vulnerability alongside fierce energy and fire to the stage as Zainab tries to make Conor understand her feelings.
Conor and Zainab's moves to Shania Twain, Dolly Parton and Michael's Johnny Cash-inspired Song of the Lifeguard are joyful, and director Nikhil Vyas ensures the quieter moments hit as hard as the more absurd sequences. As the three friends try to entangle their mess, questioning loyalties and ripping up the dance floor, the laughs come thick and fast. My Life as a Cowboy is a show with exciting potential