Jack Studio Theatre- until 27 August 2022
4****
Reviewed by Claire Roderick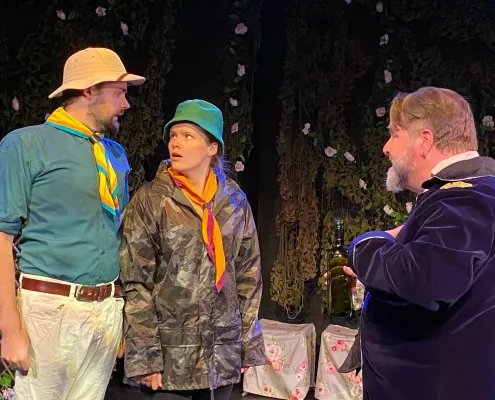 Bear in the Air Productions charming adaptation of Much Ado About Nothing is a delightful summer treat. Director Heather Simpkin cuts the running time to under two hours and the characters down to twelve played by a cast of six. This inevitably means the loss of some of the build up in Beatrice and Benedick's relationship, but the choices made and the strong performances of Hannah Eggleton and Ross Telfer as the couple make their shorter sparring/courtship work very well in this setting.
From their tour photos, the company has changed little of the set from their outdoor venues, and although the bunting isn't fluttering in the breeze, the show still manages to keep its relaxed Shakespeare in the park atmosphere indoors. The Steampunk influenced costumes of the noble characters and the modern attire of the watchmen mark their social standing instantly.
The comedy rattles along before the interval, with the contrast between Hero and Claudio's love at first sight and Beatrice and Benedick's protestations about marriage leading to the two gloriously ridiculous scenes of physical comedy where Beatrice and Benedick eavesdrop and are tricked into confronting their love for each other. The plotting of Don Jon – obviously evil in black uniform and shades and henchman Borachio plays like a scene from the earliest Blackadder where Baldrick was the clever one, with Conor Cook nailing the petulant little brother mood. The cast are excellent: Megan King and Toby George-Waters are a delight as the young lovers Hero and Claudio and Charles Stobert's Don Pedro has a comforting air of kindly authority.
As the play gets darker with death and revenge amongst the nobles, so the production ramps up the comedy with the introduction of the watch. Conor Cook is a scream as the "Chief Scout" Dogberry – his pathetic pomposity clashing brilliantly with the childish rivalry between the watchmen (Hannah Eggleton and Ross Telfer). There is lots of audience participation that feels natural and unforced, helped by the cast sitting on stage when not involved in scenes and reacting in character with the audience to what is happening. The musical numbers are irreverently appropriate and enhance the shared camaraderie between audience and players (yes, we know this is all nonsense, but we are all having a lovely time together) that shines through with excellent productions of Shakespeare comedies.