Bard in the Botanics Festival, Glasgow Botanic Gardens – until 30 July 2022
 Reviewed by Rachel Farrier 
5*****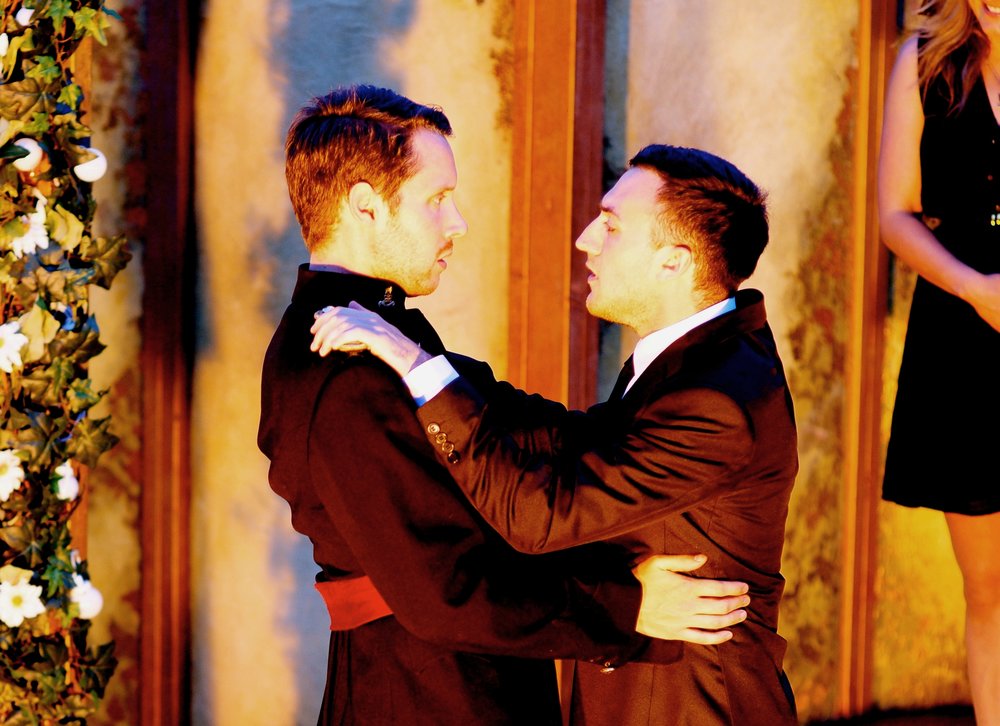 It might sound fanciful, but throughout last night's performance of Much Ado About Nothing in Glasgow Botanic Gardens I had a feeling that if Shakespeare himself was watching on from some other place, he would have been utterly delighted with this production. 
As we sat in the gathering darkness of the gardens on our camping chairs and rugs, and with rain threatening throughout, this outstanding cast wove the magic that is possible when the poetry of Shakespeare's writing is matched with a performance that an audience can immediately relate to. This is truly a production for the 21st century, where Beatrice is played as Bertram, and Leontes the Governor has become the feisty and convivial Leonata – a hotel/bar landlady of 'Hotel Messina'.
The whole cast shone in their individual roles, but Robert Elkin as Bertram feels like the lynch pin of this production – by turns completely hilarious (his Freddie-Mercury-with-a-vacuum-cleaner at the 'masked ball' was nothing short of genius), then holding the audience in spellbound silence at Bertram's soliloquies of frustration and distress. James Boal brought great energy, humour and depth to Benedick, and Zackary Moore's exuberant, high spirited Borachio delighted the audience – particularly as he wandered amongst us. Katie Barnett was exceptional in both her roles – as the sharp-tongued Margaret (whose beautiful sung lament for Hero was also stunning), and as the hapless Constable Dogberry, whose malapropisms and shrill delivery had me crying tears of laughter. Isabelle Joss as Leonata the indominatable landlady is also brilliant and has exceptional comic timing, as well as conveying a wonderful ferocity towards the scheming men who seek to besmirch her daughter, Hero.
Despite the limitations of staging an outdoor production, the set design and costumes by Carys Hobbs were superbly conceived – the hotel bar provides a back drop to much of the action, and the uproarious scenes in which Betram and Benedick 'mistakenly' overhear conversations about the other work perfectly in this setting.
There is an energy and fun to this production that builds to moments of fabulous, hilarious crescendo – interspersed with moments of beautiful and moving poignancy.
My companion last night was my early teenage daughter and this was her first experience of live Shakespeare – I really hoped that this would be an experience that would engage and enthuse her and it did not disappoint. This morning she asked when we could back to Bard in the Botanics to see other productions, which is exactly the response I was hoping for.
I know there are very few tickets left for this run, but if you can possibly get your hands on one, then go – a magical night awaits.