EMPIRE THEATRE, LIVERPOOL – UNTIL SATURDAY 4TH MARCH 2023
REVIEWED BY MIA BOWEN
4 ****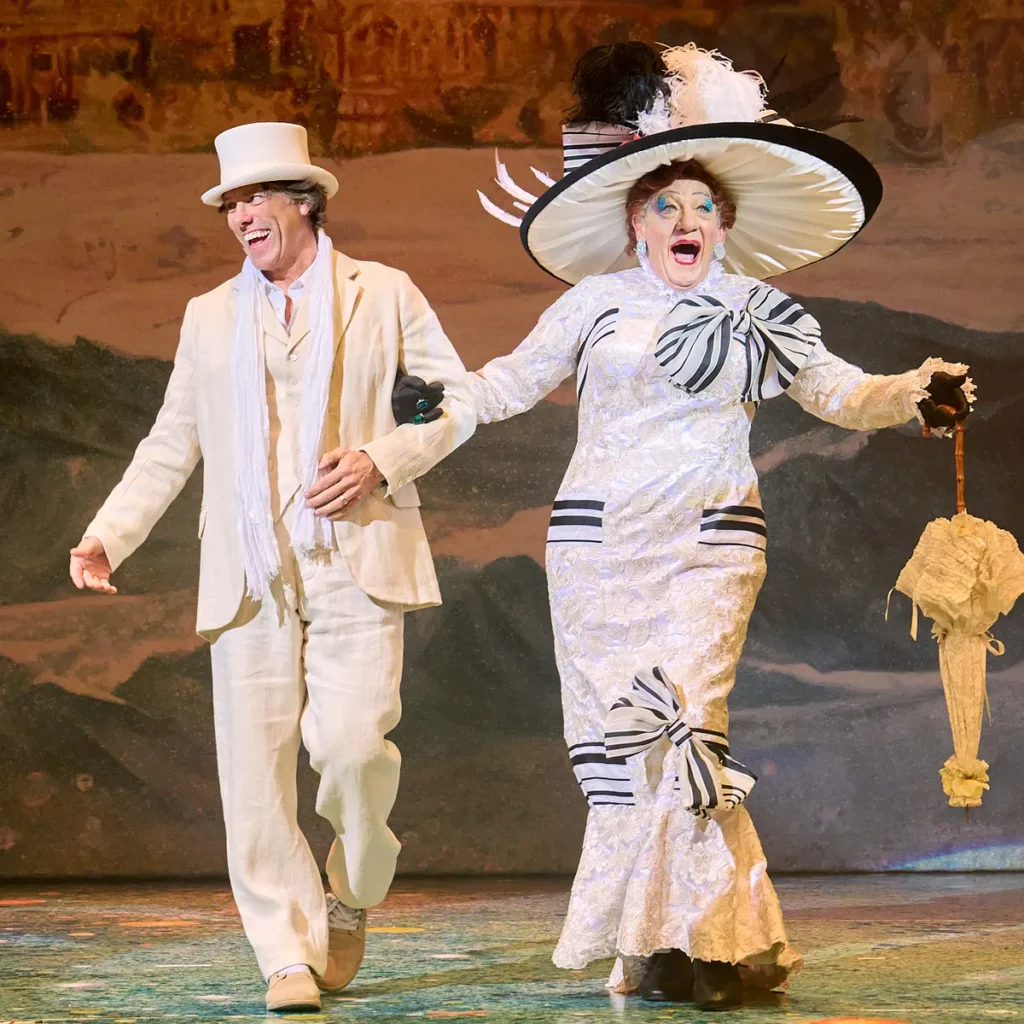 It is not often that a pantomime bags a true A-lister but this gleeful production of Mother Goose has accomplished just that with none other than the big screen's Gandalf and Magneto. Oscar nominated star Sir Ian McKellen, who turns 84 in May, makes a triumphant return to pantomime damehood in this elated and joyous show, which premiered last night in Liverpool.
A fairy tale, with good versus evil, music, topical jokes, slapstick comedy and vibrant costumes. What at first may seem like a regular panto is laced with new ideas, themes and technical mastery, in this new production.
Add a spectacular creative team in the form of the very witty and clever Johnathan Harvey's (Coronation Street and Gimme, Gimme, Gimme) script and director Cal McCrystal (The Amazing Spider-Man 2 and The Mighty Boosh). The imaginative and traditional sets by Liz Ascroft, who is also responsible for the splendid and expensive looking costumes, especially the animal garb and the ostentatious gowns Mother Goose wears. Along with Lizzi Gee's spectacular choreography, wait till you see McKellen tap dance, is a winning formula!
Musically the show is impressive, the songs are merry and familiar, with a terrific pit band, directed by James Keay.
Liverpool born, John Bishop, in his West End debut is just charming as Vic, husband to Mother Goose. Together he and McKellen have the style and rapport with the audience that is required and all the chemistry of a comedy duo, who have been working together for years.
The audience is also treated to a little Shakespeare delivered by Ian McKellen, a versatile actor, who has been delivering the Bard's lines longer then I've been alive. But we soon find that Bishop, a long-established staple of the comedy circuit, can navigate his way just as fine through Shakespearean verse, as well – the audience fell silent when they did, you could hear a goose feather drop.
The magic of pantomime never seems to fade, especially not when the new production of Mother Goose is hitting the road until April! It is a joyous celebration of the magic of live theatre.