The Other Palace Studio – until 7th August 2022
Reviewed by Alun Hood
3***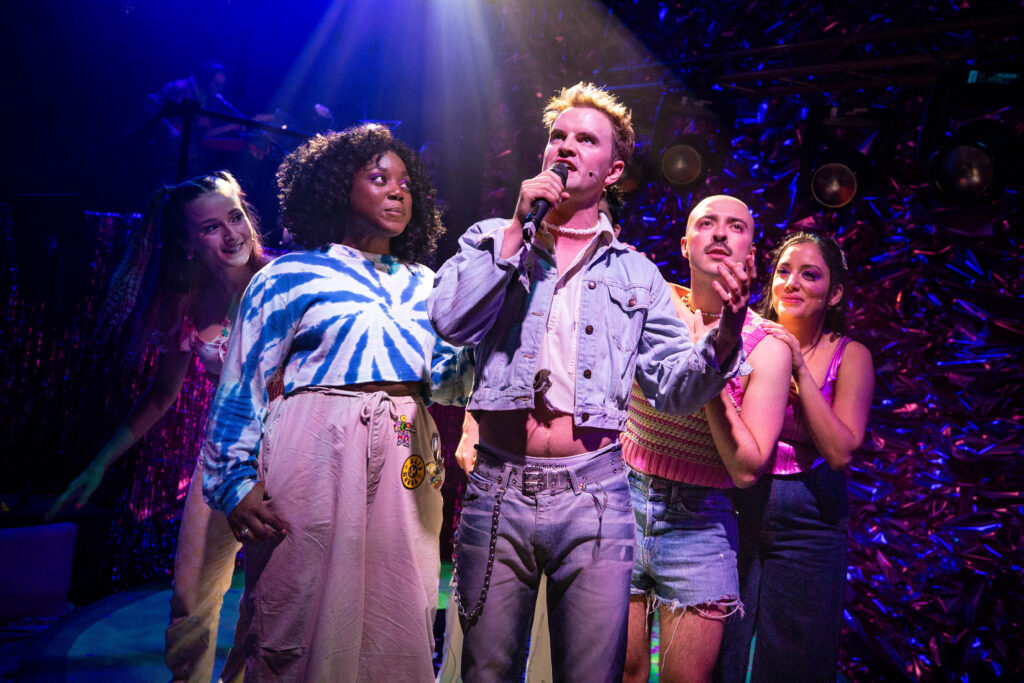 Are Millennials massive consumers of avocados? I must have missed that memo (I'm a bit old) but Hannah Benson's bouncy production is borderline obsessed with the oily green fruit. Avocados feature on the logo, on the posters, there's a trail of avocado stickers on the floor and on the wall photos all the way from The Other Palace's foyer into the studio space, there's a rather striking neon avocado next to the bar… Even the stage itself is a giant avocado half, with a mini trampoline where the stone should be. As far as I could make out (the sound levels are a bit overwhelming, distorting clarity at times) there are even a couple of avo references in Elliot Clay's lyrics. What can it all mean?
I really couldn't tell you. What I can safely say though is that Clay has produced a collection of irresistible musical earworms, some rousing, some boppy, a couple reflective, all fiendishly catchy, performed by a sensational sextet of musical theatre talents who shine like stars and sell the material for all it's worth, and then some. It's billed as a song cycle which is accurate as there is nothing in the way of plot. There's not really a running theme, beyond, er, avocados: the title may be Millennials but the lyrics, as far as one can hear them, deal with most lived human experience in the modern world, not situations tied to one age group. Instead there's a succession of quality pop songs, ranging from joyful to bombastic, anthems to bops, and a series of spectacularly good vocal performances. If the premise and extravagant, colourful tat of the visuals are a bit of a headscratcher, the show as a whole still delivers a rollicking good time.
As the cast aren't playing traditional characters – the swift procession of songs and moods ensure that there isn't sufficient time to establish those – the performers' own personalities, or at least the stage facsimiles thereof, do much of the heavy lifting, and in that respect Benson's production is on to an absolute winner. Luke Latchman is warm and sexy, Hannah Lowther tempers an innate sweetness with genuine gravitas, Rob Madge is an intriguing combination of Puckish energy and sarcastic edge. Georgina Onuorah needs to be on every casting director's list of emerging leading ladies (she'd be a great new star for when & Juliet's Miriam-Teak Lee finally hangs up the white headphones) and a luminous Luke Bayer proves once again why he seemingly never stops working. Hiba Elchikhe gets the lioness's share of solos, and delivers them with glorious charm and attack. All six voices are remarkable as is the combination of confidence, attitude but sheer likability. Even if the songs weren't so good (which they mostly are), this cast and Ehsaan Shivarani's tiny yet mighty band would be worth the price of admission.
There's also Andrew Exeter's set, which transforms the space into a ruched pink foil bedecked fantasyland for young adults, complete with a ball pit (multicoloured balls of varying sizes and colours is another recurring visual motif, along with avocados), abandoned bumper car, scatter cushions, beanbags, a ball-filled bath, roving spotlights and neon. It looks rather fabulous, and the post-show Instagram possibilities are apparently endless, even though it seems more appropriate to Gen Z than the slightly older Millennials. Still, the immediacy is refreshing, as is the lack of conventional theatre seating. If it looks and feels a little over-produced, and the self consciousness kookiness of the aesthetic doesn't always sit well with the heartfelt nature of some of the songs, the glorious cast manage to keep it consistently classy and buoyant, whether whirling through Tinovimbanashe Sibanda's derivative but expressive choreography or belting their faces off.
Ultimately, enjoyable though it is, Millennials feels like less than the sum of it's parts. Having said that, I can't wait to see Elliot Clay bring his prodigious songwriting skills to a fully realised book musical, and I would strongly recommend taking the opportunity to see these six unique performers in such an intimate setting. This show will make a lot of people very happy. Oh and we NEED a cast recording please.