Sunderland Empire, Sunderland – until 15th July 2022
Reviewed by Stee Leahy
5*****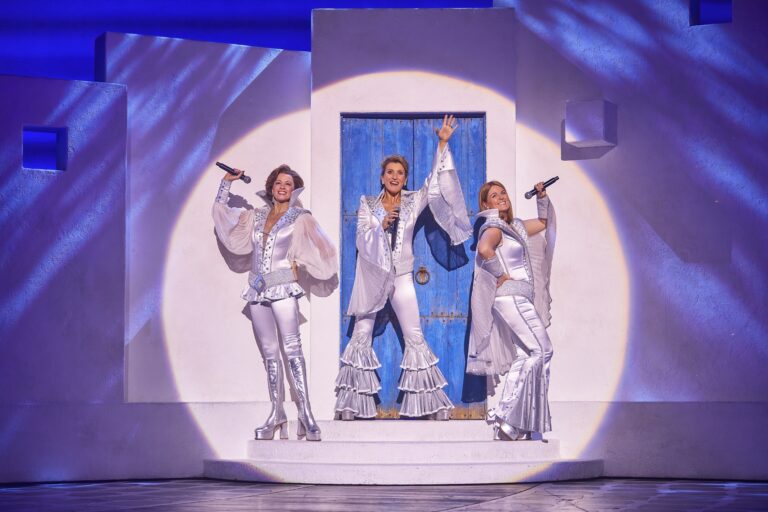 If ever there were a perfect show, this is it!
Mamma Mia at the Sunderland Empire was theatrical gold. Led by the incredibly talented Sara Poyzer as Donna Sheridan, this feel good ABBA packed musical had everyone captivated, entertained and singing along from start to finish. 
The story follows Sophie, played superbly in this performance by understudy Phoebe Roberts as she invites her three potential fathers – Bill, Harry and Sam to her wedding on a remote Greek island. Phil Corbitt, Daniel Crowder and Richard Standing brought Sophie's three dads to life perfectly. Each bringing something a little different to the show, and like Sophie, the audience loved each of them.
When mother of Sophie, Donna discovers her three old lovers in her home, comedy, chaos and old feelings start to resurface.
Helping Donna navigated her emotions on the run up to her daughters big day are her two best friends, Rosie and Tanya – played by the insatiable Nicky Swift and Helen Anker respectively. Both ladies provide comic relief in all the right places.
The simple yet very effective set and lighting transports you to Greece instantly!
This really is an ensemble piece of theatre and each and every cast member played their part in bringing this show to life.
The vocals from this cast are nothing less than perfection across the board. Crisp, clear and beautifully sung. I do however believe a special shout-out is in order for Sara Poyzer's rendition of 'The Winner Takes It All'. The end note was absolutely electric. 
The choreography by Anthony Van Laast was utterly brilliant, perfect!
Every single musical number in this show was an ABBA classic and the audience were left feeling nothing but comfort and feel-good energy.
I can not recommend MAMMA MIA at the Sunderland Empire enough.