Wyndham's Theatre London – until 15th January 2023
Reviewed by Liberty Noke
5*****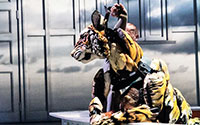 Life of Pi has become a well known story after the huge success of both the book and the film. In my opinion this play is even better. On the surface this is the story of a boy who survived an almost unbelievable tragedy but this story is so much more with themes of religion and humanity it is a story that resonates with the audience.
The stage is set with a simple hospital bed and the play begins with Pi (Nuwan Hugh Perera) being interviewed about his time as a castaway. Perera perfectly portrays a frightened, traumatised boy, shaking with fear and walking uneasily speaking quickly and fanatically then suddenly not at all. But then, all of a sudden, the scene changes. As Pi recounts his childhood the stage becomes his family zoo and Perera is playing an altogether different character: the Pi who had not yet suffered. This sudden change in scenery was achieved by the chorus walking in stage with butterflies, the lights and music changing and Pi suddenly is happy and at peace. This is testament to what a remarkably talented Actor Perera is
At the zoo we meet many animals, the animals on the stage are puppets operated by actors and the way they move is phenomenal. Finn Caldwell, Nick Barnes and Caroline Bowman did a fantastic job in creating these puppets. The way the animals moved was almost life-like and I found myself genuinely terrified of a tiger I knew wasn't real. Richard Parker, the tiger was operated by Owain Gwynn, Rebecca Killick and Elan James. All three actors were incredible and it must've taken a lot of rehearsal to move together as one in such a way that I forgot the actors were there at all.
There wasn't a single part of this play that didn't amaze me. The lights and music able to transform the theatre into a stormy sea, the set that had me believing Pi was really swimming, the faultless performances of every actor and the incredible puppets that make this play truly special. I enjoyed this play not just because it is a fantastic story brought to life by an incredible team of creatives but also because of the way it challenged me.
I was left, on my journey home from the theatre, contemplating life. Wondering what it meant to be human, what sets us apart from animals? Are we really that different from the living beings we share this earth with? I was also left contemplating faith. In times of trouble many of us turn to a higher power and Life of Pi calls this into question. Do we lose faith when all seems lost? Or is that a reason to hold in to it? This is so much more than a play it is a beautiful, moving commentary on the human species.