Blackpool Winter Gardens – until Saturday 30 July 2022
Reviewed by Debra Skelton
3***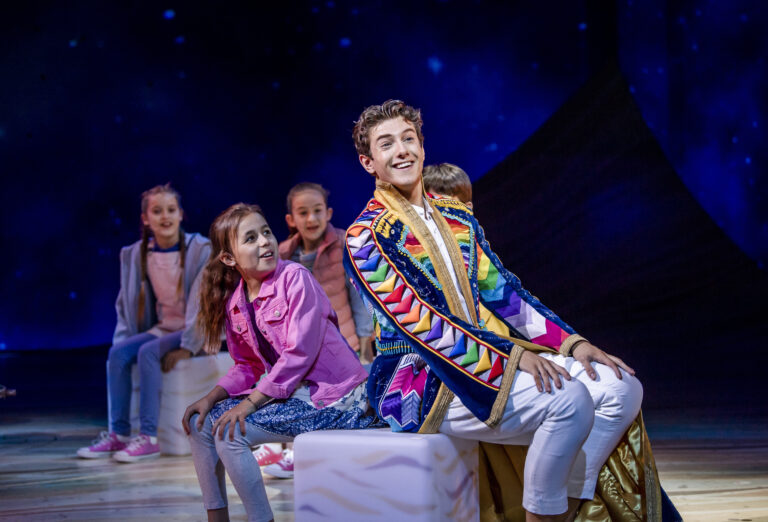 This is a story of 12 Biblical brother's dreams, jealousy, betrayal, and forgiveness with Joseph who is their father's favourite being given a multi-coloured coat from him which leads to the brother's jealousy, so they decide to sell him to the Ishmaelites into Egyptian slavery and to fake his death.
By resisting the temptations of Potiphar's wife, Joseph ends up being locked away in prison until he is asked to decode Pharoah's dreams. He predicts seven years of feast followed by seven years of famine for which he is rewarded handsomely.
During the time of famine, Joseph's brothers arrive in search of food but do not recognise him. In the sack of food that his youngest brother is given, Joseph plants a golden goblet with which he is caught with and threatened with punishment. As the brothers offer themselves to save their youngest, it causes Joseph to reveal his true self and grants a pardon and forgiveness.
This production starred Jac Yarrow as Joseph with which he played magnificently. He has such a powerful voice which transfixed the audience throughout the whole evening and showed just why he has "wowed critics" with his West End debut performance over the summer. Jason Donovan portrayed the Pharaoh with a very interesting Elvis impression but for me Olivier Award-nominee Linzi Hateley who portrayed the Narrator stole the show with her amazing voice, dancing, and just whole presence on the stage.
No expense was spared with the tremendous sets and wonderful costumes (Morgan Large) which were enhanced by sound (Gareth Owen) and lighting effects (Ben Cracknell) which did bring the show right up to date.
The score featured the timeless and unmistakable musical classics including Close Every Door to Me, Jacob and Son and Go Go Go Joseph. For me, the brothers "Those Canaan Days" was for me particularly harmonious, strong, and brought a touch of humour to this production.
I was fortunate to see the original musical production of Joseph and the Amazing Technicolor Dreamcoat back in the nineties headlined by Philip Schofield so was really looking forward to seeing how this new production produced by Michael Harrison had evolved after all this time and whether it worked and appealed now to all generations.
I can say that it contained lots of twists with no end of surprises involving Elvis, Country and Western and can-can dancers to name a few but for me I am not sure whether it worked or not, however the rapturous applause and standing ovation from the rest of the theatre (young and old) might just have proved me wrong.