Southwark Playhouse, London – until 5th March 2022
Reviewed by Bobbi Fenton
5*****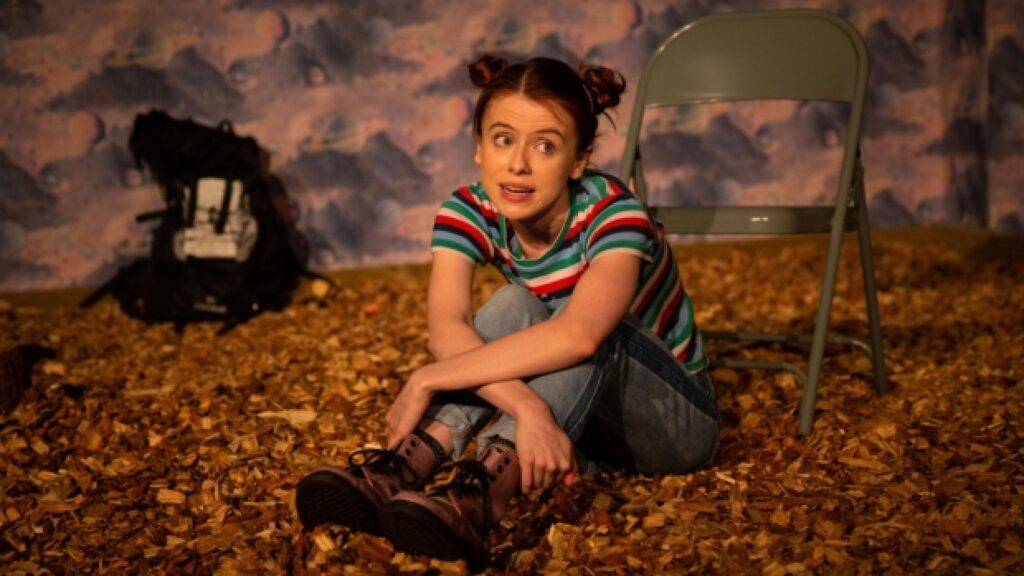 Can you imagine how difficult it must be for parents to lose one of their daughters, at the age of 17. It must be absolutely heart breaking, no parent should ever have to bury their child. But, what about her little sister? 'Instructions for a Teenage Armageddon', written and performed by Rosie Day, is a very cleverly told story, focusing on teenaged Eileen (Rosie Day), in the years after her sister, Olive's, death. Olive died at the age of 17 after a 6-year struggle with anorexia, when Eileen was 13. This obviously turns her whole life upside down, affecting her friendships, her scouting life, and her parent's marriage.
The stage is covered with wood chips, and has a chair, a microphone, some small wooden logs, and Eileen's bag. It is vague enough that it allows Rosie Day to change the setting of each scene easily and quickly. There are also videos projected at certain points of the show, featuring Molly Ashby, Amanda Abbington, Philip Glenister, Isabella Pappas, Jessica Ellerby, and Maxine Peake as the people in Eileen's life, such as her parents, friend Noelle, and scout troop. This method is brilliant, as it really works with the way that Eileen is telling it as a story.
The themes of this play are incredibly relevant in a modern society, with Eileen's pitiful experiences being relatable to so many teenage girls. This show is guaranteed to leave you absolutely speechless, still processing it hours after it has finished. It is filled with huge revelations about Eileen herself, her sister, and her family, with her revealing her name towards the end, in a remarkable fashion. An absolute must see for anyone over the age of 13.