Hull New Theatre – until 30th September 2023
Reviewed by Dawn Bennett
4****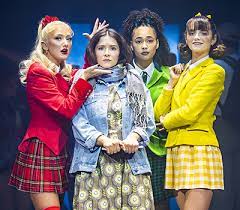 Bill Kenwright and Paul Taylor-Mills present Heathers The Musical with Book, Music and Lyrics by Kevin Murphy and Laurence O'Keefe and based on the film by Daniel Waters.
I have never seen Heathers before or the film of the same name but the very enthusiastic audience at Hull New Theatre last night certainly had! Cheers and clapping at the end of every song and the standing ovation at the end of the production from the very appreciative packed auditorium proved what a much-loved show this is!
This musical is quite dark with its subject matter it includes murder and suicide to name two but I think it covers them well and doesn't stop it from being an uplifting production.
Heathers is set at Westerberg High School in the fictional small suburban town called Sherwood in Ohio, USA in 1989. It tells the story of Veronica Sawyer (Jenna Innes) who wants to be in with popular girls The Heathers who are made up of Queen Bee, Heather Chandler (Verity Thompson), Heather Duke (Elise Zavou) and Heather McNamara (Billie Bowman), the girls who everyone wants to be like and who they love and hate in equal measures. Veronica gets her wish to join the mean girls, she dresses like them and then starts to act like them alienating her friend Martha Dunnstock (Kingsley Morton). The jocks, Kurt Kelly (Alex Woodward) and Ram Sweeney (Morgan Jackson) spend all their time chasing the girls and fighting the boys, with some great comic timing. Then a new student arrives at the school. Jason 'J.D' Dean (Jacob Fowler) the 'geeky' grungy dressing teenager falls for Veronica and her for him. But JD's obsession for Veronica very quickly takes a dark turn and what follows for them and the rest of the school shocks the community!
This production is very slick, with brilliant choreography by Gary Lloyd and the Heathers Band are so good (led by Musical director Will Joy). All the actors in this production are very much a triple threat and a very talented bunch of people.
If you want to see a musical that is fabulously done, very dark in subject, with great comedy, catchy and toe tapping tunes and brilliant singing then this is the one for you.