GOSH! IT'S GYLES & JUDI
& ALL THE DAMES!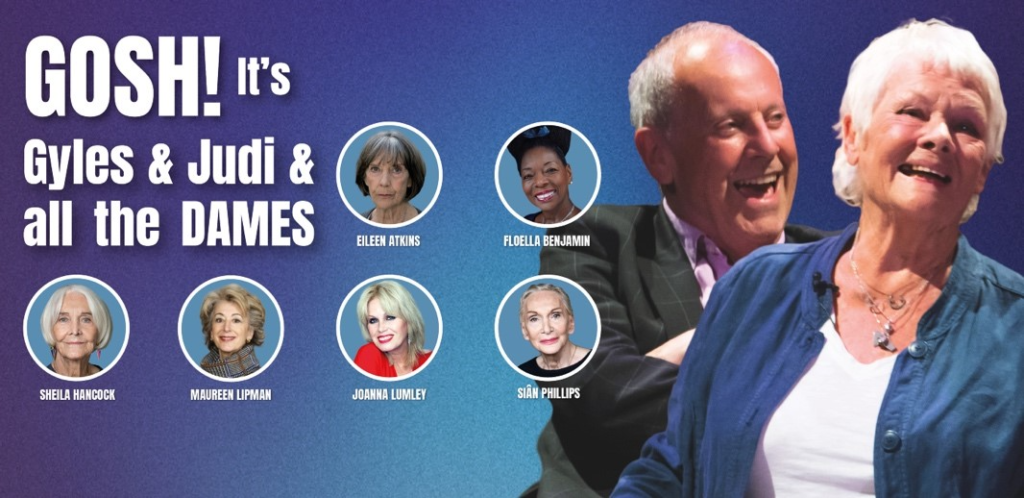 JOIN GYLES BRANDRETH & DAME JUDI DENCH
AT THE LONDON PALLADIUM ON SUNDAY 5 MARCH AT 3.00 PM
AS THEY CELEBRATE ONE BIRTHDAY
AND A SCORE OF GREAT THEATRICAL DAMES
JOINING GYLES & JUDI ON STAGE ARE:
DAME EILEEN ATKINS
DAME FLOELLA BENJAMIN
DAME SHEILA HANCOCK
DAME MAUREEN LIPMAN
DAME JOANNA LUMLEY
DAME SIÂN PHILLIPS
& MORE!
ALL IN AID OF THE GREAT ORMOND STREET HOSPITAL
CHILDREN'S CHARITY
To celebrate his 75th birthday, and as a fun fundraiser for Great Ormond Street Hospital, with his friend Dame Judi Dench, Gyles Brandreth is hosting a very special party at the London Palladium on Sunday 5 March, telling hilarious and revealing stories of all the great Dames he has been lucky enough to know – from Dame Olivia de Havilland to Dame Barbara Windsor – and inviting the great theatrical dames of our time on stage to share their favourite stories – and treat us to their favourite party pieces. Expect songs, sonnets and surprise star guests. This will be a not-to-be-missed once-in-a-lifetime event. (There will be Dames in the stalls as well as on stage)
All proceeds to GOSH: the Great Ormond Street Children's Charity.
The line-up joining Gyles, alongside Judi Dench on stage, will includeDame Eileen Atkins, Dame Floella Benjamin, Dame Sheila Hancock, Dame Maureen Lipman, Dame Joanna Lumley, Dame Siân Phillips and many more!
Gyles Brandeth said "I was thinking of having a party to celebrate my 75th birthday in March and looking at the guest list I suddenly realised I knew all these amazing ladies – every one of them a Dame. So then I thought let's make it a party everyone can come to. We can celebrate all the Dames I've been lucky enough to know -from Olivia de Havilland to Barbara Windsor – and invite the great Dames of our time on stage to share some of their stories.
Dame Judi Dench volunteered to be my co-host and, as this is going to be a once-in-a-lifetime event, we thought there's only one place to stage it: the London Palladium.
We're doing the show to raise money for GOSH because it's a cause that's close to my heart. When he was a baby, my youngest grandson spent almost a year at the hospital and I want to say thank you. It's going to be an amazing afternoon, packed with laughter, stories, songs and quite a few surprises."
Liz Tait, Director of Fundraising at GOSH Charity said: "We're so grateful to Gyles and the fabulous Dames for putting on this incredible evening in aid of GOSH Charity. As an ambassador for GOSH Charity, Gyles has done so much to raise awareness and vital funds for the hospital and the seriously ill children it cares for. We couldn't be more thankful for his support and we wish him a very happy birthday!"
Proceeds from ticket sales will be donated to GOSH Charity, to support seriously ill children from across the UK who travel to Great Ormond Street Hospital (GOSH) for specialist care. GOSH Charity helps to fund pioneering medical research, state of the art equipment, support services for children and their families like parent accommodation and the hospital's dedicated play team, and the vital rebuilding and refurbishment of the hospital.