New Wimbledon Theatre – until 18 March 2023
Reviewed by Carly Burlinge
4.5 ****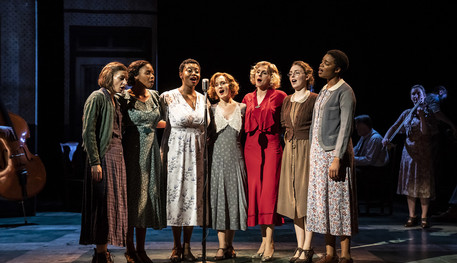 Wimbledon brings you Girl from the North Country. Written and directed by Conor McPherson. With music and Lyrics by Bob Dylan. I must admit being brought up with Bob Dylan as a child and a great fan now, I was very excited to go and watch this production and it certainly didn't disappoint with 20 of his songs sung with great talent, which were very enjoyable to watch and listen to.
Set in 1934 it tells the story of a small community living in Duluth, Minnesota during the Great Depression. Where Nick (Graham Kent) and his family the Burkes run a guest house.  He finds himself crumbling under the pressure of losing their property, the only thing that feels like a constant. With no money coming in the form, of help from his son Gene (Gregor Milne) who plays a drunkard, useless and incapable individual. His adoptive black daughter Marianne (Justina Kehindle) has fallen pregnant and refuses to disclose any information regarding the father, this only adding  to more panic as he feels he is unable to take care of her now, let alone when the baby arrives.
Justina Kehindle plays a strong character and has an incredible voice in which she shows in 'Tight Connection to my Heart'   which was outstanding to watch. His wife Elizabeth (Frances McNamee) who seems demented and has lost her mind, comes across nervous and tormented at times but then appears to be larger than life and  back on a mission. She loves to recall tales of her childhood that not everyone wants to hear, making some scenes awkward but also very entertaining and funny at the same time. Frances McNamee plays her character exceptionally well and was fascinating to watch. When she took the stage in a dress the colour of pink whilst wearing sunglasses her vocals were just outstanding as she took on Dylan's 'Like a Rolling Stone' and what a performance it was. All songs had there own version and was executed particularly well along side the band The Howlin Winds together they delivered some spectacular music for all to hear.
With more guests showing up throughout the evening it's clear that they all have their own stories to tell that bring along with them struggles of their lives, causing heartbreak amongst other things wrapped up in secrets untold. What is there for them to hold in the future or is the struggle to go on?
This was a fabulous production using transparent screening of rooms and landscapes, with detailed lighting to get the audience focused as at times there was a lot going on.  The costumes were kept in line with the times simple but effective.
But for me the songs alongside much talented vocals and the band, made the whole experience a wonderful and beautiful one to watch, listen to and just to take in. If your a fan of Dylan then it's well worth a watch and even if your not, the show offers much more. One to be seen and not to be missed. I truly had an enjoyable evening out.