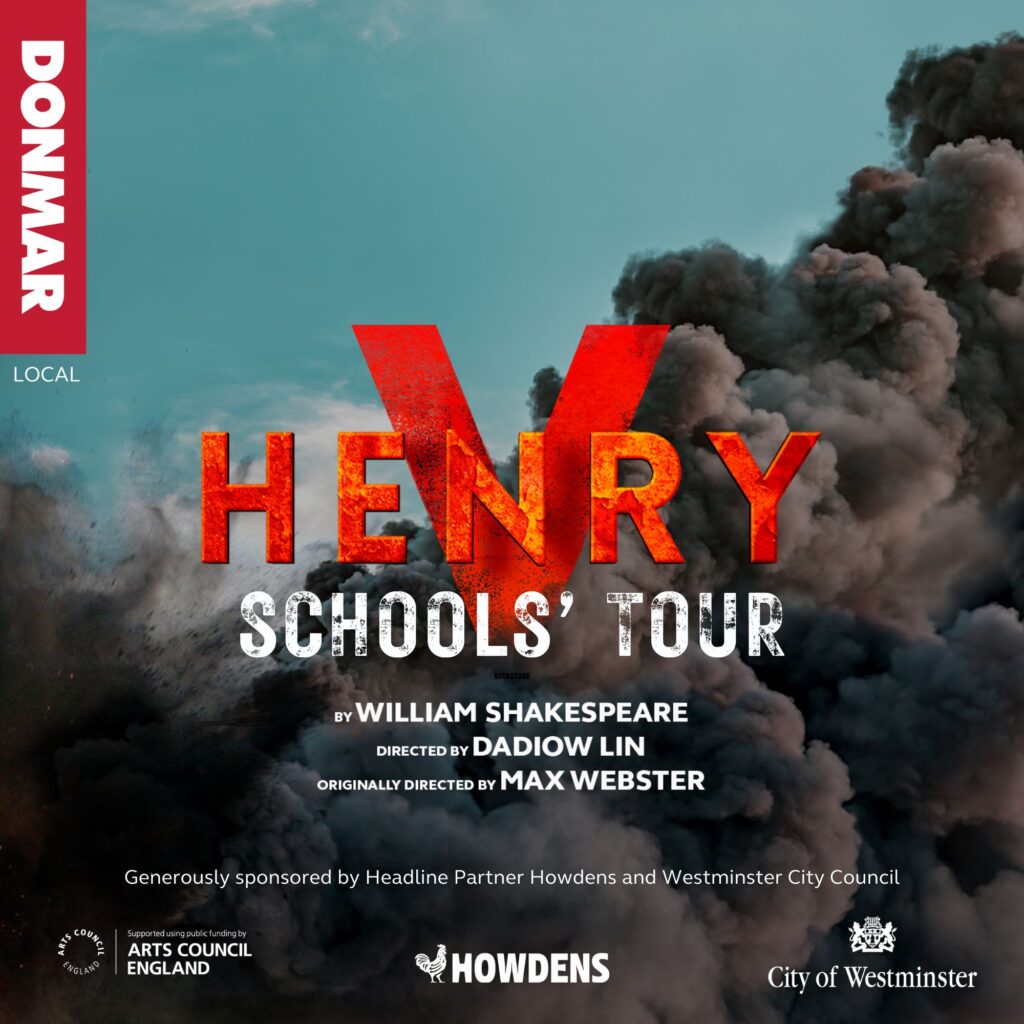 FULL CASTING FOR SCHOOLS' TOUR OF
WILLIAM SHAKESPEARE'S HENRY V
Artistic Director Michael Longhurst and Executive Director Henny Finch today announce the cast for the Donmar LOCAL schools' tour of William Shakespeare's Henry V, directed by the Donmar's former Resident Assistant Director Dadiow Lin. Inspired by the critically acclaimed 2022 Donmar Warehouse production directed by Max Webster, the production tours for four weeks in June and July, with performances offered free of charge reaching up to 3000 young people in Camden and Westminster thanks to support from Headline Partner Howdens and Westminster City Council.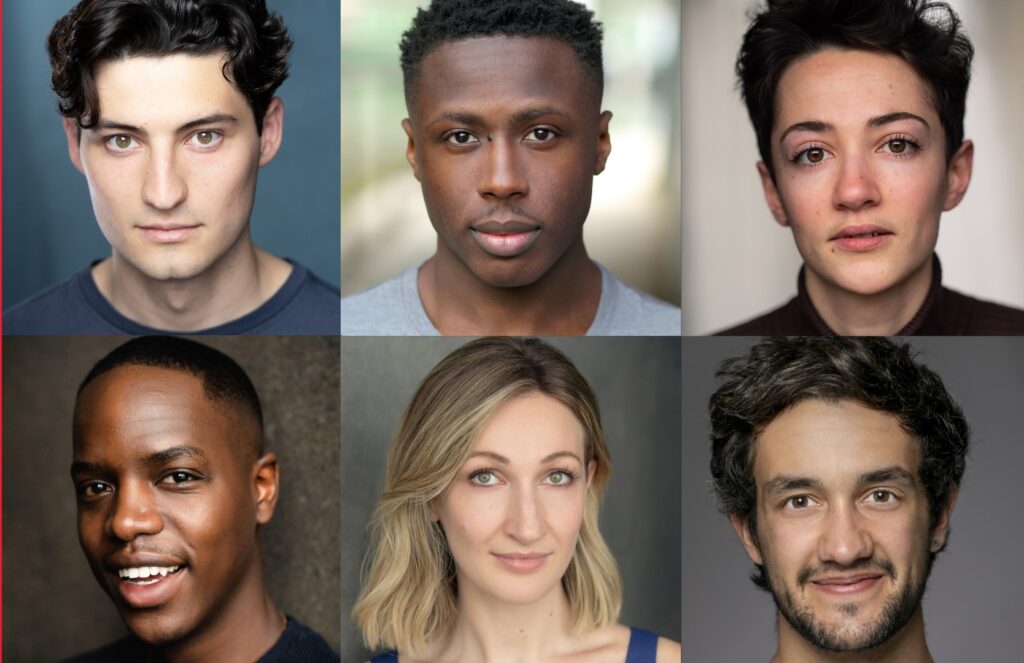 Dadiow Lin directs James Esler, Shaka Kalokoh, Gabin Kongolo, Natalie Kimmerling, Jess Nesling and Felipe Pacheco. The production's Designer Roisin Jenner and Movement Director Liam Francis have both been part of CATALYST, the Donmar's talent development programme, working on the original Donmar production of Henry V as Creative Assistants. The CATALYST programme facilitates paid training opportunities for creatives and arts administrators. Each year, paid Creative Assistant placements in set and costume design, sound design and lighting design are offered and they are mentored by industry leading creatives and supported with access to mentoring opportunities following their placement.
Dadiow Lin says "Having worked as the Resident Assistant Director at the Donmar for the last year, I am excited that I get to come back and create this Donmar LOCAL Production. I assisted Max Webster on his production of HENRY V last year and with the knowledge and inspiration I drew from the production, the team and I want to create a Shakespeare show that is accessible and evokes young people's imagination as well as making them intrigued by the theatricality we present to them. It is also wonderful to be working with creatives who were assistants on the original production through CATALYST, the Donmar's talent development programme."
HENRY V
By William Shakespeare
Directed by Dadiow Lin
21 June – 14 July 2023
Designer: Roisin Jenner
Movement Director: Liam Francis
Fight Director: Philip d'Orléans
Sound Designer and Composer: Dom Coyote
Casting Director: Charlotte Sumner Hughes
Voice Coach Deborah Garvey
Assistant Director: Alessandra Davison
Education Pack: Jordana Golbourn & Studio Certain
"No King of England if not King of France!"
Shakespeare's ever popular play is a thrilling study of nationalism, war and the psychology of power.
This production, inspired by Donmar Associate Director Max Webster'sversion starring Kit Harington, explores what it means to be English and our relationship to Europe, asking: do we ever get the leaders we deserve?
James Esler plays Henry. His theatre credits include A Matter of Life and Death (The Old Red Lion Theatre), and /Con/Trast (Gambit Theatre). His television credits include Count Abdulla, Dalgliesh and Litvinenko; and for film, Testament of Youth.
Shaka Kalokoh plays Chorus/Boy/French King. His theatre credits include The Lion, The Witch and The Wardrobe (Gillian Lynne Theatre and UK tour), Marvin's Binoculars (Unicorn Theatre) and Forest Fables at Mottistone Manor (Greengage Ventures).
Gabin Kongolo plays Nym/Mountjoy. His theatre credits include Truth or Dare (Theatr Clwyd), Children of Glyndwr (UK tour), Eight/Gates (Sherman Theatre), and The Merchant of Venice, Three Sisters, The Night of the Iguana and The Flick (Farnham Maltings). His television credits include The Suspect, Galwad and Bulletproof.
Natalie Kimmerling plays Katherine/Gower. Her theatre credits include The Tempest (RSC), War Horse (National Theatre/UK and international tour) and Nine Foot Nine (Sleepless Theatre). Her television credits include The Bastard Son and The Devil Himself.
Jess Nesling plays Nell/Exeter/Llewellyn. Her theatre credits include Gangsta Granny (Birmingham Stage Company/UK & Ireland Tour); Pangolin (Ships in the Night Theatre); The Winter's Tale; Nell Gwynn; Blithe Spirit; Measure for Measure (Changeling Theatre/UK Tour); Up the Bunty (Fantastic Garland/Lion & Unicorn Theatre); A Hundred Way the Fire Starts (Brave New World/Arcola Theatre); The Quarry Clock (Ed Stephenson Productions/Liverpool Everyman); Richard III (Antic Disposition/UK & France Tour); Lovely Ugly City; The Treatment (Almeida); Cut Throat (Trip & Guts Theatre/Camden Fringe Festival); Gretel and Hansel (Ships in the Night Theatre/TIE Tour); Standing Ovariation (The Cavendish Arms,Stockwell); The Unnamed Soldiers (Blackbox Theatre/Nuffield Theatre); and Close/Driver's Seat (Heart to Heart Theatre/Camden People's Theatre). Television includes: Citadel and Suspicion. Film includes: The Hitman's Wife's Bodyguard; Paul Dood's Deadly Lunchbreak; Plot a Lot; Long Distance Call; Risk; Faking It and Accountable.
Felipe Pacheco plays Pistol/Dauphin. His theatre credits include Othello, The Way I See It (UK tour), Peter Pan (Alban Arena), Henry V (Roman Theatre of Verulamium), Our Shore (Liverpool Everyman Theatre), and A Midsummer Night's Dream and Zorro (International tour). His television credits include Patterns, Brassic and The Responder.
Dadiow Lin is a freelance theatre director. She directs contemporary plays, adaptations of classics, new writings, and devised performances. Before moving to the UK in 2011, she worked as an assistant director on productions at the National Theatre of Taiwan. She received the Genesis Future Directors Award in 2019, directing Lauren Yee's In a Word at the Young Vic. In 2020, she became a trustee at Storyhouse, Chester after directing Amy Ng's adaptation of Miss Julie (UK tour/online).
DONMAR WAREHOUSE
LISTINGS
41 Earlham Street, Seven Dials, London WC2H 9LX
Box Office: www.donmarwarehouse.com / 020 3282 3808
YOUNG+FREE
YOUNG+FREE tickets for 16-25 year olds released by ballot. Sign up at www.donmarwarehouse.com.
Generously supported by IHS Markit.
DONMAR DAILY
New tickets on sale every day at the Donmar. Allocations of tickets will be made available every day for performances 7 days later. Tickets will be available across the auditorium at every price band.
ACCESS
The Donmar Warehouse is fully wheelchair accessible. Guide dogs and hearing dogs are welcome in the auditorium. There is a Loop system and a Radio Frequency system fitted in the main auditorium and there are also hearing loops at all the front of house counters.
Wheelchair space prices vary across all price bands, check the website for details
ASSISTED PERFORMANCES
If you require a companion to attend the Donmar, their ticket will be free. To book call 020 3282 3808 or email [email protected].
For all other access enquiries or bookings call 020 3282 3808.
CAPTIONED PERFORMANCES (captioned by Stagetext)
When Winston went to War with the Wireless: Monday 17 July 7.30pm
Next to Normal: Monday 25th September 7.30pm
Clyde's: Monday 20 November 2024 7.30pm
Macbeth: Monday 29 January 2024, 7.30pm
AUDIO DESCRIBED PERFORMANCE – 2.30pm (audio-described by VocalEyes)
When Winston went to War with the Wireless: Saturday 8 July
Next to Normal: Saturday 30th September
Clyde's: Saturday 25 November
Macbeth: Saturday 27 January 2024, 2.30pm
BRITISH SIGN LANGUAGE INTERPRETED PERFORMANCES
When Winston Went to War with the Wireless: Saturday 22 July 2.30pm
Next to Normal: Saturday 23rd September 2.30pm
SEASON AT A GLANCE:
WHEN WINSTON WENT TO WAR WITH THE WIRELESS
2 June – 29 July 2023
Captioned: Monday 17 July 7.30pm
Audio-Described: Saturday 8 July 2.30pm
British Sign Language Interpreted: Saturday 22 July 2.30pm
NEXT TO NORMAL
12 August – 7 October 2023
Captioned: Monday 25 September, 7.30pm
Audio-Described: Saturday 30 September, 2.30pm
British Sign Language Interpreted: Saturday 23 September, 2.30pm
CLYDE'S
13 October – 2 December 2023
Captioned performance: Monday 20 November 2024, 7.30pm
Audio described performance: Saturday 25 November, 2.30pm
MACBETH
8 December – 10 February 2024
Captioned performance: Monday 29 January 2024, 7.30pm
Audio described performance: Saturday 27 January 2024, 2.30pm