Theatre Royal, Brighton – until 11 March 2023
Reviewed by Sue Bradley
4****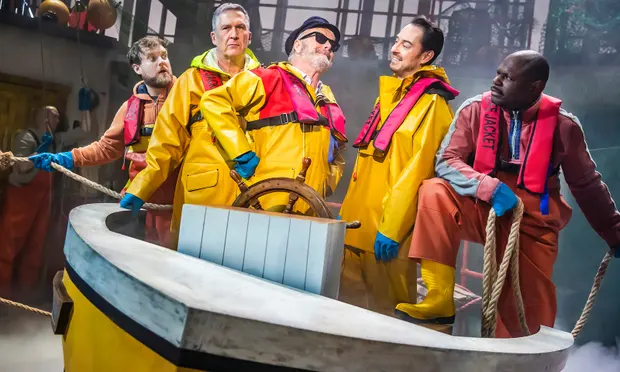 Fisherman's Friends is the story of a group of men from Port Isaac in Cornwall who meet to sing traditional sea-shanties on a Friday night. Normally, they just sing for themselves but, by a quirk of fate they find themselves with a much wider audience. This would be a lightweight story if it wasn't, essentially, completely true.
In 2010, The Fisherman's Friends, who laughingly called themselves 'The Original Buoy Band',were signed to Island Records and produced a critically acclaimed album that landed in the UK Top 10. In the ensuing years, two hit films have been released and now, this musical. Despite this recognition, the men have not given up their day jobs and continue to meet on a Friday night down at the Platt to keep the old songs alive and bring new songs to the world.
Although there is gentle storyline about love and community that runs through the show, it is the songs and the singing that really matter. Absolutely every singer on stage has a fine voice and they are all different. The traditional shanties they sang included 'John Kanacka', 'Drunken Sailor' and 'Nelson's Blood'. James Gaddas as the gruff-voiced Jim reveals a surprisingly beautiful singing voice at one point and Parisa Shamir as Alwyn holds us in the palm of her hand when she sings Keep Haulin'. And when the Fisherman's Friends sing together, they are a powerful, almost elemental force. I found myself in tears more than once, not because of the subject matter but because of the beauty of the sound they were making. And we would never have known, without being told, that the part of Maggie was played by Janet Mooney standing in for Susan Penhaligan.
A word too for the musicians, many of whom are women (although the cast is necessarily male-heavy) and all of whom are multi-instrumentalists. Carrying their instruments around on stage, their movements were cleverly choreographed to make them become an integral part of the cast. And the sound design is exemplary – all these acoustic instruments were clearly audible and beautifully balanced with the voices. It was a real pleasure to listen to them and a testament to the technical work that made this possible, without the tech making itself apparent.
Fisherman's Friends does not ask too much of us from an intellectual standpoint but it is a powerful, almost visceral, moving and entertaining experience with lots of laughs. As we left the packed theatre I could not help but notice that the audience's mood seemed to have been lifted. To borrow a Cornish phrase; Proper Job!