Turbine Theatre, London – until 28th May 2023
Reviewed by Mitzi Luck
5*****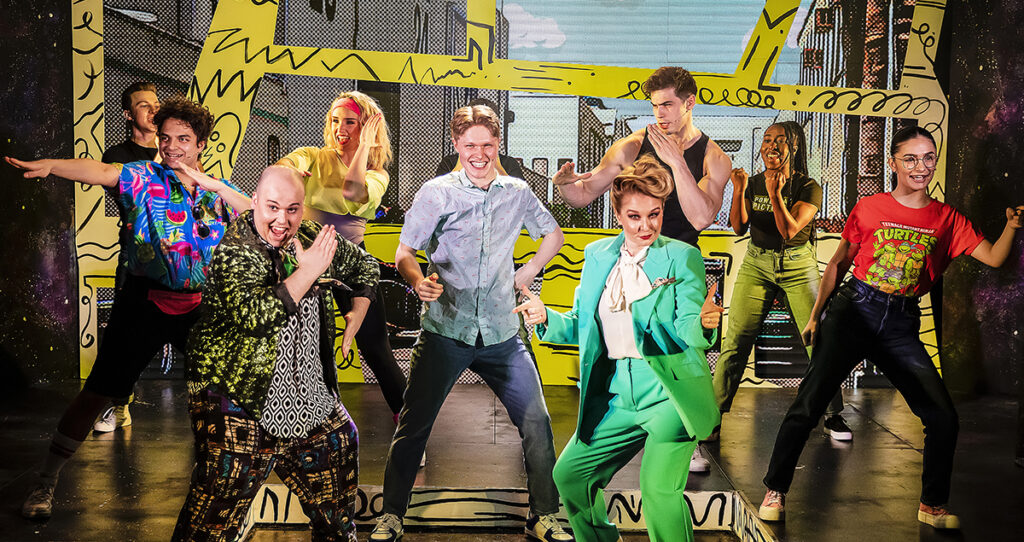 Eugenius takes the audience on an adventure through 80s pop culture, which shows that following your dreams can take you to some very interesting places.
Our adventure starts with Eugene, played by Elliot Evans, at home dreaming up the latest instalment of his hand drawn comic book, about a character called 'Tough Man', played by Dom Andersen, and his love interest 'Super Hot Lady', played by Maddison Firth.
Eugene is a self-confessed geek and his song 'G.E.E.K' transports the audience into Eugene's life with a wonderful vocal performance by Evans. The story starts to develop as we meet Janey, played by Jaina Brock-Patel, and Feris, played by James Hameed, two of Eugene's best friends. They are wonderfully adorable characters brought to life with so many funny references to well-loved films and characters of the 80s. As Eugene takes on Hollywood, his dreams become all too real and he is called on to prove if he really is afraid to stand up to bullies and reliant on 'Tough Man' or if he himself has what it takes.
Every character brings so much life and humour to the stage. The Evil Lord Hector, played by Joseph Beach, is a delightfully funny evil nemesis, who could make the audience laugh with a facial expression alone. The story at the heart of the musical is one of love and bravery of the heart. The songs are catchy and the lyrics by Ben Adams and Chris Wilkins are well worth listening to carefully. The set by Andrew Exeter is an excellent reference to an 80s comic book and helps to transport us from an Ohio high school to Hollywood, to space and back again. The whole musical is so high-spirited that it was impossible to leave without a smile.