Southwark Playhouse – until 1 October 2022
Reviewed by Claire Roderick
4****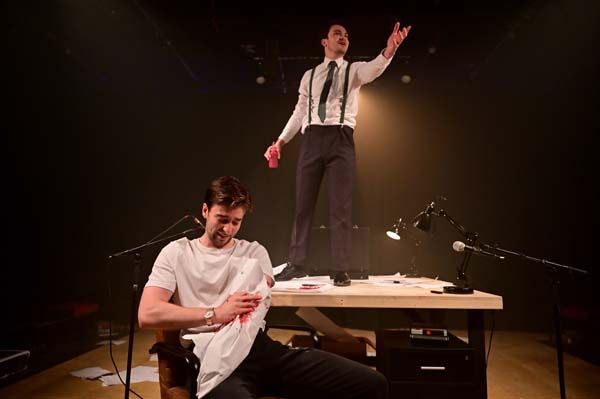 Lazarus Theatre's exciting new adaptation of Doctor Faustus imbues Marlowe's spellbinding language with a twisted modern vision, creating a fascinating play that will probably divide audiences.
The story of John Faustus, arrogant and bored with mere earthly knowledge, finding delight in magic and selling his soul to the devil for unlimited knowledge and power is a familiar cautionary tale. Before the play begins, Sorcha Corcoran's meticulous and eerie design sets the scene, with a wall filled with photos, scribbled notes and arcane symbols that any conspiracy theorist/serial killer would be proud of. Tucked away on the floor are large rolls of plastic – confirmation for anyone that has seen a Lazarus production before that things are about to get messy. Stuart Glover's lighting and Sam Glossop's sound add to the otherworldly atmosphere and the design choices make this already small auditorium fell increasingly claustrophobic as the story progresses.
Ricky Dukes's masterful adaptation begins very slowly, keeping the audience off kilter, before Faustus begins telling his story. Jamie O'Neill is magnetic as Faustus, schmoozing with the audience as he expresses his disdain for traditional learning and then capturing the frantic highs and guilt-ridden despair of Faustus's contract. In this play, hell is peopled with briefcase-carrying office workers with grotesque green clown smiles. David Angland's mercurial Mephistopheles is wonderfully disinterested, vindictive and childish responding to Faustus's various demands, and switches from smiling sarcasm to raging monster in the blink of an eye. The contract signing scene is unforgettable. Lucifer, or we can call her Lucy (Candis Butler Jones) is also a glorious modern take on evil – horns and tails no longer terrify, it's calm, all-powerful malice delivered with a smile and a hair toss.
There are some chilling moments in this production, but also lots of laughs. The wonders and torments shown to Faustus are portrayed as a grotesque freak show. These are the marmite sections of the play – I loved them! The introduction of the demons, an explanation of the solar system and the seven deadly sins all featured slightly tawdry and puerile, but wonderful, choreography, music and singing that were slightly "off." This leaves you with an uneasy feeling for laughing and enjoying them so much but, just like Faustus, we want more, and when Mephistopheles channels Beetlejuice at the foul-mouthed pope's banquet I was in heaven.
Curious and challenging for some, barnstorming and brilliant for others – Doctor Faustus will definitely get you talking. For me, another brave and thought-provoking production from Lazarus