Marylebone Theatre – until 5th November 2022
Reviewed by Alun Hood
4****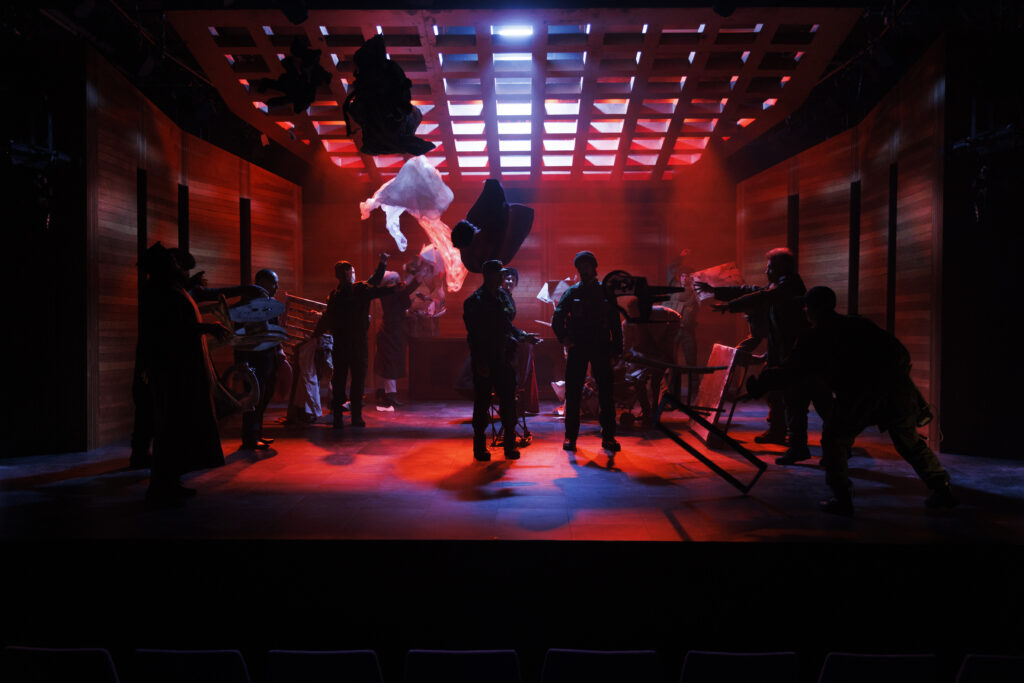 At a time when attracting audiences is a challenge thanks to the dreaded cost of living crisis and onslaught of autumn, one can only applaud in admiration the audacity of opening a new theatre space. Even more remarkably, Marylebone Theatre debuts with a challenging political-historical drama by a long dead German writer set in 1600s Russia and Poland, about a real life figure whose name is unlikely to be recognised by your average ticket-buying punter. But here we are, with an inaugural production of Schiller's Dmitry, as re-imagined and completed (the playwright died before finishing his original manuscript) by Peter Oswald and director Tim Supple….and it turns out to be stirring stuff.
To be fair, Oswald has form with adapting and reshaping Schiller (he fashioned a gripping Don Carlos, and his Donmar version of Mary Stuart with Janet McTeer and Harriet Walter was a massive international hit fifteen years ago) and Tim Supple has sundry classical credits under his belt at the Young Vic, the RSC and beyond, so we are in safe hands here. Once again, Oswald provides a verse text that is muscular, vivid and, crucially, never sounds like a translation. If it's a little hard to follow at times, that's more a fault of the original source material, but the story – the deposed Russian Tsar's son, allegedly murdered in infancy and subsequently near-deified, turns up as an adult in early 1600s Poland to incite political and religious war, but is it really him? – is fascinating enough to repay the effort of concentration. There are shades of Martin Guerre, Anastasia and even Macbeth in this tale of violent power grabs, false, or at least unreliable, memory, and mistaken identity
Dmitry often feels more like a thriller than a bone dry history play, and Supple's predominantly modern dress staging embraces and enhances that with almost constant underscoring – everything from Thrash metal through Hans Zimmer-style orchestral moodiness to religious choral flamboyance – and a rapid pace that enthrals but could occasionally benefit from slowing down a tad to allow us in the audience to absorb the astonishing story. And it really IS astonishing: allegiances switch in the blink of an eye, a breathtaking deceit is embarked upon, battles are fought and the push-pull of religious observance with political expedience is laid bare.
It's engrossing material that resonates across the centuries, and it's shot through with shards of macabre humour. Supple's staging is heavy on the symbolism, both secular and, most strikingly, the religious, invoking the passion of Christ and other iconography in a series of tableaux depicting Dmitry's demise, but never feels overdone.
The performances are uniformly terrific, and alive to the whiplash-inducing variations in tone and plot development. Lesser actors might struggle with rendering these flawed, intriguing figures into something consistently credible, but not Supple's cast. Tom Byrne finds a relatable ordinariness as well as a natural authority and compelling dynamism in the young man who initially has no idea if he's really of Tsarist lineage or not. Poppy Miller is very powerful as the former Tsarina relegated to an anonymous religious life before seeing her fury and pain devastatingly reactivated.
Daniel York Loh does thrilling, fiery work as the ruling Tsar Boris Godunov, matched by a turn of extraordinary passion and wayward energy by Piotr Baumann as a Cossack warrior. Aurora Dawson-Hunte's Princess betrothed to Dmitry is an intriguing mixture of ferocity and acquiescence that feels refreshingly modern but not implausibly so, and Mark Hadfield invests her father with the appropriate mixture of authority and comic bafflement. In another striking performance, Clifford Samuel brings a riveting watchfulness, and a particularly strong command of the verse, to one of the few characters with a full handle on the bewildering facts surrounding the unconventional hero.
Robert Innes Hopkins's set extends the blonde wood of the auditorium onto the stage in a sort of natural continuation that feels fitting for the first production in a brand new theatre. However, the suspended overhead grid, in similar wood, slightly impedes the directing of Jackie Shemesh's moody lighting, leaving key figures in darkness at dramatic moments while lesser characters are fully illuminated. Max Pappenheim's vivid, edgy and pretty much constant soundscore is quite wonderful though, almost like another character in the play.
It will be interesting to see a production at the Marylebone that seeks to transform the space a little more. As it is, the venue is attractive and comfortable, but feels like a lecture theatre and performance space hybrid. Still, it's exciting to welcome a new central London theatre, and highly impressive that they're opening up with a bold, grandiose, high quality production that would not look out of place on one of the National stages or at somewhere like the Donmar or the Almeida. Bravo.