Southampton Mayflower – until 15 October 2022
Reviewed by Lucy Hitchcock
5*****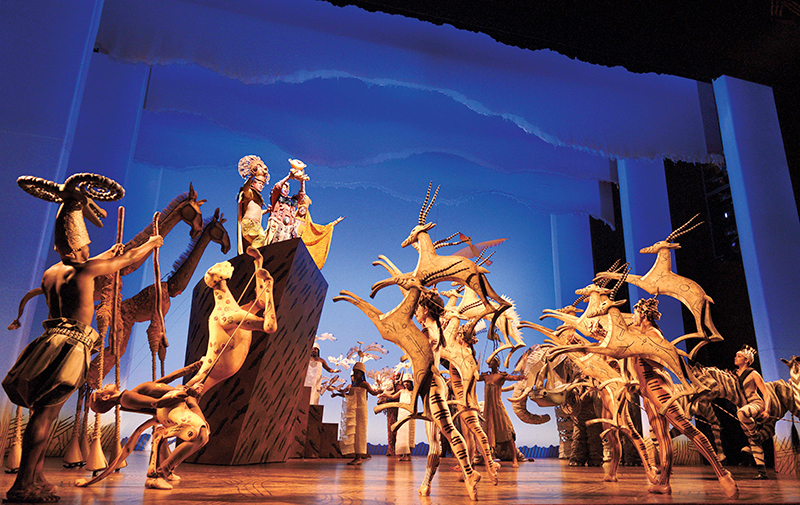 The well known, loved and anticipated classics 'The Lion King' bounds onto the Mayflower stage, and it is a work of wonder!
We follow the classic storyline through its entirety, but mixed with the visually stunning costumes, effects and exquisite music this really is not one to be missed.
The iconic 'Nants' Igonyama' begins the show and Nosipho Nkonqa as Rafiki has the enviable task of performing 'Circle of life'. A true piece of artistry and a vocal showcase, this is the perfect start to the piece. The ensemble enhance this song perfectly, with great puppetry, choreography and costumes from Michael Curry, Garth Fagan and Julie Taymor respectively. The whole cast were impeccable, giving the performance of a lifetime and creating emotion that rippled through the audience. Richard Hurst and Jean-Luc Guizonne as Scar and Mufasa were excellent. Hurst had a brilliant costume that, when mixed with his spot on portrayal of 'Scar' made it hard to believe this was an act! Matthew Forbes as 'Zazu' was also great, cutting any tense situation with excellent comedic timing. It was great to see that 'Zazu' was an extension of Forbes and he acted with his whole body, creating a spectacular illusion.
Pumbaa and Timon, played by Carl Sanderson and Alan Mchale were the perfect duo. They were witty, comical and sang with Simba (Stephenson Ardern-Sodje) with ease – bringing the duo into a wondrous trio! Arden-Sodje has a great singing voice and gave his all to his performance. Josiah Araba-Coker and Serenna Hunte as young Simba and Nala brought a wonderful childish energy to the show and really showed how much fun they have on this stage. As well as having great vocals, their energy and chemistry is unmatched-making for a show stopping act!
This is visually stunning and all creatives should be proud of the show. In particular, Richard Hudson-scenic designer. Although the scene changed were simple, they were highly effective and you could hear the gasps of children in the audience as we were transported across the savannahs and lairs of Scar.
This is a show like no other-no wonder it is selling out. There are not enough words to describe what a treat this is for all ages!!