Lyceum Theatre, Sheffield – until 24th January 2023
Reviewed by Sophie Dodworth
4****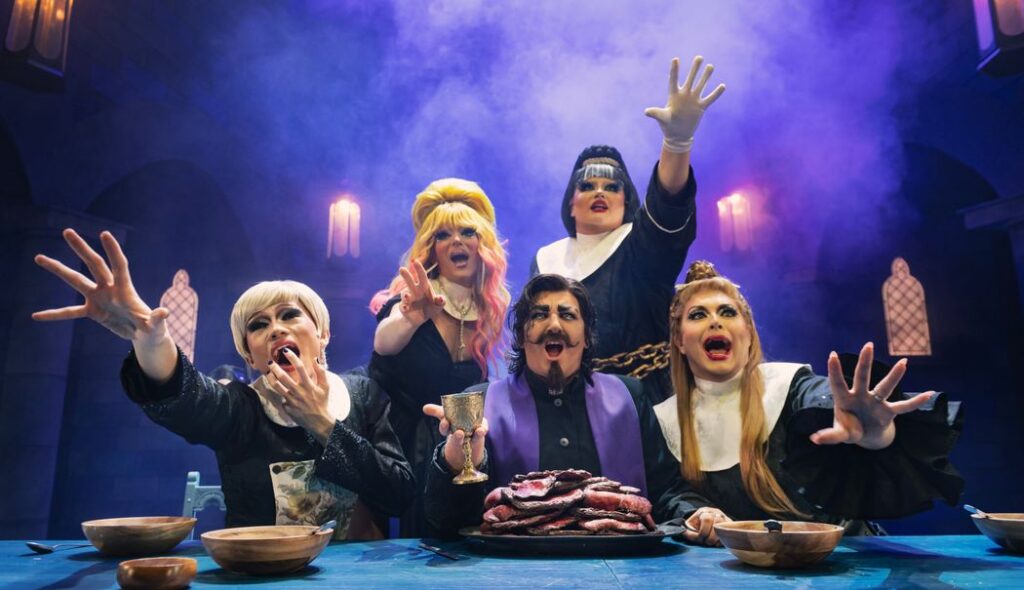 Drag arrives at Sheffield Theatres with this superbly funny production. A rip off of Sister Act the musical and with an all drag-star cast; smut, humour and energy awaits! As part of the UK tour, this West End treat is unique and a refreshing piece of theatre.
Living the simple life in the convent of St Babs are the four nuns, Mother Superior (Victoria Scone), Sister Mary Berry (Cheryl Hole), Sister Maria Julie Andrews (River Medway) and Sis Tits (Alex Roberts). The don't really have that much of a connection with the church and tend to live life in the convent and stay in the convent at all times. Then everything is turned upside down with the arrival of Father Alfie Romeo (LoUis CYfer). Romeo is investigating a multitude of things – reports of sinful phenomena and unholy apparitions, finding out what happened to Father Reginald Spanking (a Vatican emissary that went missing) and finally he is looking for any valuable relics which he can take back to Rome. The nuns find his presence annoying and a distraction and make no secret that he is unwelcome there.
The script (written by Rob Evans) is well written and leaves gaps for the actors to make some comical local references throughout. It also gives opportunity for the drag artists to ad-lib if needed, which is great for getting some extra gags in. The set (designed by Peter McKintosh) is quite simple but super effective when needed, it has a macabre feeling which is perfect for the horror-like references that are made during the show.
Missing Kitty Scott-Claus on this performance was felt! She really would have made the show extra special, however the cast (and her understudy, Roberts) were really strong. These are not classically trained actors and you would not have a clue. All of them completely warranted being in a West End performance and shone brightly in their own way. An extra bow needed for the wonderful LoUis CYfer, what a talent! Perfect comedic timing and got laughs consistently throughout. Roberts had one of the only songs towards the end and what a beautiful singing voice.
There is room for more music in this show for sure, with all the actors being drag stars, they are so competent and regular music performers that this would surely be welcomed and would add some extra dynamics.