Leeds Playhouse – until 11 September 2021
Reviewed by Sal E Marino
5 *****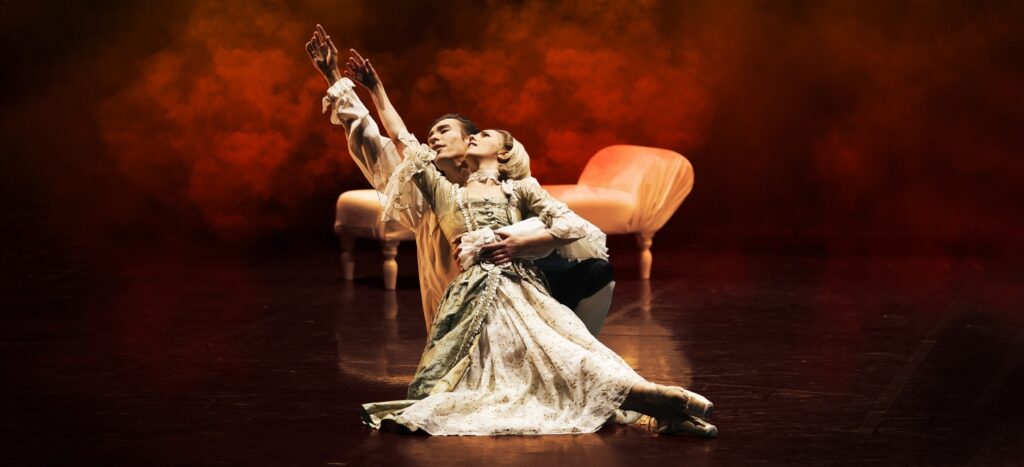 A very excited audience gathered at the wonderful Leeds Playhouse to see David Nixon's ballet adaptation of Choderlos de Laclos's 18th-century highly-seductive novel, Les Liaisons Dangereuses (Dangerous Liaisons), on the opening night of Thursday 2nd September .  A most wickedly entertaining exploration of sexual politics unfolded before us through the spectacular Northern ballet company; who gave a most spell-binding and passionate performance from start to finish.  
After seeing Nixon's Swan Lake back in June earlier this year, I knew I was going to enjoy Dangerous Liaisons but if I'm honest I didn't think it was going to be quite as enthralling but it absolutely most certainly was –  in every single way!   The plot is centered around aristocrats Marquise de Merteuil (Sarah Chun) and the Vicomte de Valmont (Riku Ito) who both take a delight in seducing and manipulating more innocent and less cynical members of the French court.  What really struck me about this Northern Ballet performance was that the viciousness and complexities of the intertwined relationships translated so well through dance and it was most clear what was going on due to the impressive characterization skillfully given by each and every dancer.  
Chun was magnificent as the unscrupulous and scheming puppeteer, the Marquise de Merteuil, as her expression in face, body and movement captured every villainous thought and act – and there were many!  Matching Chun was Ito as Valmont and he was every inch the rampant, devious yet alluring scoundrel who weaved his magic on every female he came across and I'm sure that along with myself that included other members of the audience too!  Most impressive was how Antoinette Brooks-Daw was able to communicate the traits of virtue, goodness and morality known to epitomize Madame de Tourvel and then show her devastation and fragility when Valmont disposes of her so cruelly under the instruction of the Marquise.  
Dangerous Liaisons is set to Vivaldi's Four Seasons, played live by the superb Northern Ballet Sinfonia; conducted by Jonathan Lo, lead by Geoffrey Allan and the stage lighting design was created by Alastair West.  Simple yet perfect, the jeweled-rich coloured lights chosen for each scene gave an atmosphere of opulence along with the carefully positioned chandeliers and typical 18th century beautiful white, lavish furniture.    
Scintillating and electrically charged in every scene is how I would describe Dangerous Liaisons – the ballet and that it was like watching a human game of chess – fascinating to calculate and see the next manoeuvres and then the consequences that follow.  Thrilling with every step, David Nixon's Dangerous Liaisons ballet production will entice, seduce and lure you into a tale of shocking acts, exquisitely performed by the most phenomenal dancers.