The Grand Theatre, Leeds – until Saturday 14th May 2022
Reviewed by Aimee Liddington
5*****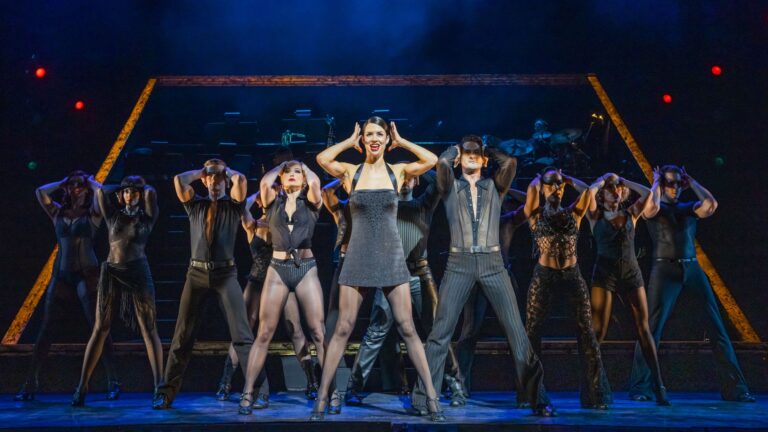 It's the roaring 20s and Chicago is hazy with a cocktail of prohibition criminality and the glamour and eroticism of jazz. Cook County Jail has a medley of women on 'murderess row' all with a story to tell – crimes which have been committed due to illicit alcohol consumption and sloppy firearm laws. Roxie Hart (Faye Brookes) has just been charged with shooting her lover dead and she's convinced her doting husband to fund her defence with the one and only Billy Flynn (Russell Watson). Now she needs to play the role of a lifetime to convince the jury and the intrigued newspaper readers that she's just a vulnerable, blameless woman. The name on everybody's lips is gonna be… Roxie!
The tremendous talents of the whole ensemble are commendable. Not one member of the production breaks character at any time and the level of professionalism is evident from start to finish. Faye Brookes' interpretation of the coquettish Roxie Hart is faultless and Djalenga Scott portrays Velma Kelly's strength and presence flawlessly. All the well-known numbers such as All That Jazz and Cell Block Tango more than surpass expectations which is a huge accomplishment in such a renowned and celebrated production. We Both Reached for the Gun performed by Russell Watson as Billy Flynn, Faye Brookes as Roxie, B E Wong as Mary Sunshine and the company is mesmerising.
The show begins with the orchestra embedded within the set on the stage. This placement of the orchestra at the heart of the stage is symbolic to how music brings everything together in a musical production. The involvement and interaction of the whole orchestra within the acting of the show is refreshing, but in particular the parts played by Musical Director Andrew Hilton add an extra dynamic and allow for the audience to really appreciate the talents behind those playing the live music.
Just like Roxie Hart and Velma Kelly, the audience of Chicago are seduced by the glamour of Jazz music and wanting what they shouldn't have…. and if you'd have been there, if you'd have seen it, I betcha you would have done the same.