Nottingham Theatre Royal – until 5 November 2022
Reviewed by Louise Ford
5*****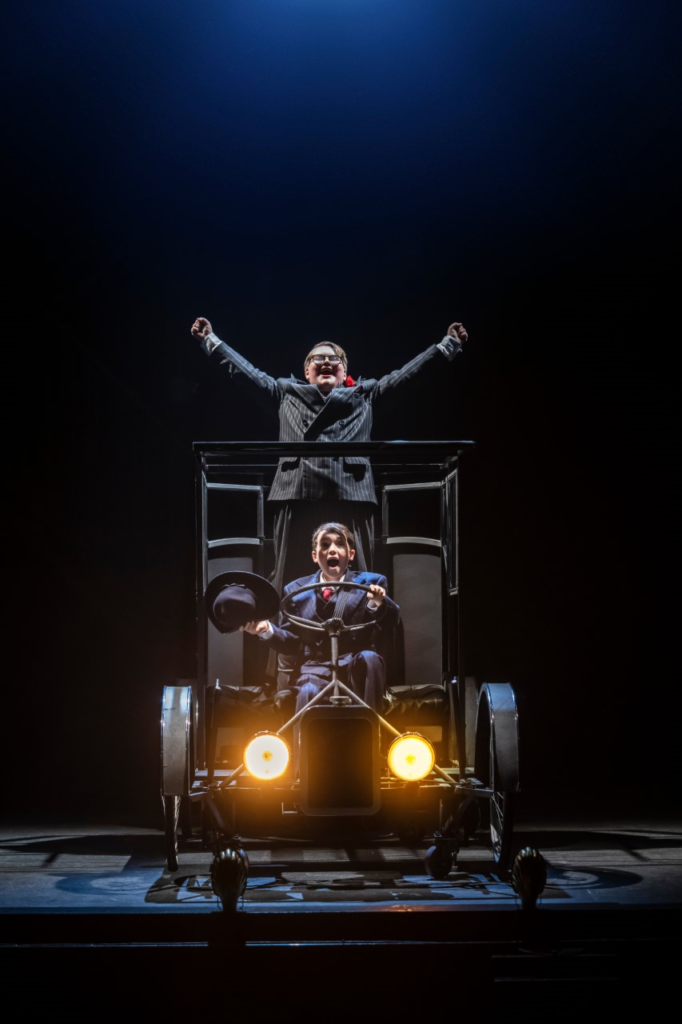 We could've been anything we wanted to be…
Bugsy Malone hits the Nottingham Theatre Royal to blow away the wet and dismal evening to bring a show that is alive with charm, song and fun!
Director Sean Holmes has brought to the UK stage the 1974 Alan Parker film, Bugsy Malone. A quite unique film that cleverly blends the gangster movies of the 1920s with an all child cast. I certainly remember seeing it and my daughters rank it amongst their favourite childhood films.
The adaptation to the stage works really well . This is thanks in no small part to the unforgettable original songs by Paul Williams , arranged by Phil Bateman but also the sets and costumes (Jon Bausor) which perfectly capture the mood of the original film and move the story along at a cracking pace.
The main difference between the original film and this adaptation is the inclusion of an adult ensemble rather than distracting from the younger actors they bring an extra dimension and energy. The most memorable and hummable songs Bad Guys ( it's still whirling through my head) and So You Wanna be a Boxer are wonderfully choreographed by Drew McOnie. We loved the complicated cat's cradle of the boxing ring and the ensemble dodging and weaving their way around the stage. Of course the splurge guns and custard pies are great but the car chase steals the show!
The current tour has three sets of young actors, our performance was Team Roxy.
The show opens in New York with a gloomy and anonymous backdrop of fire escapes that hides Fat Sam's speakeasy. Fat Sam (Isham Sankoh) delivers a brilliant performance as the troubled gangster with his hapless hoodlums being threatened by the new kid on the block Dandy Dan (Kit Cranston).
The contrast between the mean back streets with the glitz of Fat Sam's bar is achieved with descending tables and whirling lights and a glowing drinks bar. The scenery moves around effortlessly to create the different locations.
Whilst Fat Sam was the stand out performance for me a great voice and comic timing the roles of Blousey (Delilah Bennett-Cardy) and  Tallulah (Faith Ifil) were delivered perfectly with strong voices and stage presence and fantastic costumes. Bugsy (Shaun Sharma) was sweet and adorable and wore his hat with aplomb!
The final scene was a perfect mash up of the whole cast break dancing and having great fun with the perfect finale song You Give a Little Love, which to be fair is what we all need on a cold November evening!