The Grand Theatre and Opera House, Leeds – until Saturday 10th September 2022
Reviewed by Aimee Liddington.
5*****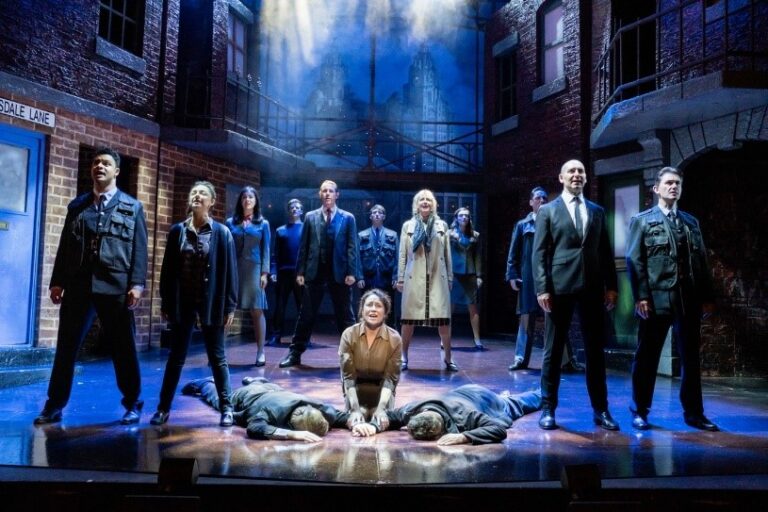 Willy Russell's Blood Brothers is one of the most loved British musicals of all time and over the past three decades, the show has enjoyed an enduring success. One of the reasons for its continuing popularity is simple: it relies on the age-old human principal of storytelling. From the very first moment that the curtain is lifted, the audience's ears prick up and they are hooked until the curtain falls for the final time.
When Mrs Johnstone is deserted by her husband and left to provide for seven hungry children, she takes up a job as a house keeper in order to make ends meet. Although she is pregnant again, she seems to have it all under control – that is until she finds out that she is expecting twins. In an act of hopeless desperation, she enters into a pact with her employer which leads inevitably to the show's spectacular but foredoomed ending. This show never disappoints and with an outstanding cast, remarkable band and all round phenomenal creative team, you are sure to receive an evening of entertainment that is second to none.
Liverpudlians are known for their warm hospitality and wit and the character of Mrs Johnstone, played by Niki Colwell Evans, epitomises these qualities. Evans is a perfect match for the casting of this role as she wins the hearts of the audience with her portrayal of Mrs Johnstone's worldliness alongside her soft edges. It's clear that when Evans is on stage, she whole-heartedly becomes the character and this can be seen from the emotion portrayed in the final musical number of 'Tell Me It's Not True' – not only is her voice sensational but the passion she portrays is magical.
The more tragic elements of this show are broken up by many moments of comedy and Sean Jones who plays Mickey and Jay Worley who plays Eddie both do this fantastically with their depictions of the twins from childhood into adulthood. Similarly, Timothy Lucas deserves a mention for his hilarious portrayal of Sammy. It really is so clever how the adult cast are able to transform themselves into young children so believably.
Richard Munday, who plays the narrator, holds a crucial role in the audience's understanding of the story and his omnipresence is so flawless that we barely notice when he's there until he isn't. Munday's overall dramatic and musical talents are to be applauded and the narrator is obviously a fine-tuned role that he has taken time to perfect.
As mentioned before, Blood Brothers never fails to impress – it's a must see and I can guarantee that if you go once, you'll be back again and again and again.