Storyhouse, Chester – until 2 October 2021
Reviewed by Mia Bowen
4****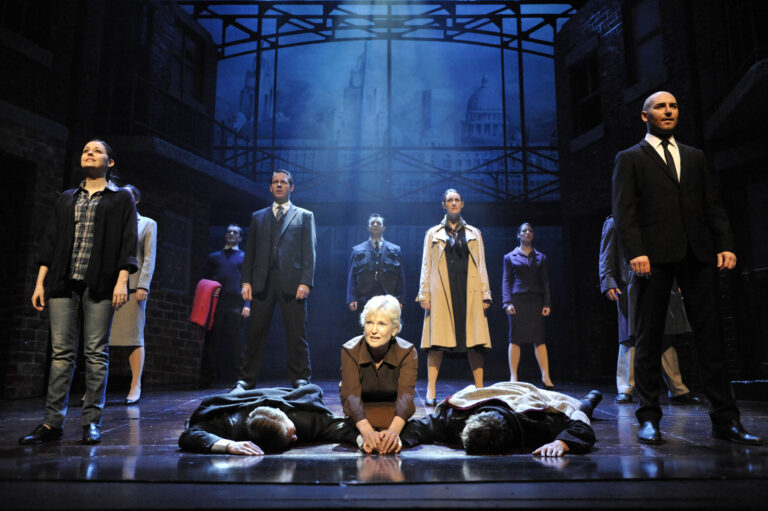 Last night was an evening of many firsts for me; my first visit to the Storyhouse, the first time I watched Blood Brothers live on stage and the first time back in the middle of a huge auditorium packed with people.
The Storyhouse includes a library, cinema and theatre. It is situated in the city centre of the historical city of Chester and currently holds the official title as the UK's Most Welcoming Theatre 2019/20 – UK Theatre Awards.
At the beginning of the performance it was announced that there would be some changes to the cast for the evening; the role of Mrs Johnstone would be played by Paula Tappenden and the role of Mrs Lyons by Grace Galloway, both understudies.
The Narrator, played by Robbie Scotcher serves several purposes in the play. He acts as a social conscience, drawing the audience's attention to the rights and wrongs of the characters actions. He speaks directly to the audience, repeating the word 'we' and guides us towards making a conclusion about the significance of social class in our lives. What caught my eye was the Narrator, unbuttoning his jacket at the start of Act 1, as he started narrating and buttoning up his jacket at the end of Act 2, as the performance finished.
Mrs Johnstone, played by Paula Tappenden is a warm and caring mother, despite the struggles she faces supporting her eight children alone. As the play goes forward, she becomes tortured by guilt and regret. She is the moral center of the pay. One of the first songs in the musical constantly returns to the refrain of Marilyn Monroe and Dancing. At first Marilyn Monroe, is when she is describing her relationship with her husband. Towards the end she compares Mickey's, Alexander Patmore's, addiction to Marilyn's. She recalls dancing, used to suggest happiness, with her husband when they first met. Significantly the dancing stopped when the children were born.
With it being set in Liverpool, the performers mastered the Scouse accent, slang and dialect throughout the musical, with plenty accomplished slapstick comedy.
The score was very moving and sensitive, especially with Mrs Johnstone and company's execution of 'Tell me it's not True'. A lady sitting next to me, looked at me and said 'I am a mess, it hits you when you are a mum of two boys'.
The stage lighting superbly created and enhanced the mood and atmosphere. There were several costume changes throughout the play and they helped locate a scene in time and convey the social status.
As I stood cheering and clapping, I watched the whole cast take their third standing ovation, I saw the smiles on their faces, of pure joy, being back on stage doing what they love after what must have been a very uncertain and unnervingly period.