Union Theatre – until 22 April 2023
Reviewed by Claire Roderick
4****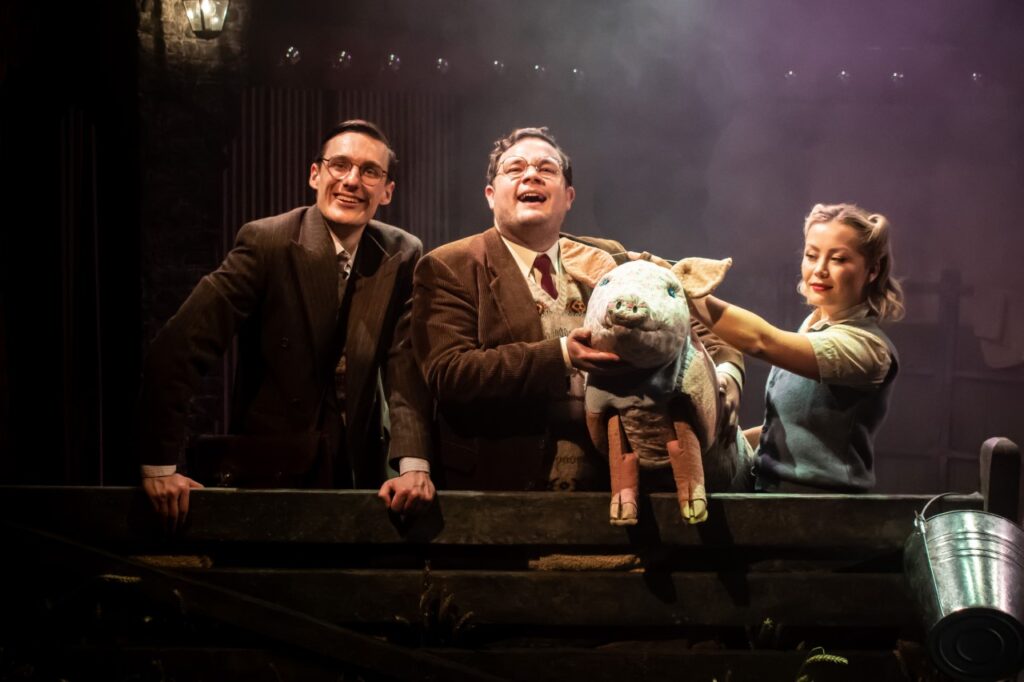 This wonderful revival is guaranteed to leave you with a warm and fuzzy feeling. Twelve years since its West End run, Betty Blue Eyes is back in the more compact Union Theatre.
Based on Alan Bennett's A Private Function, the eccentric, parochial inhabitants of a Yorkshire town in 1947 are struggling through rationing and austerity whilst being promised Fair Shares For All by the government. Of course, those in power in the town don't think this applies to them and have an illegal unregistered pig, Betty, to feed the great and the good they have invited to their very private function celebrating the wedding of Princess Elizabeth. Their snobbery and entitlement pushes mild mannered Gilbert Chilvers (Sam Kipling) and his wife Joyce (Amelia Atherton) over the edge when he is refused a lease on The Parade because he is just a chiropodist, and the couple steal the pig as revenge. Also searching for clandestine meat, and arresting any butchers bending the law, is Inspector Wormold (David Pendlebury), who enjoys his work a little too much.
This very English story is full of ridiculous characters and situations, and Ron Cowen and Daniel Lipman's book fizzes with great lines and laughs. Add music and lyrics by Stiles and Drewe and the show positively sparkles. As ever, Stiles and Drewe's work adds multiple layers to the characters and plot, stirring the heartstrings as the music sweeps you along, nowhere more than in the Chilvers' contrasting numbers – A Place on the Parade, where they both dream of a bright future, Nobody, Joyce's defiant shout at the world, and The Kind of Man I Am, Gilbert's gorgeous ballad accepting himself as he is. Sasha Regan directs with great heart and skill while Kasper Cornish's choreography fits more onto the tiny stage than should be possible.
Atherton and Kipling are a joy to watch as the Chilvers, both being blessed with the most expressive faces and able to get laughs with the raising of an eyebrow. The performances are all very 1970/80's Northern sitcom, which is perfect for this material. Atherton's frustrated social climber has shades of Thora Hird and Thelma from The Likely Lads, while Kipling's man with the magic fingers is a delightfully unassuming hero – and their voices are fantastic. The entire cast give their all, full of energy and humour, and you can't help but smile, especially when Betty herself takes the stage – a floral quilted bundle of cuteness set snuffling around the front row's feet by puppeteer Georgia Boothman.
Betty Blue Eyes is a joyful and eccentric show crammed with memorable songs – and creative uses for Spam – grab a ticket while you can.