Maltings Theatre, St Albans – until 15 October 2022
Reviewed by Ross McGregor
Beginning 4**** Middle 5*****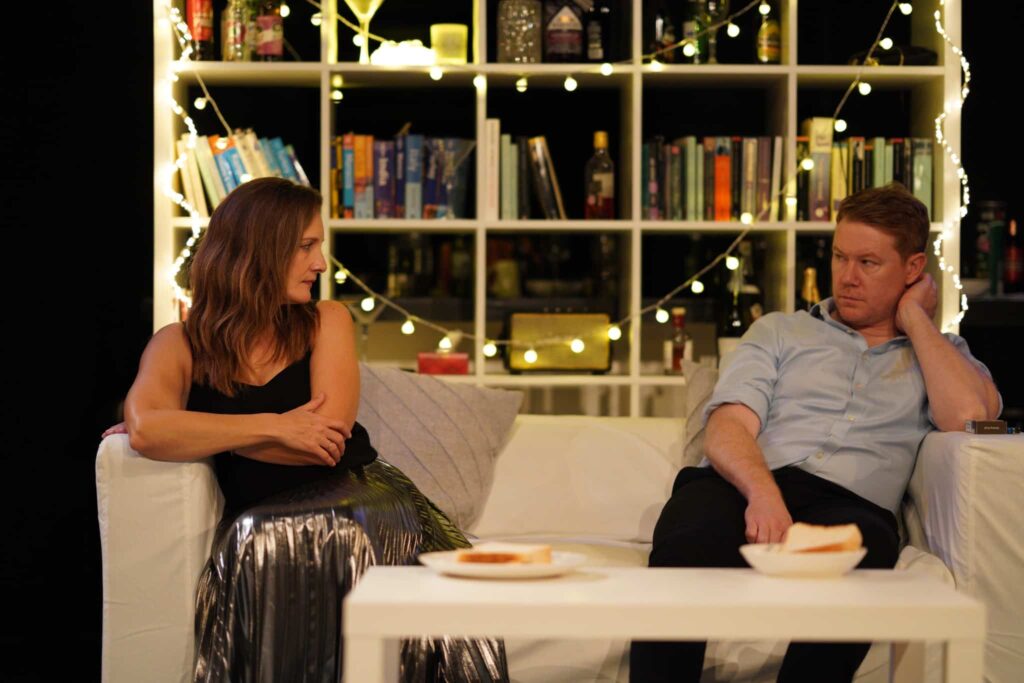 Late Night Love's Labours Lost in the Pesto Triangle
Presented on alternate nights and as a double-bill on Saturdays, OVO Theatre have brought David's Eldridge's "Beginning" and "Middle" to the Maltings Theatre, in a welcome revival following their National Theatre debuts a few years ago.
The two plays are naturalistic two-handers, both running as continuous single scenes spanning 90 minutes (Beginning) and 100 minutes (Middle). Whilst the characters in each play are unrelated to those in their companion piece, and their respective subject matter unique and separate, director Adam Nichols has made the decision to use the same two actors (Matt Betteridge & Emma Wright) in both plays to perhaps highlight the thematic links between the pieces that exist in the texts. Or perhaps he just wanted to give two actors an immense amount of lines to learn, who knows.
We find ourselves in a type of theatrical style made popular by writers like Hare and Harrower – there is a working fridge-freezer that chills the fish fingers, real beers that are opened and spilled, real plates that are broken and real Pringles that are eaten. The references are (sort-of) modern with shout-outs to Facebook, Paloma Faith, DM sliding and Jeremy Corbyn, and it's not often that the playwright allows one of his characters to finish a sentence. But as the protagonists hunt futilely for their own fullstops before eventually having to make do with a hyphen – we are presented with two slices of relationship life that feel truthfully raw, engagingly charming, surprisingly funny and painfully sad.
Dealing with the plots first – it is safe to say that both Beginning and Middle serve as long dark Saturday nights of the soul.
In "Beginning", we meet Laura and Danny – two early-forty-something-singletons at Laura's birthday house party. They don't seem to know each other well, but something is keeping them from calling it a night. Might there be romance in the air amongst the stale beer and cigarette smoke? Or is it just hormones? Another one-night-stand to add to the list of casual conquests or the start of something real?
Betteridge's Danny is mercurial in his sliding between the over-confident corporate lad that's not afraid of a one-night stand, and the sensitive clean-freak man-child residing beneath that very much is. Betteridge swaggers and struts with impeccable comic timing, knowing when to hold and when to push – he gives Danny a real charm and isn't afraid of leaning into the character's more painful secrets and insecurities when the playwright allows him access to them. By contrast, Wright's Managing Director Labour-Leaning Laura seems on the surface to have her life a little more together – she's more forthright about she wants and why she's allowed Danny to hang around post-party, but Wright gradually opens her performance up and lets her character's true motivations shine as the play progresses and it's handled with sensitivity and truth. I personally feel that the playwright preferred writing Danny than Laura, and that shows in the script's weighting of the two roles (I'm afraid the dreadfully overused "male playwright writing a female character's motivation" trope rears its head here – no spoilers dear reader but it rhymes with "baving a haby"), but despite that lazy decision, it's a touching piece, funny and awkward – as two strangers in the middle of their lives wrestle with the decision to take a chance on love one more time, hampered by all the baggage of the past, shouting over the ghosts of past ambitions and the voids of absent parents that clearly still plague them.
In "Middle", which to my mind is the stronger of the two pieces, we meet Gary and Maggie. This time Betteridge and Wright are slightly older in their playing ages – and suit the characters slightly more. Gary and Maggie have been married for almost twenty years – but when Maggie can't sleep late one night – Gary comes down into the kitchen to defrost the Sunday Roast – and what slowly unfurls is a devastating and brutal evisceration of their life together, their past, their wants and needs, both then and now. To say more would be telling, but suffice to say – both actors are at the absolute top of their game, and the script scorches and sizzles in their incredibly capable hands. It's a barnstorming belter of a piece that flies by, almost leaving you breathless. Betteridge's Gary is an absolutely effortless work of genius – he shines in speeches and silence alike – it's so rare to see a performer truly living in their world they're inhabiting, breathing and responding naturally from line to line – he's an absolutely captivating performer, and Gary soars under his carefully structured delivery. Wright, thankfully, is given more to do in Middle than she is in Beginning, and her Maggie is a masterpiece of silent pain, a terrible truth simmering within her just as scorching as the milk she's warming on the stove in their kitchen island. Maggie is both a tempest and the ship trapped within one, she's powerless as she's swarmed by memories and the echoes of her lost ambitions and dreams – and yet the winds that wrack her frame are of her own making. Middle is basically the story of a marriage in crisis, and it is a testament to both the actors and the skills of their director that I found myself changing allegiances multiple times through the course of the play.
Simon Nicholas's set is doing double duty for the piece, but there's enough skilful reconfiguration between the two shows to make them separate and distinct from each other. The aim for the pieces is naturalism, so Nicholas is clearly going for realism – a goal that he more than achieves for the studio space, and there are some nice touches to his decisions that give us hints into the characters and their psychologies – Laura's lounge for instance has a bookshelf filled with travel books and intellectual door-stop classics but no photographs of family, similarly she has a sofa – which she lounges across, betraying that she often sits there by herself, and two chairs across the room with cushions on them too large to be sat on without throwing them on the floor – revealing that no-one ever does – therefore company in her personal space is rare. She may be saying to Danny that she has friends and a good job and social life and independence, but subtly underneath, her room is whispering that she's lonely. The set should never be the star of the show, and it's not here – which is a good thing – but Nicholas's design and attention to detail give authenticity, insight and class to proceedings.
Adam Nichols directs both pieces and his handiwork is deft, direct and daring. He is astute enough to know when to push his cast forward and give the dialogue wings, and yet sensitive enough to know when to pause, to hold, and to let go – his characters have painful tales to tell, and he allows them time and space with which to tell them. His focus on the stage is always clear and tight, and he never lets things descend into melodrama – his audience is a fly on the wall, trapped watching a real situation with real people play out – and Nichols handles this with an aplomb that betrays his experience and a sharp eye and ear for the human condition.
Although there is nothing tangible to link the characters from the two plays into a foursome – other than perhaps a predilection for choosing the name Annabelle from the Bumper Baby Book of Names – both plays present characters in search of comfort and companionship, redemption and understanding. The people in these stories have walked as far through their lives as they have left to go, and it's at this middle point – an interval, if you will, although both productions ironically lack one, where they take stock, look back, look forward, then reach out into the dark – searching for a hand to hold as they step off into the unknown of their lives' second act.
If you can catch both shows – then absolutely do it – it's an epic event that will keep you engaged and entertained, and the pieces are made more nuanced and impressive by using the same cast in both. But if you can only catch one – then it has to be Middle – as it's stuck with me for hours after seeing it, and in Middle – Nichols and his cast have captured pure lightning in a kitchen sink bottle.