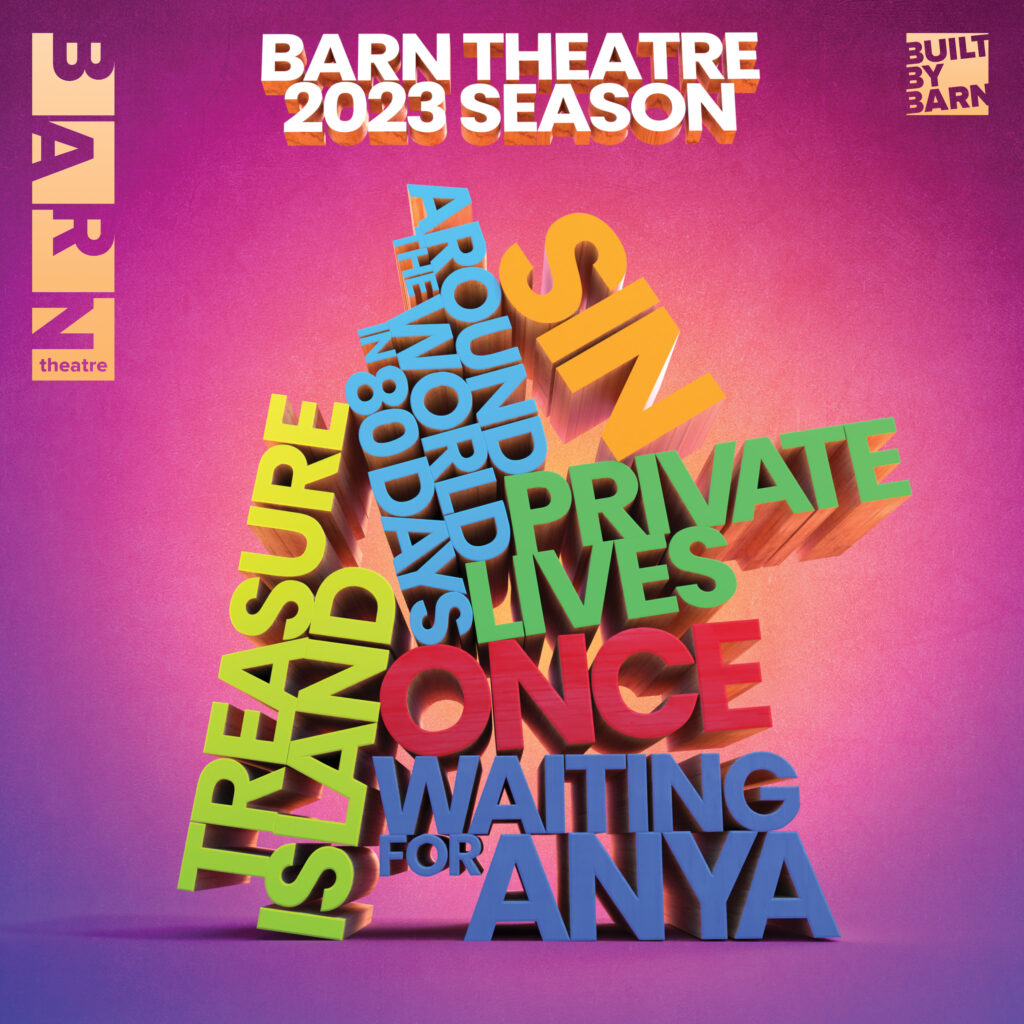 THE BARN THEATRE ANNOUNCE 2023
BUILT BY BARN
SEASON
AROUND THE WORLD IN EIGHTY DAYS (30TH JANUARY – 11TH MARCH)
WAITING FOR ANYA (27TH MARCH – 5TH MAY)
PRIVATE LIVES (15TH MAY – 24TH JUNE)
ONCE (3RD JULY – 12TH AUGUST)
SIN: A NEW MUSICAL OF REVENGE (18TH AUGUST – 16TH SEPTEMBER)
TREASURE ISLAND (20TH NOVEMBER – 6TH JANUARY)
The Barn Theatre in Cirencester has today announced details of their 2023 Built By Barn Season. The award-winning Cotswold theatre has announced six in-house productions, including three world premieres, with a seventh production in Autumn 2023 to be announced at a later date.
The season will open with a new production of Toby Hulse's fast paced and playfully comic adaptation of Jules Verne's epic adventure novel Around the World in Eighty Days from 30th January – 11th March. Joseph O'Malley, who previously directed the Barn Theatre's productions of The Hound of the Baskervilles, The 39 Steps and Ben Hur, will return to direct the new production.
The Barn Theatre will then continue their creative relationship with Michael Morpurgo by debuting the first stage adaptation of Morpurgo's 1990 Carnegie Medal shortlisted novel Waiting for Anya from 27th March – 5th May. The play, adapted by acclaimed Morpurgo adaptor and former Bristol Old Vic Artistic Director Simon Reade (Private Peaceful, An Elephant in the Garden), tells the story of Jo, his grandfather and a widow who help smuggle Jewish children across the border from occupied southern France into Spain during World War II. Morpurgo's novel received a 2020 film adaptation starring Noah Schnapp, Angelica Houston and Jean Reno.
Noël Coward's comedy of manners Private Lives will receive a new staging from 15th May – 24th June. The new production will be directed by frequent Barn Theatre collaborator Bryan Hodgson (The Importance of Being Earnest, Murder For Two).
The Barn Theatre will stage two musicals as part of their new season beginning with a revival of the Tony and Olivier award-winning musical Once, which features the Academy Award-winning song Falling Slowly,from 3rd July – 12th August. Based on the critically acclaimed movie of the same name, written and directed by John Carney (Sing Street, Begin Again, Once), Once features music and lyrics by the Academy award-winning team of Glen Hansard and Markéta Irglová, and a Tony award-winning book by Enda Walsh. Set in Dublin, the musical follows the unforgettable story of an Irish street musician and a funny Czech woman, drawn together by their shared love of music.
The theatre will also present the world premiere of Richard Hough and Ben Morales Frost's new one-woman musical of deliverance and revenge, Sin: A New Musical of Revenge, from 18th August – 16th September. Richard Hough and Ben Morales Frost recently debuted their new musical Our Man in Havanaat the Watermill Theatre as part of their 2022 season. Sin: A New Musical of Revenge will be directed by Charlotte Westenra (The Wicker Husband, Indecent Proposal), who reunites with Hough and Morales Frost having directed the world premiere of their musical The Sorcerer's Apprenticeat Southwark Playhouse.
Described as a work of fiction at the borderlands of reality, Sin: A New Musical of Revenge is a political thriller following the emotionally-charged, scandalous life story of an extraordinary woman, Madeleine Hobart, who for thirty years was married to the infamous career politician Samuel Leary.
The season will close with a Barn Theatre tradition, the premiere of a new festive adaptation by Alan Pollock. His new adaptation of Robert Louis Stevenson's classic story Treasure Island will run from 20th November – 6th January.
More information can be found at barntheatre.org.uk