Darlington Hippodrome – until March 25 2023
4****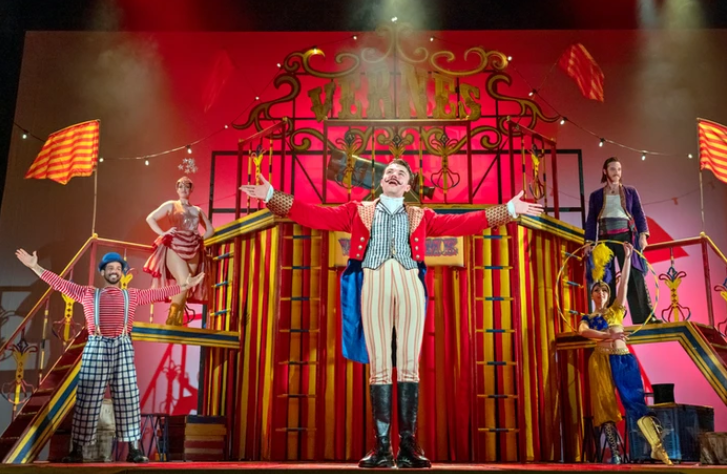 Most of us are aware of the story that is 80 Days Around the World, from reading the book, watching the many films or for those of a certain age, a cartoon starring a variety of talking animals! I was incredibly intrigued to see how such a full and fast paced story would be brought to life on stage … I was not disappointed! Five actors, lots of different characters, train, boats, a Circus act, a storm and one Elephant captured the audiences imagination for the whole show. The use of the few props, lighting and background music was nothing short of genius.
In between the tale of our hero Phileas Fogg we also hear the story of Nellie Bly (Katriona Brown), the American journalist who undertook the challenge in 1889 and got around the world in 72 days, 6 hours and 11 minutes
Set in 1872, Alex Phelps portrays an excellent Phileas Fogg, a rather stiff man who knows how he likes his tea, sticking to the time and gambling at the Reform club which is what got him into this adventure in the first place, betting other members £20,000 that he could indeed travel around the world in eighty days, departing by train on 2nd October to return by the same time on 21st December. Setting off with newly employed valet, Monsieur Passpartout (Wilson Benedito) a hugely lovable, extremely energetic and funny Frenchman, they begin their adventure. It certainly isn't a smooth one, not helped by the fact a rather unscrupulous Scotland Yard detective called Fix (Eddie Mann) is hot on their tails believing Fogg to be the Bank of England thief and carrying out various underhand acts to get his man. Along the way Fogg and Passpartout rescue a young Indian woman named Aouda (Genevieve Sabherwal) from a certain death who then accompanies them for the rest of the journey.
With multiple rail issues ( we all know how frustrating those are!), missed connections and weather of the worst kind all while Fix is doing his best to make things difficult, will Fogg make it back to London on time?
In between the high jinx and testimony from Nellie, we also get to hear some of the amazing facts and figures of the journey. Adapted and directed by Juliet Foster and Produced by Tilted Wig Productions, this a beautiful production portraying how friendship and love can conquer all along with a will to succeed despite adverse situations. Everyone needs a Passpartout in their life to head off on an adventure with.