Palace Theatre, Manchester – until Sunday 18th June 2022.
Review by Rebecca Hampson
4.5****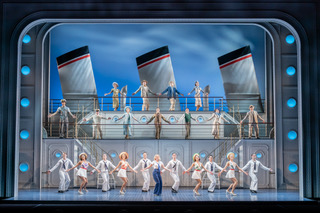 Delightful, Delicious, De-Lovely!
With a 50 strong diverse cast of incredible talent, this musical is not one to miss. Featuring Oliver Award winning talent in the form of Denis Lawson and Simon Callow, as well as Musical Theatre Royalty such as Kerry Ellis and Bonnie Langford, this energising performance of 'Anything Goes' offers spectacle and wonder in every musical number.
The standout performance of the night was seen in the impeccable number of 'Anything Goes' where director and choreographer Kathleen Marshall's vision shone bright with exceptional timing and staging as well as a delectable lighting design by Hugh Vanstone.
Kerry Ellis as Reno is spectacular in "Friendship" alongside Denis Lawson as Moonface Martin. The chemistry between the two actors in role is mesmerising and offers a comedic element through their rivalry for the spotlight. I particularly enjoyed a moment where the two actors break the fourth wall mid-song address the audience watching allowing us to feel involved in the performance.
Samuel Edwards is fantastic as Billy Crocker, his vocals especially outstanding in the number "Easy to Love" alongside Hope Harcourt played by Nicole-Lily Baisden. This beautifully lit number shows chemistry and desire between the two characters who long to be with one another.
The audience and I enjoyed a comedic moment from Bonnie Langford as Evangeline Harcourt as her character meets Edwards as Billy in disguise. Billy tells her the ship is sinking and melodramatic moment provides a light-hearted beat as we see Harcourt drape pearls over her shoulder in a panic and allows us as an audience to fall more in love with Billy Crocker in his mission to win over Hope Harcourt played by Nicole-Lily Baisden.
Special mention must go to the behind-the-scenes creatives and especially Lighting Designer Hugh Vanstone for the spectacular use of colour and gobos which created the illusion of water placing the audience on board the ship amongst the actors. Notable mention must also go to Costumer Designer Jon Morrell for the exquisite take on 1930s fashion which is complemented with Set Design by Derek McLane
Amongst Theatre Royalty the star of the show in my eyes was Carly Mercedes Dyer as Erma who delighted the audience with her spectacular vocals in 'Buddie, Beware'. Her charisma and talent radiated off the stage and the audience and I were enchanted by her.
Running in Manchester until June 18th this is one musical you do not want to miss!