Park Theatre, Finsbury Park – until 30th April 2022
Reviewed by Bobbi Fenton
5*****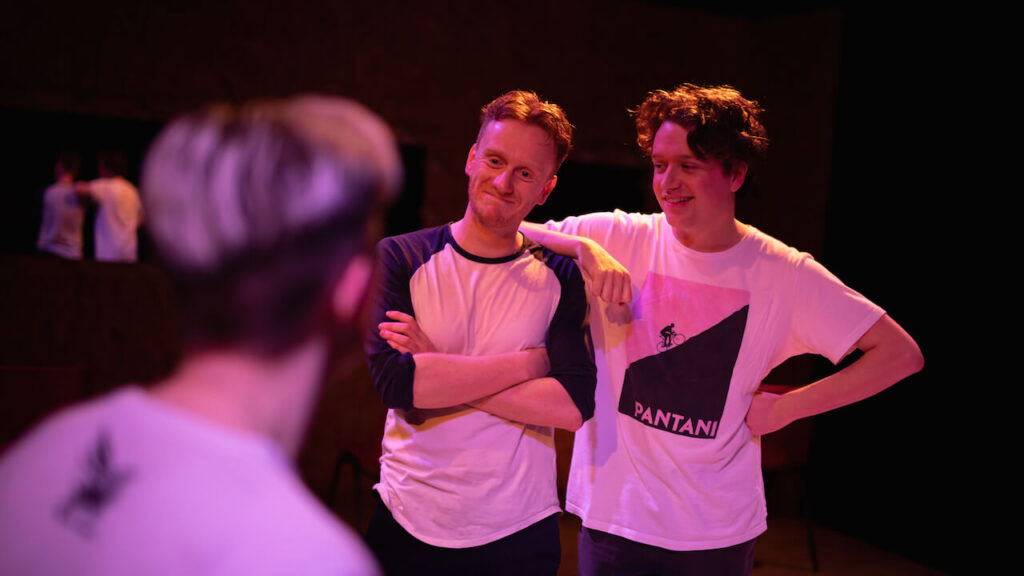 Another America written by Bill Rosenfield and directed by Joseph Winters is about two brothers and their friend on a pilgrimage of sorts across America to the basketball hall of fame in Springfield, Massachusetts. With only their bikes, a few changes of clothes, and a basketball, brothers Jared (Rosanna Suppa) and Dan (Marco Young), and their friend Clint (Jacob Lovick) cycle all the way from one side of America to the other, all in the name of loyalty to their basketball team. Along the way, they meet countless people from all walks of life, each having some impact on their journey. The story is told directly to the audience like a three-person monologue, which is perfectly executed by Suppa, Young, and Lovick who each take it in turns to portray those people they meet. This is made absolutely hilarious in some moments as they argue over whose turn it is to be the new person, with some of the characters being very strange. These range from an arrogant 15-year-old (Marco Young) to a 67-year-old wandering woman (Rosanna Suppa), and even a rather creepy man in a small town, who threatens the three with a gun if they don't leave his town immediately (Jacob Lovick). This play is filled with perfectly timed comedic moments, existentialism, and tense arguments as the journey gets more stressful, and is an absolutely fantastic experience.
The set is made up of three mirrors along the back wall, with lightbulbs around them, which also double as features at the basketball hall of fame towards the end. The floor and wall are plain flat wood, and there are three chairs on stage which are used in multiple ways, such as bikes, or the barrier on a bridge. This allows for minimal props on the stage, which works brilliantly with the style in which the story is told to the audience.
Overall, this play is an absolute masterpiece, as we follow the three characters on their incredible journey of self-discovery over the course of one summer. It should definitely not be missed.