Dare you spend Halloween in a haunted West End theatre?
Announcing the West End premiere of
DO YOU BELIEVE IN GHOSTS?
created by James Taylor and Julian Woolford
directed by Julian Woolford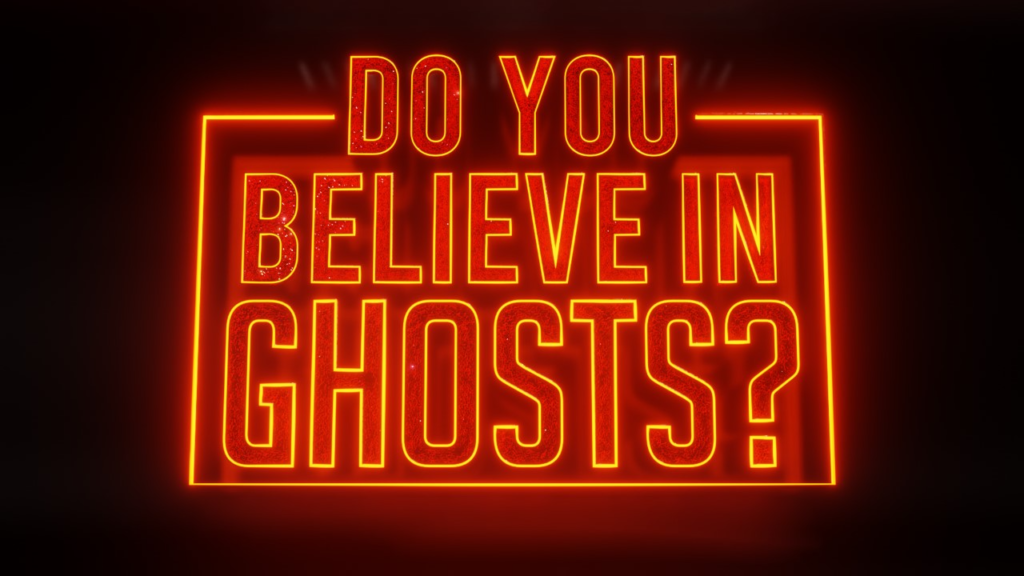 Adelphi Theatre
Strand, London WC2R 0NS
Tuesday 31 October, 2023
at 7.30pm
Theatres are alive. They have a soul. And they all have supernatural stories to tell….
Every theatre has ghosts and sightings, spectral visions reported back stage by terrified actors, mysterious apparitions that walk the stage at night, coridors and stairwells that are avoided by staff who have experienced a sudden drop in temperature…
Do YOU believe in ghosts? And are YOU feeling brave?
The West End premiere of 'Do You Believe in Ghosts?' at London's Adelphi Theatre on Halloween, October 31 (with more West End dates to be announced), has enough chills and shocks to convince even the most die hard sceptic!
Packed with stories of things that go bump in the night – or the day – and things that just don't add up, 'Do You Believe in Ghosts?' is unlike any other ghost story you may have seen or experienced before in a theatre.
Producer James Taylor, who co-created 'Do You Believe in Ghosts?' with award-winning writer and director Julian Woolford, said: "Every theatre has at least one ghost – including the Adelphi. In 'Do You Believe in Ghosts?' we promise to raise the hairs on your arms and send chills down the back of your neck. . . Join us for a dark night… we dare you!"
'Do You Believe in Ghosts?' is part of a major West End season of 8 shows at the Adelphi produced by producers Entertainers, including the world premiere of The Makings of a Murderer on Tuesday 18 April, Sweet Caroline The Ultimate Tribute to Neil Diamond (Tuesday 6 June), Lost in Music (Tuesday 13 June), Fast Love – A Tribute to George Michael (Tuesday 20 June), 80s Live! (Tuesday 18 July), Legend – The Music of Bob Marley (Tuesday 19 September) and An Evening of Burlesque (Tuesday 10 October).
Entertainers (Producers)
Entertainers have 20 years experience producing popular entertainment across the UK. Their new Canvey Island HQ, built since lockdown, houses all aspects of production from set building and maintenance to a recording studio and full-size rehearsal space and a fleet of 36 vehicles.
Entertainers stage more than 1,500 separate performances each year, selling over one million seats, with 25 lavish productions that include: 'Lost in Music', 'Fastlove', 'The Magic of Motown', 'Cirque: The Greatest Show', 'Thank You for the Music', 'The Rocket Man', 'An Evening of Burlesque', 'Don't Stop Believin'', '80s Live!', '90s Live!', 'Radio Gaga', 'Sweet Caroline', and 'Islands in the Stream',
New shows 'Do You Believe in Ghosts?' and 'The Makings of a Murderer' mark a move away from music to scripted theatrical productions, and they will both make their West End debut at the Adelphi Theatre in 2023.
Julian Woolford (co-creator /director)
Julian Woolford is an award-winning writer and director. His plays and musicals have been performed around the world. Among his works are 'The Devil's Advocate (Netherlands tour); 'Liberace, Live From Heaven', (Leicester Square Theatre, Edinburgh, New Zealand tour); 'The Teddy Bear's Picnic' (National tour); 'The Wind In The Willows' (Sevenoaks Playhouse, Taunton Brewhouse); 'The Railway Children' (Sevenoaks Playhouse, Taunton Brewhouse and more than 50 productions worldwide). Julian provided the new book for Lionel Bart's 'Twang!!'(GSA and Union Theatre); 'BlueBirds' (Cochrane Theatre, Kenneth More Theatre and Above The Stag); 'Beautiful Young Man' (Pride Encore Benefit Season, New York);. His musical 'Oh Carol!' won the Covent Garden Festival Search for a New Musical and his first play 'The Oedipus Complex', premiered at Bristol New Vic.
He is the author of the book 'How Musicals Work' (Nick Hern Books), which is the standard text book for musical theatre creation and writing, and of Rodgers and Hammerstein's 'The Sound of Music' (Routledge Fourth Wall) and is currently Head of Musical Theatre at GSA (University of Surrey). Previously he was Artistic Director of Sevenoaks Playhouse; Artistic Director of the Global Search for New Musicals at the International Festival of Musical Theatre Cardiff and Associate Director of the Queen's Theatre Hornchurch.
His many directing credits in productions in the West End, any regional theatres, 7 national tours, and work in New York, Australia, Germany, Austria, Poland and the Lebanon. In 2015 he became the first person to direct a commercial musical in Egypt when he staged 'The Sound of Music' in Cairo.
James Taylor (co-creator/producer)
James is a director of Essex-based producers Entertainers working alongside his father, Michael.
James began his career as the 16-year-old resident DJ at West Ham United Football Club's functions and parties. He moved to the US to pursue a modelling and acting career, playing the inventor Nikola Tesla in an Off-Broadway production of 'Tesla', and appearing in the TV series 'Being Mary Jane', in which he played the boyfriend of the lead Gabrielle Union. Returning to Britain, James teamed up with his father to produce 'Fastlove', a tribute to the then recently deceased George Michael. It has since sold a million tickets, is touring to 25 countries and became the company's first show to play the West End, at the Lyric Theatre.
LISTINGS INFO

West End season at the Adelphi Theatre

ADELPHI THEATRE
Strand,
London
WC2R 0NS
Box office: 020 7557 7300
online: lwtheatres.co.uk

Do You Believe in Ghosts?
Tuesday, October 31 at 7.30pm

The Makings of a Murderer
Tuesday 18 April
A chilling, thrilling, night with Scottish Detective David Swindle.on what makes a serial killer tick, the warning signs and clues behind The Makings of a Murderer.

Sweet Caroline
The Ultimate Tribute to Neil Diamond
Tuesday 6 June
The good times never seemed so good… introducing the ultimate tribute to Neil Diamond featuring Gary Ryan from TVs 'Stars in Their Eyes'. This musical journey celebrates 50 years of a legend.

Lost in Music
Tuesday 13 June
We recreate the magical 70s taking you on a musical journey straight to the heart of Disco. Relive some of the greatest songs of all time from artists including Donna Summer, Gloria Gaynor, and Earth, Wind & Fire.

Fast Love
A Tribute to George Michael
Tuesday 20 June
The world's favourite George Michael celebration of one of the greatest musicians the world has seen.

80s Live!
Tuesday 18 July
Bring your jukebox money and get ready to Jitterbug as we spin you around and around for am 80s night to remember.

Legend – The Music of Bob Marley
Tuesday 19 September
The music of Bob Marley in an unforgettable evening celebrating this musical icon.

An Evening of Burlesque
Tuesday 10 October
The ultimate variety show, blending stylish cabaret, comedy,
music, circus and burlesque to light up all your senses.
'Do You Believe in Ghosts?'
embarks on a 100-date UK tour from May 18
full dates can be found at:
https://www.entertainers.co.uk/show/do-you-believe-in-ghosts