Park Theatre – until 20 May 2023
Reviewed by Claire Roderick
5*****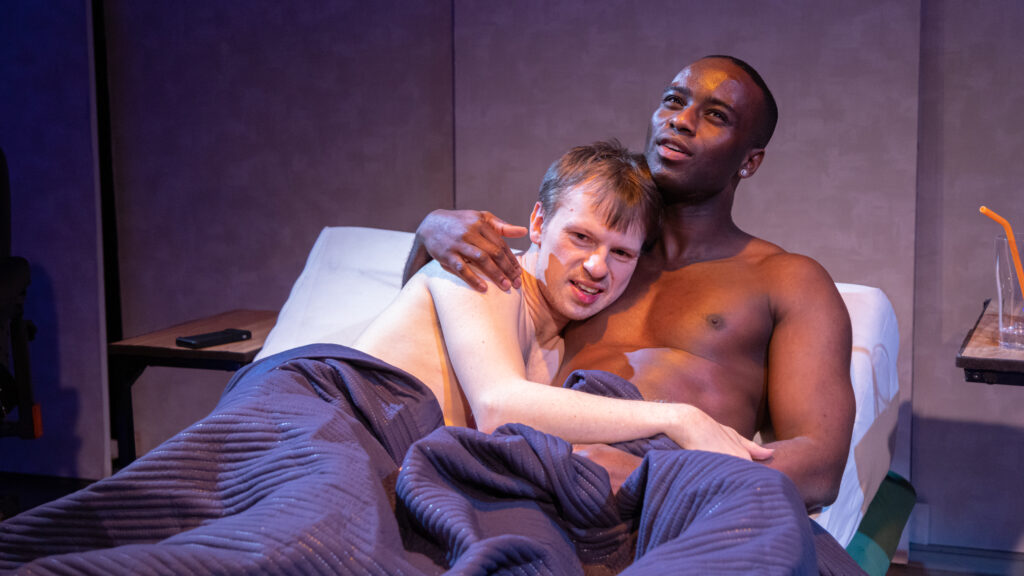 Animal arrives in London riding high on rave reviews – believe the hype! John Bradfield's unflinching but hilarious play is a queer, inclusive joy.
David (Christopher John-Slater) is a 25-year-old virgin who can't stop thinking about sex. David also has cerebral palsy and cannot feed or wash himself without assistance, so scratching this itch himself is out of the question. We first see David making a complaint call about a sex aid he is unable to use, and he is encouraged by his friend Mani (Harry Singh) to take the plunge and download Grindr.
John-Slater is brilliant as David – effortlessly delivering cutting one liners and withering looks with perfect comic timing, but also heartbreakingly vulnerable in quieter moments. Bradfield, working with story originator Josh Hepple, ensures that David is not some heroic disability role model – in fact, David is often his own worst enemy as he navigates his way through a series of sexual encounters and disappointments, taking his frustrations out, often cruelly, on his friends. His support network is a group that could so easily slip into stereotypes, but in the skilful hands of the cast, each character is nuanced and believable. Mani (Harry Singh) is gloriously flamboyant and seemingly flippant about life, but there is much more beneath the surface and Singh excels in the more thoughtful and reflective moments. Struggling actor Derek (Matt Ayleigh) is Derek's daytime assistant while live in assistant Jill (Amy Loughton) works in a terrarium shop, where she begrudgingly must mix with actual customers. Ayleigh is hilarious as Derek haplessly tries to defuse tense situations between David and Jill, and Loughton is a hoot as straight talking but caring Jill who is becoming increasingly aware that her friendship with David won't survive unless she leaves.
David's messages are projected onto the walls of Gregor Donnelly's versatile set, and the rejections when he tells various men that he is in a wheelchair are soul destroying as are the times he is ghosted after meeting for sex. All his meetings happen in his flat and include William Oxborrow as three different older men (his pensioners, as Mani calls them) in unforgettably toe curling and hilarious encounters. When he meets Liam (Joshua Liburd), David thinks he has made a connection, but Liam lets him down. Liburd plays Liam almost meditatively, as if the effort of presenting a calm and "normal" exterior to the world is all that Liam can focus on. This makes his opening up to David, just for a few minutes, even more poignant.
Director Bronagh Lagan masterfully keeps the pace fast, with stark portrayals of the reality of living with a disability, and an honest look at friendship and co-dependency layered amongst the laughs. The play doesn't shy away from the danger of inviting strangers into your home for sex – and one excruciating scene lays David's vulnerability bare. Filthy and funny, Animal is unmissable entertainment.