Royal & Derngate, Northampton – until 5 March 2022
Reviewed by Ely King
4****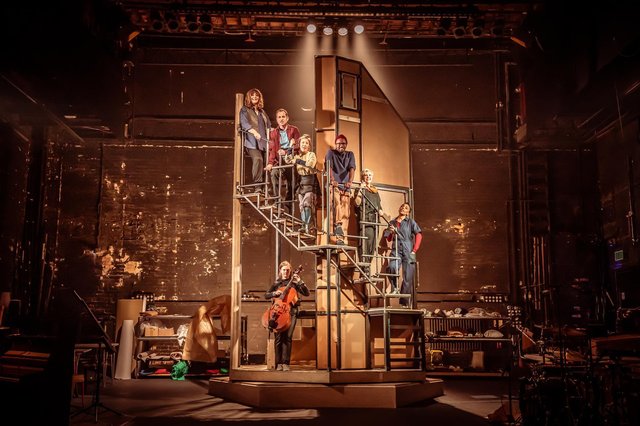 If you're looking for a night of light-hearted fun, this is the show for you.
For this performance, the cast were two people down, including puppeteer Aya Nakamura, so the performing actors were a crew of only five.
These five were Niall Ashdown, Ruth Bratt, Adam Courting, Janet Etuk and Josie Lawrence.
Advertised as 'theatre as live as it gets', I'd say this musical truly lives up to that claim.
As inferred, this musical is entirely improvised and lead by words and phrases given by you, the audience, meaning that there is an entirely new show every single night.
So why not go see it a few times?
The prompts given to the crowd were as follows:
– An area by your home that is meaningful to you
– A word that, when you say, makes you happy
– If you were writing a book, what would be the gripping first sentence?
The crowd didn't disappoint and gave the answers 'A Lake, because it has water, and is away from the hustle and bustle of life' then 'chocolate' as the happy word, before ending on 'the house is on fire, and this time it wasn't my fault'.
After not even two minutes of contemplation, the crew were straight into it, with Josie Lawrence launching into a storyline featuring a lake that the rest of the cast were quick to join in with, grabbing props and adding harmonies as if they all had one shared thought.
Having seen The Showstoppers! On the West End, also featuring Ruth Bratt, I had a rough idea of what to expect from The Improbable Musical yet still, it undoubtedly impressed.
Improbable are icons in the improvised theatre scene and have captivated audiences across the world with their unrivalled improv skills.
With Ruth also being featured in other improv shows, it was no surprise that she was a standout actor in this performance, effortlessly flicking between age ranges and accents on a split second's notice without any hesitation.
Though Ruth was the star of the show, every actor has their own merits and worked perfectly in tandem with each other. What any actor may have lacked in conventional vocal skills, they more than made up for in acting skills and comedic value.
It was particularly enjoyable to see performers add to the storyline and name characters in such a ridiculous manner to try and trip each other up. One instance including naming a child's adult friend Andrew… if you know, you know. Some cast members almost broke character at that, but it just made it all the more fun.
The musicians in the company are also extremely talented, finding the perfect rhythm and timing to play along with the actors, never mind the fact they got pulled into storylines, some played as many as three instruments so had to choose which instrument was best too.
As quite a lot of their humour includes euphemisms or jabs at the news, it would definitely be recommended for over 13's, as any younger might miss some of the jokes and wonder why all the adults are laughing. Though, if this isn't a problem then go ahead!
From using teapots to represent ducks to using binbags to represent water, these performers are true geniuses and masters at thinking on the spot – we could all do with a bit of their imagination.